How Much Does a New Staircase Cost?
Last Updated on December 25, 2019 By Jon
If the stairs in your home are looking shabby or they are in desperate need of major repair work, having a complete new staircase built may make the most sense. However, it's crucial to ensure that your new staircase will be sturdy and safe.
These days, staircases can be constructed in an endless variety of shapes and designs and manufactured from various materials. As a result, the cost to build a staircase can – and often will – vary quite substantially.
Below is some information regarding approximate costs as well as a few regulations regarding how these structures need to be designed and built.
Get New Staircase Quotes Online
Building Regulations for Staircase Replacement
There are specific building regulations that pertain to building staircases, and these must be adhered to. The information below provides information regarding level, height, length and pitch – all of which will ensure complete safety and comfort for property owners. Other aspects to consider include available clearances, balustrades and handrail design.
In cases where a similar replacement staircase will be installed, there shouldn't be any issues with regards to regulations, especially if all of the dimensions will be the same as the old stairs. However, if any new sections are being added on to your home such as a loft conversion, extensive changes are being made. This means that your design will have to comply with the required regulations.
Here are the main aspects with regards to the required building regulations:
Headroom on the landing area must be at least 20 cm or 19 cm in the case of loft conversions
Minimum step depth must be 20 cm – this is the measurement that's taken from nosing to nosing of the following step
Recommended staircase width is 85 cm; however, this is not compulsory
Each step's height must be between 19 cm and 22 cm
The pitch or angle of a staircase must not exceed 42°
In cases where there is going to be a major change to the original staircase design or if new additions are being included, your chosen contractor will have to contact your local building authority. They will need to review any work that has been done and sign off on it. Your contractor will include the cost of this in your quote.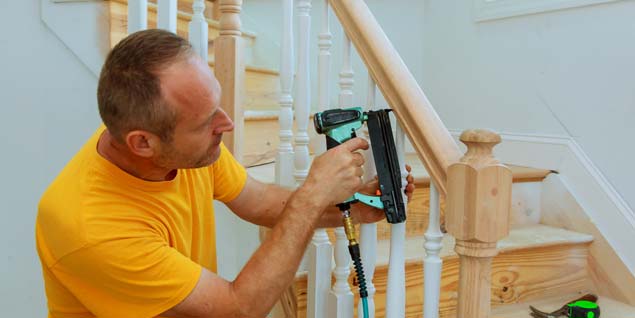 Approximate Staircase Replacement Costs
Two of the most important factors that will affect the cost of a replacement staircase are:
Design of the staircase
Materials being used to build it
A straightforward standard staircase can cost as little as £230 to £280. Bespoke or custom designs can start from around £2,800 and go upwards of £25,500 in some cases.
Although there is almost no limit to the cost of a bespoke staircase, below are a few average prices of regular design options and the materials used to construct them:
A straight staircase manufactured from softwood can cost around £350 and £1,000 if made from Ash or Oak
Single winder stairs made from softwood could come in at about £480 and £1,200 when Ash or Oak are used
Softwood double winder stairs can cost about £550 and around £1,600 for Oak or Ash wood
Quarter landing stairs start from £400 for softwood and £1,100 for hardwood
A half landing will cost from £480 for softwood and 1,500 for hardwood
Triple wider stairs can cost from £700 for softwood and £1,750 for hardwood
Straight Mid Landing stairs start from about £480 for softwood and £1,900 for hardwood
A double landing staircase starts from £480 for softwood and from about £1,500 for hardwood
Z shaped staircases can start from #650 for softwood and £1,950 for hardwood
Other costs that must be taken into account include VAT and delivery fees. The prices above don't include VAT. In cases where ball caps, turned Georgian spindles and other turned posts are needed, pricing can increase by approximately 15%.
The cost of installing a staircase will depend on ease of access to the workspace. For example, lower level staircases will normally incur fewer labour-related costs than those being installed at higher levels. Scale and overall complexity of the staircase and its design must also be considered.
A qualified and experienced carpenter will normally be able to install a standard staircase within about 3 to 5 working days, so the cost can be between £180 and £420 for labour.
When professionals install your new staircase, the job will involve measuring, constructing, installing and removal and disposal of an existing set of stairs and costs can vary between £1,800 to £3,800 from start to finish. Although many homeowners may think they can perform a DIY installation, this is not recommended.
How Long will it Take to Replace my Staircase?
In cases where bespoke staircases are being sought, it will be necessary to have an architect draw up professional plans. This can take between 6 and 10 weeks in some cases, with the construction of the staircase taking a further 4 to 5 weeks. Your chosen carpenter will take all the required measurements to ensure that the stairs are correctly manufactured.
You can also expect there to be a fair amount of dust and limited access for the few days that your new staircase is being installed. However, your carpenter will provide you with further information in this regard.
If you are keen to have a replacement staircase built, or you've done building alterations and require new stairs to be able to access a loft conversion, you can complete our website contact form. We have several accredited and experienced carpenters, architects and other appropriate professionals on hand that will contact you within a day or two to schedule an appointment for inspecting your property.
Once your property has been inspected, you will receive quotes from up to four professionals to get the job done. After accepting a specific quote, you will be able to look forward to having your new stairs installed within a few weeks at the most. Simply provide us with your contact information so that your staircase building project can get underway as soon as possible.
Compare New & Replacement Staircase Quotes Now