How much will a uPVC Front Door Cost?
Last Updated on January 13, 2020 By Jon
A home's front and back doors not only provide personal comfort to you and your family; they are also there as a means of security. In addition, they provide good protection against inclement weather – thus providing a saving on energy bills as well.
Although several different types of doors can be purchased these days, uPVC or plastic units have become extremely popular because they offer the greatest value for money for homeowners, while also being quite durable.
When compared with traditional wooden doors, uPVC units provide exceptional levels of weather resistance and an added advantage is that little to no maintenance is required to keep them looking good for many years – other than the occasional wipe down with a damp cloth. Some of these doors have been known to last as long as 25 years and many manufacturers provide a 10-year warranty on them.
Another advantage of these doors is that a combination of a deadbolt, latch and hooks render them extremely secure. These days, it's even possible to have these doors manufactured in custom sizes and a wide variety of colours.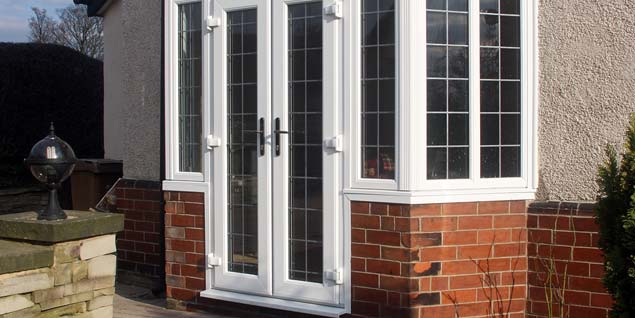 Get Free uPVC Front Door Quotes Online
Determining the Cost of a uPVC Front Door
Average pricing for uPVC front doors can range between £220 and £400. Although the price of front, side and back doors will all be relatively the same price, many homeowners prefer to have additional glass panels installed in their front doors – which will have an effect on the end price.
The price a homeowner is quoted for a uPVC door will depend on the following aspects:
1. Choice of Colour
White is the standard and most popular colour that is available. However, several different colours can be chosen these days, along with various wood grain finishes. Ordering a custom colour for a door can affect its price by as much as £180.
2. Door Grids
If decorative grids such as Georgian bars are required, this will result in the pricing of the door increasing a fair amount.
3. Glass Panels
Various options are available, including clear, decorative, tinted and safety glass. Choosing any of these can increase the price of a uPVC door by around £40 to £60.
4. Insulation
Providing additional insulation in one of these doors will normally increase the price by around £15 to £20. Adding sealing tape and/or warm edge spacing bars will normally result in a price increase of around £10 to £15.
5. Other Accessories
Accessories such as knockers, letter plates, custom sills and spyholes can add a further £10 to £20 per item on to the cost of a door.
6. Double Glazing
In cases where homeowners want to have double-glazing installed on their uPVC door, they can expect to pay anywhere from £380 and upwards – with triple glazing adding a further £20 to £30 on to the price.
7. Custom Sizing
If the opening for a front door is wider or narrower than average, pricing will also increase because it will have to be custom manufactured.
Approximate Labour Costs
These costs are normally based on how long it will take to get the job done from start to finish. For instance, the new uPVC door itself can cost between £400 and £480 for a standard unit. Additional trims and sundries can be quoted at between £20 and £30, while delivery and waste disposal of an old door can come in between £60 and £90.
Labour rates can vary between £250 and £350, meaning that a uPVC door and installation can come in at anywhere between £900 and £1,100. These rates will also depend on the part of the country the property is based in – labour rates tend to be cheaper in outlying areas than in central London.
How long does it take to Install a uPVC Door?
Having a uPVC front door fitted in a two-person project. While it may only take half a day to install the new door, it's best to allow a full day for everything else to be completed. This includes uninstalling the old door, installing the new door and removal of all waste that is left over afterwards.
Below is a basic guide regarding the process of removing an existing door and replacing it with a uPVC unit.
1. Taking Measurements
An installer will take various measurements to ensure that the new door is the correct size when it arrives at the property.
2. Removing the Existing Door
Various tools will be used to remove the existing door and its frame (if necessary) without causing any damage to surrounding brickwork. All remaining silicone and/or mastic will also be carefully removed from surrounding surfaces.
3. Fitting a Sill (if necessary)
This has to be perfectly positioned to ensure that it is 100% level. The sill will be aligned with shims and packing, and then be secured with silicone.
4. Attaching Fixings
Handles, locks and cylinders will then be attached to the new door.
5. Positioning the New Door in the Frame/Opening
The tradesperson installing the door will now check to see that the bottom is level and that it swings open without catching anywhere. Various holes will need to be drilled through the brickwork and frame so that it can be properly secured with bolts and anchors. Once this has been done, the door will be inspected again to ensure that it is still level.
6. Drilling and Securing
The hinged side of the door will be secured first, followed by the side containing the lock. The door will be checked again thereafter to ensure that it still closes without catching anywhere. If the top or bottom seals first, the necessary adjustments will be made.
7. Positioning the Plastic Packers
These will be correctly positioned by the tradespeople who are installing the door.
8. See that the Door Closes and Locks Correctly
The door will be checked again to make sure it closes and locks, as it should. Bends will then be filled in and tapped down with a soft hammer.
9. Performing Final Adjustments
Final adjustments will now be made to the newly installed door as needed. Hinges will be adjusted to ensure that the door opens and closes smoothly as well.
10. Installing the Final Seal
The frame will now be cleaned and sealed against the brickwork with a waterproof silicone product.
Due to the amount of specialised labour that is required to install a uPVC door, it is strongly recommended that this not be attempted as a DIY project.
Must the Door Frame also be Replaced?
If a uPVC door is being installed, a new frame will also need to be mounted. However, these doors and frames are normally sold as a complete set that includes hinges, frame and all other hardware needed to complete the job.
If you're considering having a new uPVC door installed and aren't sure who to get in touch with, you can obtain quotes by filling in our quick and easy contact form. After providing us with your details, you will be contacted by up to four qualified and FENSA-accredited contractors or tradespeople. They will schedule a convenient time to perform a property inspection and provide you with quotes to have your new door installed.
Compare Local Door Fitters Now