Home CCTV Installation Costs & Free Quotes
Last Updated on December 08, 2019 By Jon
When the local news seems to be full of crime, safeguarding your home is often a top priority, particularly if you have a young family.
There are simple measures that can be actioned, such as increasing the security of your door locks, to replacing ageing wooden windows for uPVC options. Many however like to take security further, and install a home alarm system or CCTV cameras.
As with most things nowadays, there are a huge number of options available to you on the market when it comes to home cctv installation. For that reason we've researched and written this guide to provide you with all the information you will need to make an informed decision regarding the security of your home. We've included the various options available to you, average installation costs for a number of options and even factors that will afect the overall cost. We also ensure that the guide is kept upadated throughout the year.
Get Free Home CCTV Quotes Online
Why choose CCTV for your home?
It might seem like an obvious question... but it's actually one worth considering as it can affect the type of system you purchase. It might be to complete a whole security upgrade to your property after new locks, windows, doors and even an alarm system. It might be that you live in an area which has a high crime rate. It could also be because you've experienced a break-in or an attempted break-in beforehand. Finally... it could simply be because you want to keep an eye on your pets when you aren't at home.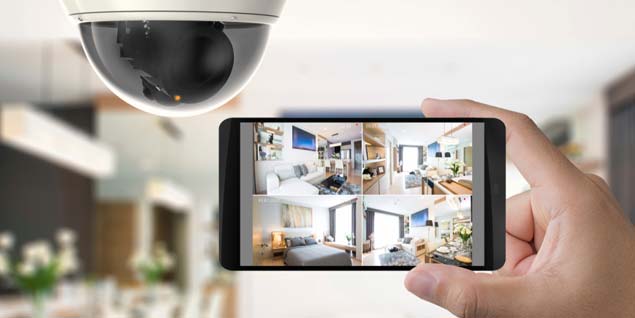 Features for consideration
Most medium range systems will have a plethora of features nowadays, but there are some that a re more beneficial than others when it comes to making a decision:
Immediate notifications
It's unlikely you will be monitoring your cameras 24 hours a day, so it makes perfect sense to be notified the moment your camera detects any movement. If you have a smartphone, tablet or computer it's as simple as installing an app which connects to your camera setup. The moment they are triggered, you can receive a notification telling you what camera, the time and the option to view a live feed. Some models will send you a thumbnail photo of the scene, or a direct link to a clip recording of what has been detected.
Live feed
Standard across most cameras nowadays is the option to view a live feed from wherever you are... using a computer, smartphone or tablet. This is especially useful if you're using your cameras to keep an eye on children, the elderly or even pets. Being able to log-in to your chosen camera at any time and get a live view can be tremndously reassuring, and when coupled with 2 way communication is a very useful addition.
Storing footage
It's unliekly you will need simpy a live view from your cameras. Most need the footage stored somewhere to be accessed should anything occur when you are not viewing. TYpically this falls into two main categories:
Cloud based - A releatively new conept to many... you can actually store footage online or in the cloud. This comes with numerous advantages, such as being able to access your footage from anywhere with an internet connection. You also don't need to have a DVR constantly recording in your home. However, there are considerations such as the likelihood of there being a monthly fee for the storage, and the fact that you might not be able to record continuously throughout the day due to bandwidth and stroage issues.
Local - A hard-drive called a DVR or Digital Video Recorder is used to store camera footage as it is recorded. These are similar to the hard drives most use to record TV programmes nowadays, and are stored somewhere in your house. This allows footage to be saved and accessed at any time. There are numerous options available, but the main choice typically comes down tot he storage capacity of the drive. If you plan on recording multiple cameras, 24 hours a day at a high resolution then you will likely need a large capacity DVR. A possible disadvantage of this type of setup, is that locally stored footage can theoretically be taken, leaving no trace of any potential wrongdoings.
Detecting motion
If the purpose of your camera setup is to detect unwanted visitors, then it makes sense to get a system which incorporates motion detection. Typically this is done via infra-red (IR) which is the same type of detection that outdoor lights operate with. They work best when detecting movement across the picture (horizontal) rather than towards it, so some consideration has to be made when it comes to placing the cameras so they can detect motion effectively. New developments in camera sensor technology now allow you to 'zone' your view so not every area triggers with movement, and sensitivity cam be adjusted so your pets don't trigger recording every time they enter a room.
Infra-red night vision
Available on both indoor and outdoor cameras, night vision can be a particularly useful addition to any home security camera setup. Statistics suggest that over sixty percent of all burglaries happen during the night, so being able to record clear footage in low to no light is a worthwhile addition. Typically IR lights are used to illuminate the scene in very low light (and can be adjusted to suit) at the expense of colour. Better, larger sensors such as the CMOS variety allow for far superior colour recording in low light. Though most do a good job, the more expensive setups will likely be more effective at night time.
Live 2-way communication
So let's say you've just received a notification from your home cctv system, you've viewed the live feed and see someone you want to speak to. It might be a delivery person, or someone less desirable. Many cameras now offer two-way communication, where you can speak into your phone and converse via the camera. Microphones and speakers within the camera housing allow for communcation, though there is often a small delay when doing so.
Considerations (things to avoid)
With such positive improvements in home CCTV technology, there really is little reason to compromise on a few key features:
Resolution:
As a minimum nowadays, you should opt for 1080p footage to give you good clarity, and the ability to zoom into the picture to identify subjects. Wheras 720p may come up in your search, and will likely be a bit cheaper, it really isn't worth compromising on picture quality. If within budget, you can even go for 4K footage quality which will give the utmost clarity and the ability to zoom further into the picture (but requires additional storage).
Mercifully the days of black and white, grainy footage that you used see on TV are gone, and modern cameras provide clear, crisp footage at reasonable prices.
Frame Rate:
Avoid any cameras that offer a frame rate of lower than 25 frames per second. Any less than this will provide jerky motion. To put this in perspective... typical UK TV runs at 25fps, and US TV runs at 29.97fps. Some cameras will offer higher frae rates such as 50/60fps which will provide good motion clarity at not much more cost.
Do I need wireless cameras?
Running cables throughout the walls and eaves of your house might seem a little daunting... which is where a wireless installation can be useful. There are two tyoes of wireless install:
Partial wireless: The cameras themselves connect to the hub without wires, however need a constant power supply so need to be plugged in.
Fully wireless: The cameras are battery powered and connect wirelessly so no wiring is necessary (though battery replacement needs to be carried out periodically).
There have been big advances in fully-wireless systems with Lithium-ion batteries providing power for extended periods of up to 12 months depending on usage volume. Alongside this there are several other advantages of going wireless:
Uploading footage to the cloud keeps clips secure and out of the way from potential theft.
Remove the need to run long wires from the DVR storage to each individual camera.
Record areas previously inaccessible to wired cameras including stables and outbuildings.
Installation can often be carried out as a DIY project as setup is minimal.
That being said... of course there are some points to consider when looking into wireless home CCTV installations:
Recording will likely be limited to motion-activated events as battery power won't allow 24 hour recording.
Your internet needs to be on at all times you need the cameras working, and your signal needs to be strong.
Cameras need to be in an accessible position to facilitate battery changes.
You will need to replace or recharge the camera batteries as often as every 3 months.
With so many products available on the market aimed at both professional and DIY installation, wireless cameras are increasing popular and accessible to UK households. We've detailed some average costs in our tables below.
Average costs guide
So here's the section you might be visiting the site for... a collection of cost guides for a number of different home security camera installations. Prices have been researched and are considered accurate at the time of publish, and where possible we will revisit and update them throughout the year.
Basic CCTV system
These costs are all based upon a system being installed by professionals with up to 8 camera units being fitted both inside and outside a home plus a DVR storage capacity of up to 1TB.
| Camera No. | Hardware Cost | Profesisonal Installation | Total (inc. VAT) |
| --- | --- | --- | --- |
| 2 | £135 | £230 | £360 |
| 4 | £240 | £330 | £565 |
| 8 | £430 | £530 | £955 |
Conclusion: From the table you can see that you can get a basic CCTV system installed professionally from as little as £360.00 with a simple 2 camera setup. It's also clear that as the number of cameras increases, so do both the hardware and installation costs.
High-end CCTV system
These costs are all based upon a professional system being fitted with up to 8 ultra-hd camera units being installed both indoor and out plus DVR storage of up to 8TB.
| Camera No. | Hardware Cost | Profesisonal Installation | Total (inc. VAT) |
| --- | --- | --- | --- |
| 2 | £255 | £230 | £480 |
| 4 | £455 | £330 | £780 |
| 8 | £855 | £530 | £1,380 |
Conclusion: It's clear that as you increase the camera quality to ultra-hd, and increase the storage capacity of the DVR the prices increase accordingly. It isn't however an exponential increase, as there are reductions in individual costs for cameras and installation as the numbers of both increase.
Wireless CCTV system
No wires run through your home, professional installation of up to four cameras and connection to the hub and cloud services where needed.
| Camera No. | Hardware Cost | Profesisonal Installation | Total (inc. VAT) |
| --- | --- | --- | --- |
| 2 | £300 | £225 | £525 |
| 4 | £550 | £300 | £850 |
| 8 | £900 | £500 | £1400 |
Conclusion: Sales of wireless installations are growing faster than any other type of camera system so it was necessary to include a comparison table in out guide. Quite often they are installed as a DIY project, but a professional install helps to ensure your cameras are setup correctly, and monitoring the exact areas you need to keep an eye on. Overall you will see that the installation costs are less than their wired counterparts, however the cost of th e camera units themsleves tend to be higher due to the additional technology needed to function under battery power.
What about cloud storage costs?
It woudn't be a comprehensive cost guide if we didn't mention storage costs for those opting for wireless installs. If that's your preference, it's probable that you will need to pay a subscription charge either for the whole system or on a camera-by-camera basis. There are models available on the market that come with a limited amount of free storage such as Amazon's Blink series, however a subscription account usually equates to increased storage amounts.
| Brand | Storage history | Continous? | Cost per camera |
| --- | --- | --- | --- |
| Nest Aware | 5 days | Yes | £4pm |
| Nest Aware | 10 days | Yes | £8pm |
| Ring Basic | 30 days | No | £2.50 |
| Arlo Smart | 30 days | No | £1.99 |
Conclusion: it's clear to see that with the majority of storage subscriptions, increasing the amount of cameras generally raises the price at a set rate. Some manufacturers have included a single monthly payment that covers an unlimited amount of cameras (presumably subject to a fair usage policy) into their plans. Either way, when opting for a wireless installation the cloud storage fees should always be considered as part of the overall costs.
Comparing professional home CCTV installers
We can't recommend a professiona installation enough... especially when it comes to securing your home and occupants. CCTV companies will place the cameras in the optimal position to get the best coverage, and set them up to ensure they operate effiently and reliably.
In order to save money on hiring a professional it makes sense to compare quotes from local trusted companies. We have access to a leading netowrk of UK security firms who are ready and waiting to provide you with free quotes to compare. It takes less than a minute to apply online, and there's never any obligation necessary. Why not see how much you could save securing your home with a new CCTV installation?
Compare CCTV Installers Now