Wasp Nest Removal Costs & Free Quotes
Last Updated on By Jon
Our guide to wasp nest removal costs in 2023 will give you all the information you need to get rid of pesky wasps or hornets, including free quotes from local pros.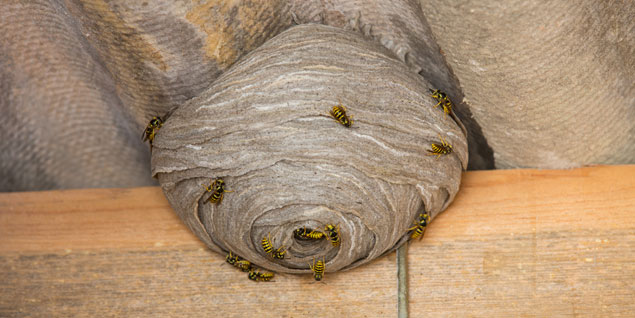 Wasp Nest Removal Costs
If you've noticed either wasps or hornets, this table will show you some average removal costs:
Location
Average Price
Ground Floor Nest Removal
£80.25
First Floor Nest Removal
£101.65
Second Floor Nest Removal
£107.00
Additional Nest Removal
£26.75

(Prices taken from multiple sources and averaged)

Prices Checked 04/10/2023
Wasp Nest Removal Cost Calculator
The minimum cost threshold for a professional wasp nests removal is around £35 - £40. This will only cover the cost of removing the nest itself without any form of treatment, i.e. when the wasps are dead or dormant.
Most reliable contractors offer guarantee for their work and their services will have a fixed price. So, if the problem recurs within the work guarantee timeframe, you can always call the contractor and they will gladly work on it with no additional cost.
Generally, wasp nest removal is done in two phases - Inspection and treatment/removal phase.
During the inspection, the contractor will go round your entire property, checking the spots infested with wasps and collecting details on the level and kind of infestation. They will later analyze this information to know the right treatment method to use. On average, the inspection process should cost around £100.
When the contractor discovers that there is a live nest on your property, the removal and treatment phase will begin. On average, wasps nest treatment and removal should cost £80.25 for easy to access places like the ground floor and outdoors. Delicate places like the roof or attic will require £101.65 or more for the treatment and removal process.
Additional costs can be incurred if there are other infested areas on your property. For this, expect to pay an extra £20 for treatment and £26.75 for nests' removal.
There will definitely be added costs if the contractor will use access equipment in the course of the treatment and removal process.
Get Free Wasp Nest Removal Quotes Online
Factors that affect the cost of wasp nest removal
The following are the factors that will dictate the amount you will spend on this task:
Accessibility to the nest
In case your contractor uses any specialist equipment to access delicate places, then there will be additional costs. Similarly, if the contractor will be forced to hire equipment other than what they have, say, longer ladders, the cost will be extended to you. Wasp nests in enclosed spaces such as wall cavities may be impractical to remove entirely.
Location - labor considerations
The cost of labour is more expensive in London and South England than anywhere else in the UK. In London, for example, expect to pay around £80 for the wasp nest removal process.
Contractors generally operate within a certain area and if they have to travel beyond this area, additional costs may apply. If you live deep in the rural areas, you need to source a contractor from a distant region, meaning that you will spend more for wasp nest removal.
Further Wasp Information
Only found in late summer, a mature wasp nest will house an entire colony of hundreds or even thousands of individual wasps. DIY wasp removal can be very dangerous and should be avoided at all costs. Wasps are generally aggressive and anytime they feel threatened, they will sting.
In this regard, you need to reach out to professionals who will come in will all the tools required to remove the wasp nest. But how much will you spend when you call a specialist?
This post will answer this question and explore any other cost details related to professional wasp nest removal. Follow through to understand all the factors that affect the cost of this task.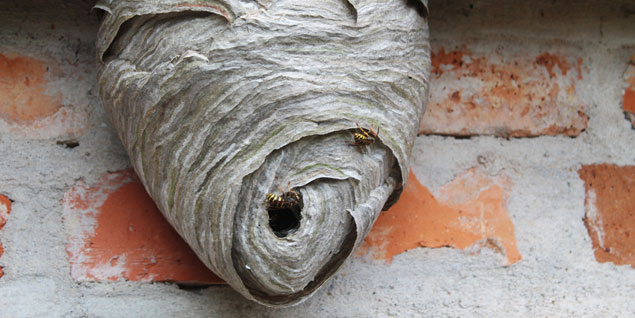 How will you identify a wasp nest?
Wasps are territorial and prefer to live in dark and hidden places. Although most wasps tend to live outdoors in bushes and trees, they can also infest garden decking, attics and any hidden building component.
Signs of a wasp nest infestation
Locating a wasp nest is quite easy, especially in summer, when the movement of wasps into and out of the nests is heightened. However, be careful not to get stung as the wasps fly in and out of the nests.
It is hard to miss the spots where wasps have infested as there are always traces of wood chewings wasps use to build the nest. In this regard, you should always focus on the areas where the wood materials are sufficiently soft, as this means that the wasps will easily build nests there.
Even on knowing this, it is advisable to reach out to a professional as soon as you suspect an infestation. Never wait until you confirm if they are wasp nests or not to seek out professionals' help as this may make the infestation worse and complicated to deal with.
How big can a wasp nest get?
A typical wasp nest will start as a small mass (as small as a golf ball), then grow bigger throughout summer. It is not a wonder to see a wasp nest the size of a soccer ball. They will even grow bigger if left unattended.
The difference between a wasp and a hornet
In many aspects, a hornet is similar to a wasp, except that it's larger. In terms of appearance and body markings, these two have brown or orange bodies with popping black markings.
Regarding the risk they pose, garden wasps are more aggressive than hornets. If not disturbed, hornets will barely sting you. On the flip side, if a hornet stings you, it can be very painful. Note that unlike a wasp, hornets can also sting multiple times in one attack.
How practical is a DIY wasp nest removal?
It is advisable not to handle wasps and their nests on your own since, if disturbed, they can aggressively and mercilessly attack. They will get defensive anytime a foreign force disturbs them.
As mentioned above, hornet stings are very painful and in addition to this, they can trigger allergic reactions that will lead to hospitalization- it can get as serious as this!
Considering that a qualified professional will come with the right equipment and tools for the task, there will be no risk for an attack, even if the wasps or hornets get defensive. Reach out to a reliable tradesperson if you want to eliminate wasps in a safe manner, once and for all.
Compare Pest Controller Costs Now