Electric Shower Installation Costs & Quotes
Last Updated on By Jon
A new electric shower can be invigorating, and doesn't have to cost as much as you think. Our 2023 guide to electric shower installation costs will give you all the information you need, plus free quotes to compare.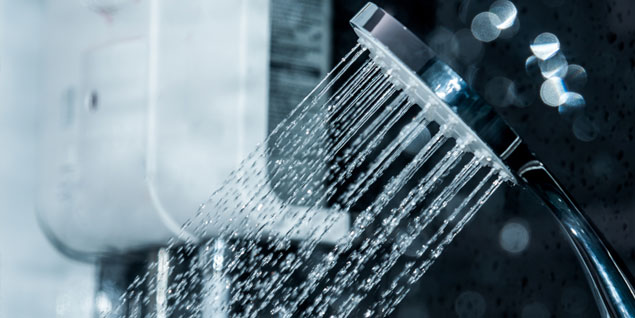 How Much Does an Electric Shower Cost?
Let's take a quick look at some average prices for electric powered showers:
Property Type
Price
Mixer Showers
£107.00
Power Showers
£321.00
Thermostatic showers
£171.20
Digital showers
£508.25
Installation (replacement)
£117.70
Installation (new)
£224.70

(Prices taken from multiple sources and averaged)

Prices Checked 03/10/2023
Electric Shower Cost Calculator
To get hot water instantly, electric showers are an excellent option. They may also save energy and are popular for homes with combi boilers. However, they pose some serious risks for the uninformed or inexperienced. A plumber or electrician must be hired to install them.
Do you want to know how much an electric shower should cost? This article will cover the factors that affect the installation of an electric shower and what you can expect to pay to have one installed by a professional.
Get Free Shower Installation Quotes Online
Average Electric Shower Installation Cost
The price of the shower can vary depending on your budget. A low-end power shower can sell for as low as £50, while a high-end, more robust electric shower can cost upward of £300. However, there are also more expensive options on the market.
If you previously had an electric shower and need a new one, it's likely you'll pay between £70 – £150 for the installation (as the wiring and pipework will already be in place), plus the price of the shower.
There are many factors that can change the average prices. Here are some of the most important things electricians and plumbers need to consider when pricing their services.
If you currently have an electric shower
Retrofitting an electric shower? Some cables already installed could be used for a lower price of £70 – £150 depending on your needs.
Wiring Distance from Consumer Unit to Shower
Another thing to consider is how far and how easy it is to access a shower unit from the consumer unit via an isolator. The distance of a shower cable costs roughly £3 per metre, and you pay more if you have to remove carpets or flooring from your home. The route itself from your shower to your consumer unit may also be problematic. For example, the shower cable may need to be chased into walls or across floors.
kW Output of Shower
The power of a shower is measured in kilowatts (kW). The more kW you have, the stronger the water pressure. Cabling thickness therefore varies typically between 6mm or 10mm.
When replacing your shower, choosing a higher mm (e.g., 10mm) cable may not be a bad idea at all since it will be enough to power your new model if you choose to upgrade later.
In general, 10mm cabling is more than enough to power most 8.5-9.5 kW electric showers.
Do you need RC protection for your consumer unit?
An RCD protects you from getting a fatal electric shock by acting as a sensor that detects and trips the current if the voltage is above a safe threshold. It can also protect against electrical fires by shutting off the power supply.
Your bathroom will need to have its own circuit because it's a wet area. This circuit needs to meet certain regulations and require an RCD (radial common-trip) protection device or GFCI (Ground Fault Circuit Interrupter). The RCD or GFCI itself should already be in your consumer unit. If not, you can buy a standalone RCD for about £40. You may also need a shower block , which is about £10.
To update your home for a modern electrical system, you'll need an infrastructure upgrade. If you have a single-phase electrical system, it will cost about £80 to updated it to one that includes dual RCD protection. A surge protection device is another £40.
Part-P certified plumbers
Finding a plumber that is Part-P certified can help reduce overall costs by removing the need to hire an electrician. In order to negate the need for hiring both an electrician and a plumber, you'll want to find someone who is both Part-P certified and able to install the electrical elements of a power shower.
Screens and trays
If you are in need of a full shower renovation, with new screen and shower tray, then the cost can range from £1,000 and above. It depends on your style preferences and whether or not additional tiling needs to be done.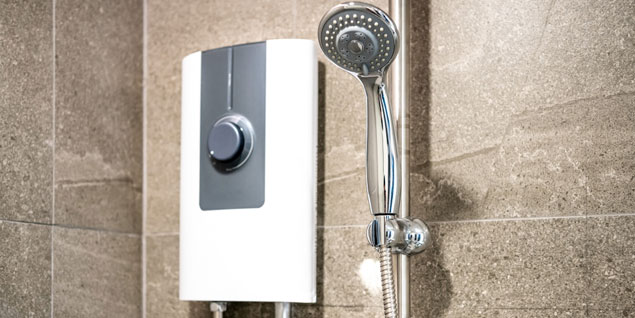 Mixer showers
Through a system of valves, mixer showers let you enjoy both hot and cold water — giving you the long, luxurious shower you're craving. Mixer showers can either be concealed in the shower wall or made open. These units can range from £50 to around £150.
Power showers
PA lot of people think of electric showers and power showers as the same thing, but they're actually not. Power showers, for example, draw water from both hot and cold water supplies. They also feature an internal pump to boost pressure and save water. You can typically find them online or at plumbing supply stores for around £100 to £500. Many power showers can be converted into mixer showers if the water is drawn from a hot water tank instead of the combi boiler.
Thermostatic showers
Thermostatic showers have a sensor that detects changes in temperature so that the water can be heated or cooled at a steady rate. If someone else in your house uses the shower, there won't be a sudden spike of cold or scalding hot water. These showers cost from £120-200. Thermostatic showers are perfect for the eco-conscious consumer.
Digital showers
Digital showers are high-end showers that are controlled through a digital interface and can also be connected to smart home devices. They have an LCD or LED screen to control everything from temperature to pressure. A range of prices exist for these showers, with entry models starting around £350 and more expensive options costing well over £600.
Get the Best Prices Online Now