Electrical Safety Certificates - Average Costs & Quotes
Last Updated on By Jon
The cost of electrical safety certificates in 2023 will vary according to your property. In this guide we look at what is involved, and what affects the overall price, along with weekly updated costs.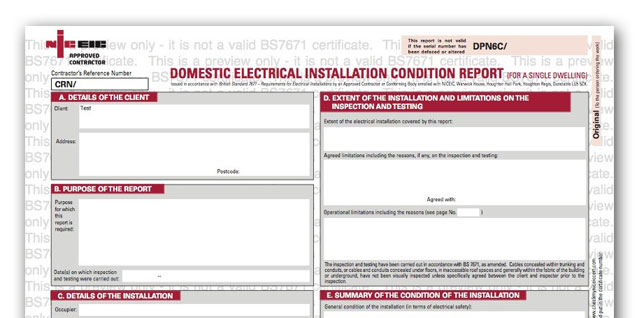 How Much Does an ESC Cost?
Lets start off with some average prices for an Electrical Safety Certificate:
Property Type
No. of Rooms
Price
Flat
1
£160.50
Flat
2
£197.95
Flat
3
£256.80
Flat
4
£278.20
Flat
5
£299.60
House
1
£181.90
House
2
£235.40
House
3
£262.15
House
4
£299.60
House
5
£342.40

(Prices taken from multiple sources and averaged)

Prices Checked 06/12/2023
ESC Cost Calculator
More Information
If you're a property owner or you would simply like to have peace of mind in knowing that all of the electrical outlets and appliances that have been installed in your home have been done so according to current safety standards, the best way to do this is to obtain an electrical safety certificate
Although you may be able to reduce the cost of an electrical safety certificate and general electrical work by as much as 50% if you shop around, your main goal should not be to look for the cheapest possible pricing when having this type of work carried out. However, if you own several properties, you may find an electrician that will be willing to provide you with discounted rates if given the opportunity to perform all electrical repairs that are needed.
One of the best ways to ensure that you obtain a fair price for an electrical safety certificate or electrical repair and maintenance work is to obtain a minimum of three quotes beforehand. When completing our contact form, you will be put in touch with several qualified and accredited electricians. There is no upfront charge for obtaining quotes from us.
Get Free Safety Certificate Quotes Online
What is an Electrical Safety Certificate?
An electrical safety certificate provides property owners and/or tenants with information to confirm that items such as switches, sockets, cables and other related items that have been installed are working as they should and don't present any form of fire hazard.
If any repairs or maintenance needs to be done to any of the electrical installations in a property, these will be noted as well. Once all of them have been completed according to the required specifications, a safety certificate will be issued.
It is strongly recommended that electrical installation reports be carried out at least once every ten years. The following items and/or aspects will be inspected when an electrical installation condition report is needed:
Sockets, switches and other fixtures such as light fittings
Fuse boards
Installation polarity
Protective device testing to ensure that they still operate safely
Different Types of ESC
Your chosen electrician will advise on the most appropriate certificate for your needs, however there are 4 main types of report that are typically produced:
Minor Electrical Works Installation Certificate
Electrical Installation Certificate
Part P Notifications
Electrical Installation Condition Report
Calculating the Cost of an Electrical Safety Certificate
The cost of obtaining an electrical safety certificate will vary depending on the size of the property in question. However, the following amounts are basic guidelines of what you could expect to pay for this service:
1 bedroom flat - £100 to £200
2 bedroom flat - £120 to £250
3 bedroom flat - £200 to £280
1 to 2 bedroom house - £170 to £220
3 to 4 bedroom house - £220 to £280
5 bedroom house and larger - £320 and upwards
In most cases, a certificate of compliance will be provided within a few days of the inspection being completed. Although this will usually be emailed out, printed copies can be obtained for an additional cost.
Are DIY Electrical Safety Inspections Allowed?
Regardless of the type of property that has to be inspected, it's mandatory for this service to be performed by an accredited and registered electrician. Property owners and/or landlords will then be required to keep the report that has been provided to them and the relevant local authority also has the right to request it. After the request has been made, it must be provided to them within seven days.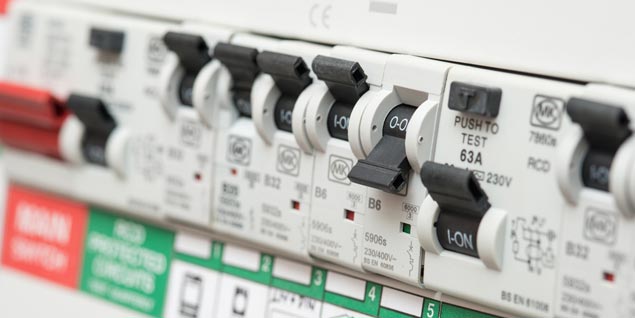 Other Types of Work Performed by Electricians
Some other types of work that must be performed by qualified electricians include:
1. Rewiring of Homes
Outdated and faulty wiring results in over 13,000 house fires occurring each year, and one of the best ways to avoid having this happen in your home is to have it rewired – especially if it is an older property. Electricians recommend that homes be rewired once every 20 to 25 years to ensure that all electric appliances and lighting remain safe to use.
Having a three bedroomed home rewired can cost anywhere between £2,350 and £4,800 and this project can take approximately one to two weeks to complete – depending on the size of your home and how much wiring is required. Property owners in the Southern parts of England will usually pay slightly higher prices to have this service carried out than in other parts of the UK.
During this project, all of your home's wiring will be replaced, along with that which leads to the consumer unit and electricity meter. The consumer unit itself will normally also be replaced, as will all outlets, sockets and switches. Once completed, your electrician will test everything and if it passes inspection, issue you with a final installation certificate.
2. Replacing Fuse Boxes
Also known as consumer units, these can cost between £300 and 700 to replace. The cost will depend on which part of the country you're situated in. In many cases, this will be replaced at the same time that your home is being rewired.
3. Installing Bathroom Extractor Fans
Damp air that is not removed from bathrooms causes mould to develop and spread over time; especially there aren't any windows that can be opened. Preventing mould is crucial because it not only makes it close to impossible for a landlord to rent out a mould-infested property; over time, mould can cause an array of serious health-related problems.
Replacing an existing extractor fan unit will cost between £120 and £250, while having a new one installed from scratch could cost up to double this amount. These estimates don't include the cost of the fan itself – in most cases; you will have to supply the unit.
4. Relocating Sockets and/or Switches
This is usually one of the easiest and quickest projects for an electrician to complete – in many cases, it takes a few minutes for a single socket or switch to be moved or replaced.
In cases where light switches are being replaced with similar or the same products, homeowners can expect to pay between £70 and £150. The final cost will depend on how long the job will take to complete and where the item is being moved to inside your home.
If a socket or switch is being relocated completely, the cost can be anywhere from £150 and £320 and the cost of installing any additional sockets can range from £140 to around £300 per unit.
What to Look for before Hiring an Electrician
It's essential for anyone who will be inspecting or installing any electrical devices or installations to be fully competent, qualified and experienced to do so. Electricians also have to undergo several years' training and obtain extensive on the job experience before they will be considered as being qualified.
In most cases, electricians become qualified and accredited after serving an apprenticeship of between two and four years. Once this time has been served, they will need to pass an industry accredited level 3 qualification before they become fully accredited.
Individual electricians or electrical companies may also be members of these organisations:
National Inspection Council for Electrical Installation Contracting (NICEIC)
Electrical Contractors' Association (ECA)
Obtaining the Best Quotes for Electrical Safety Certificates and Electrical Work
It's strongly recommended that you obtain three to four quotes from reputable and established individual electricians and contracting companies before agreeing to have any work completed. All electricians sent out after obtaining quotes from this site are fully accredited and experienced, thus providing you with complete peace of mind.
All you need to do is fill in the contact form and provide us with basic information, and you'll be provided with quotes from various national and/or local electricians and/or contracting companies. After letting these professionals know what type of work you need done and accepting a quote, the work will be completed according to current electrical safety standards. When working with accredited electricians, you will also be charged pricing that is fair and aligns with industry pricing guidelines wherever applicable.
Compare Local Electricians Now