Outdoor Electrical Socket Installation Costs, Calculator & Quotes
Last Updated on By Jon
Looking to do more in your garden? Whether its for a lawnmower, exterior lighting or even a hot-tub our 2023 guide to exterior socket installation will help you to save with average costs and free quotes.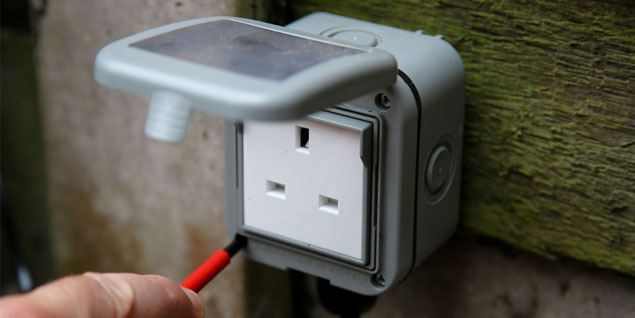 How Much Do Outdoor Sockets Cost?
To give you an idea, here are some average costs for new outdoor sockets:
Property Type
Price
Single Socket
£152.48
Double Socket
£160.50
Timer Socket
£197.95
RCD Socket
£181.90
Supply Only - Single Socket
£13.38
Supply Only - Double Socket
£21.40
Supply Only - Timer Socket
£58.85
Supply Only - RCD Socket
£42.80

(Prices taken from multiple sources and averaged)

Prices Checked 02/12/2023
Outdoor Socket Cost Calculator
How Much Does Installing an Outside Socket Cost?
When installing the socket, you should consider the main cost as the hourly pay rate of the electrical expert working on this socket. On average the task can take up to two hours because it's not a complicated task. If you want to install a cheap socket and the areas you need to set up are easy to access, the cost can be around £152.48. The cost of installing the socket will automatically go up, reaching approximately £181.90 when installing a more complex socket.
Factors affecting the cost of outdoor plug sockets
Number of sockets
It is better to install a double socket, instead of two singles, because it is much cheaper. In addition, it tends to be less costly to install two sockets on the same day, unlike when you want to install one socket today, you install the other later. When installing, you need to consider your plans or long-term goals to save a lot of money.
Usage
If you want the appliances you're using on this socket turn on and off, you can opt for an in-built timer socket. This socket is ideal for all your lighting sources, and is why the installation cost is higher.
Accessibility
If you want to set up your sockets in a place that is hard to reach, you'll end up paying a lot of cash. For example, if you want a socket away from the wall like a box in the garden, you will need additional funds.
Socket type
The cost will vary depending on the type of socket you want to install. For example, do you want to install a single plug socket, which is less costly, around £152.48, or the double plug costing an average of £160.50. The double plug helps you save a lot; thus, you can install the double plug to keep the cost down.
Socket's position
The position to install the socket will heavily determine the cost of installation. For example, when your location is far, you will need longer cables and increased labour time, increasing the overall cost.
Electrical Inspection
This inspection is primarily for older homes where the electrical expert will request inspecting. This inspection will help check if your consumer unit will cope with the extra socket and power drawn.
Importance of an outdoor socket
Installing an outdoor socket is very advantageous in many ways. It makes the use any electrical appliance outside your house safe and easier. This article will guide you through the overall cost of installing the exterior power point or the outdoor socket.
Having an outdoor socket will save you the headache of connecting a long electric cable from the house in the name of providing power for the appliance. You may need to mow the gardens or use your drill; using these long cables tends to be hazardous as they are more prone to trips and being severed.
An outdoor socket may also provide reliable power for all other outdoor appliances like outdoor pools, hot tubs and outdoor lighting. If you have a party in the gardens one evening in the summer or spring, an outdoor socket will take care of your electric needs. Remember, while using an outdoor socket, you should help reduce any potential problems by installing a high-quality, durable and waterproof socket.
You can also add an external socket to the front of your house. This position can present the best location to have a car wash or pressure washing point at your home. When it comes to charging electric vehicles however, experts recommend that you install a specialist charging point rather than a standards plug socket.
Get Free Outdoor Socket Quotes Online
Essential considerations when installing an outdoor socket
There are various factors you need to keep into consideration before installing:
Always have a close eye on those appliances left outside, ensuring that pests don't damage them.
All the appliances used on this socket should also be approved for outdoor use; furthermore, they should be waterproof.
Before installing, you need to have complied with all the electrical and building guidelines and regulations.
It is advisable to cover the wires to avoid tripping people.
Use waterproof and frost-proof cables during installation. As a precaution, ensure you minimize the exposure of the wires to frost or water.
For you to prevent any accidental tugging, it is advisable to use an RCD-enabled socket.
Ensure all the equipment is rated for outdoor use; the power cable and socket should be waterproof.
Types of Outside Socket
There are a few types of outdoor sockets you can install; in addition, most of these sockets are weatherproof therefore, they come inside an enclosure.
1. Single socket
If you have a limited budget for the installation, you can opt for the single socket, as it is the primary and budget-friendly option. A single socket has one plug; it allows a single appliance at a time. The price of this socket averages around £13.38.
Pros
The socket is compact.
It is pocket-friendly.
Cons
You can only use one appliance at the socket.
---
2. Double socket
The double socket has space for multiple plugs. The average price of this socket averages around £21.40.
Pros
It is budget-friendly.
The socket has multiple plugs.
Cons
The socket needs more space for installation.
---
3. Socket with timer
This socket provides the best option when you want to use the socket for purposes like lighting. The built-in timer is an essential feature in this type of socket. It costs around £58.85.
Pros
They have an inbuilt timer, useful for lighting purposes
Cons
These sockets are costly.
---
4. Sockets with RCD
These are sockets that have RCDs built in them. The RCDs make them safer than the others. The sockets come as either single or double plug sockets. The average price for the socket is typically £42.80.
Pros
They are much safer.
Cons
They are more costly.
---
What is involved in Installing an Outside Socket?
Firstly, turn off the electricity in your homestead. However, you can only turn off a single section of the house, depending on the kind of wiring your home has and the location of this socket. There are two ways you can power your socket. Either you have the outside socket on its electric ring or join it with an existing electrical ring. What differentiates these two methods is the starting point of the wire.
After which, choose a convenient place where you can drill the hole for the socket; this hole should join an internal socket through the external socket. Then you'll take a spur from the internal socket to power the outdoor socket.
In most cases, electric experts prefer to run a cable from your consumer unit to the socket, which is a much safer option. It would be safe to put these cables out of the way by tacking them to the walls. Possibly the electrician can lay these cables inside the walls to increase safety.
Then you need to attach the socket box to the wall. After which, wire the socket in, then switch on your electricity.
What is an RCD?
RCD is an abbreviation for Residual Current Device, and it's a feature that must be available in most power sockets. RCDs are advantageous as they will cut off the electricity once the system notices a fault in the electric system. For example, if you are using a lawnmower and accidentally cut the mower's cable. Cutting off the power will essentially protect you from electric shocks.
A socket with the RCD is more costly, but the cost is relatively reduced when you factor in installation. When installing a socket that doesn't have an RCD, the electricity expert will have to connect this particular socket with an RCD elsewhere in the house. These connections will require additional costs in extra labor and cable, thus increasing the socket installation cost.
When installing the RCD sockets, it includes covers that trap cables in place. Thus while you are using the socket, there are no incidents of accidentally pulling the wires. This feature makes the use of the socket more convenient and safer for outdoor equipment.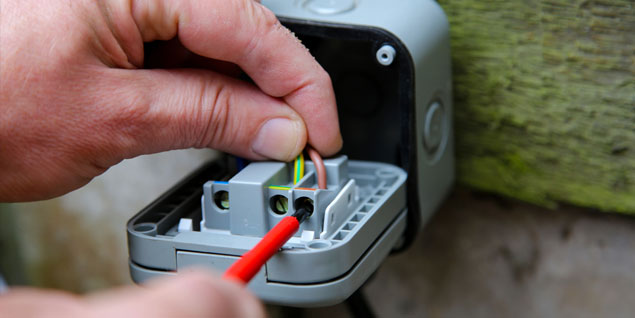 What Can an Outside Socket be Used For ?
The outdoor socket has unlimited uses, including using any electrical device you wish. However, there may be specific appliances you want to run on specifically on this external socket. These appliances may include:
Outdoor lighting - This lighting can make your garden space more usable. You can prefer to use electric lighting over solar lighting because they are reliable. Having an outdoor socket will make you have an easy task lighting your gardens.
Water feature - You'll need electricity if you have an integrated water pump. The safest and easier way to connect the water pump with electricity is by using the outdoor socket. You can opt to use a socket with a timer to use the water pump during the day.
Lawnmower - a lawnmower may be the main reason for installing an external socket. Connecting a mower to an outdoor socket is much easier using it, unlike when you connect to a socket in the house. You will need long cables to ensure that electric power reaches the lawnmower.
Pressure washer - They are important for cleaning cars and outdoor paving. You can quickly complete your tasks while using your outdoor socket. You don't have to worry about getting the electricity supply from the sockets inside the house, getting it through the windows or doorways.
Outdoor heating - During the autumn, it's generally freezing; you only need an outdoor heating system to enjoy in your garden. It's better to use the electric heater rather than the gas alternatives. You'll easily connect the electric heater to your garden if you have an external socket.
Hot tub - You require an electric pump if you have a hot tub that is either fixed or inflatable. It will be ideal to use an outdoor socket to prevent water from damaging the hot tub.
Pond pumps - If your home has a small pond, you'll need a pump; this pump needs you to plug in an electric supply system. By having an outdoor socket, you can plug in without any worries. You will be sure of your safety anytime you plugin, as the socket will be free from the pond splashes.
Can I install an outdoor socket myself?
Don't think of installing the socket by yourself because it can cause damage to your house and even yourself if the installation is done incorrectly. Instead, hiring an electrician is advised, as they will use their knowledge and experience to guide you on the best suitable socket and best locations for installation. In addition, an expert will also ensure that your electrical system complies with all the regulations, thus assuring you of your safety while using this socket.
Compare Exterior Socket Costs Now