How much does it Cost to Install Artificial Grass?
Last Updated on November 04, 2020 By Jon
Artificial grass is manufactured from plastic and the main advantage of having it installed is that it saves a lot of time, money and effort because it requires a lot less maintenance than a real lawn. It's also an excellent option for properties that have poor quality soil or shaded sections where real grass simply refuses to grow.
Get Free Artificial Grass Quotes Online
Average Pricing for Artificial Grass
Several different grades of artificial grass can be purchased and prices for the grass itself start from approximately £10 to £12 per square metre. However, grasses at this price point tend to be of quite low quality, meaning that they are not normally suitable for long-term use on your lawn.
Mid-range to high quality artificial lawn can cost anywhere from £20 to £30 per metre – and more in some cases. However, this will be of a far better quality and look a lot more realistic than the cheaper variants. Some of the costlier artificial grasses have been known to last for as long as 15 years.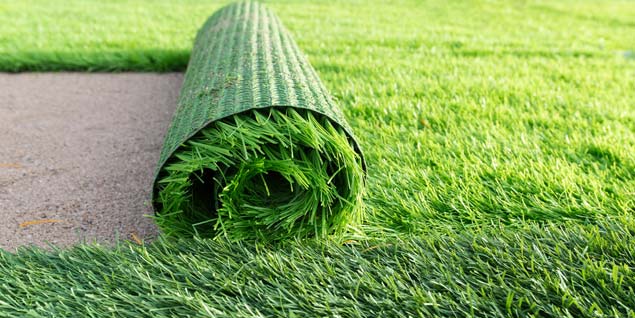 Approximate Cost of Installing Artificial Grass
On average, you can expect to pay between £50 and £0 per square metre if you are having artificial grass supplied and installed. However, your end cost will also depend on the size of your lawn and whether your chosen grass is available in 2 or 4 metre widths.
Labour costs can average between £90 and £150 per day, per labourer. Removal of existing grass, preparation of the ground surface and installing of the artificial lawn can take a few days, depending on the size of the lawn in question.
Laying 10 square metres of artificial grass can cost between £500 and £600, and take 1 to 2 days to finish
Having 25 square metres of artificial lawn laid can cost between £1,300 and £1,450 and take up to three days to complete
Laying 100 square metres of plastic grass can cost up to £4,350 and take up to 8 days to lay correctly
Cost of Removing Existing Turf
Before having artificial grass laid, it's essential to take into consideration that old turf will need to be removed first. This can be quite labour intensive, meaning that it will normally comprise the largest part of your quote amount.
In most cases, machinery will be used to remove existing grass and up to 20 cm of soil so that the ground can be properly prepared for the artificial grass. The final cost will depend on the size of your lawn and on your location – homes in outlying areas may attract lower priced quotes than those in central London, for instance.
Replacing Existing Artificial Grass
If you already have artificial lawn, but it's become worn or has faded over time, it will be quite easy to replace it. Old grass will be removed and the base work will be inspected to ensure that it's still in acceptable condition. The amount of time needed to do this will obviously depend on the size of your lawn and the quality of the replacement grass you choose.
Advantages of Artificial Lawn
One of the main advantages of artificial lawn is that you'll no longer have to spend your weekends cutting grass or keeping edges trimmed. There's no mud to deal with when it rains and it's also water- and weather-resistant, meaning that it will last you for many years after being laid.
Frequently Asked Questions
Do artificial lawns require any maintenance?
Although some basic maintenance is required on artificial grass, it's a lot less than that which is needed on real grass. In most cases, a general brush off will be sufficient to remove twigs, leaves and other debris from settling on it and causing a muddy mess over time. Artificial grass will require occasional washing with plain water and a standard garden hose as well.
Can plastic grass be laid on ground that slopes?
Most definitely! Today's artificial lawn products have been manufactured in such a way that they follow the natural contours of your garden – much like real grass.
How long does artificial turf last?
Most of today's artificial grass products are UV-resistant, meaning that they can last as long as 15 years without fading.
What is artificial lawn made from?
Artificial grass is normally made from plastic polymer that is a combination of polypropylene and/or polyethylene. These substances are known for being highly resistant to damage and they are also very soft underfoot, much like real grass.
Is artificial grass fireproof?
Although artificial grass will not catch alight as such, it can start to melt if exposed to extreme heat. This means that while you will still be able to enjoy doing a barbecue in your yard, you'll need to keep the main heat source away from the plastic grass. Cigarette ends should also be kept away from artificial lawn, as they could cause sections of it to melt and discolour as well.
Is artificial grass safe for children to play on?
This type of lawn is excellent for children to play on because it's just as soft underfoot as genuine grass. An added advantage is that you won't have to worry about mud and dirt being trailed through the house when games are being played either. Artificial lawn is also a great choice to place around playground equipment because a shock pad can be installed underneath it, which will cushion any falls if they occur.
If you would like to find out more about the different types of artificial lawn that are available and whether they will be suitable for your property or not, simply provide us with your contact details. Once we receive them, you'll be contacted by up to four experienced installers so that appointments can be scheduled to inspect your existing lawn. Once this has been done, you can expect to receive quotes within a day or two at the most and you will not be under any obligation to accept any of them right away.
Compare Artificial Grass Costs Now