The Cost of Block Paving - Compare Quotes
Last Updated on November 09, 2020 By Jon
Since it first became popular in the eighties, block paving has been a staple of suburban neighbourhoods. While it requires more time and intricacy than a standard tarmac driveway, it adds visual interest and detail to the outside areas of a home. Plus, when bricks are used to construct block paving, homeowners can remove and replace the individual pieces if damaged. With a singular piece of asphalt or concrete, repairs tend to be pricier and take longer to complete.
Block paving is commonly used to create driveways but, due to its attractive visual arrangements, it is also suitable for patios and paved gardens. For homeowners without the time or inclination to maintain a lawn, this type of paving is a neat and undemanding alternative. In most cases, a biannual power wash and monthly sweeping are enough to keep block paving in tip-top condition whereas a lawn needs to be mowed fortnightly.
For all of these reasons, installing block paving can add value to a property. Provided the stones and seals are of a high enough quality, a paved driveway or patio of this kind can be a big selling point. The question is, how much is it likely to cost? Is it worth replacing the grass in your front or back yard with paving blocks?
In this article, we're going to take a look at different block paving options, their typical costs and whether they're right for your home.
Get Free Block Paving Quotes Online
Some Benefits of Investing in Block Paving
As already touched upon, block paving is a very low maintenance option. It looks attractive and modern, but it practically takes care of itself. There's no grass to mow, no uneven surfaces, weeding is minimal (non-existent for new paving) and damaged bricks or 'pavers' can be individually lifted and replaced.
Concrete and tarmac can offer these same benefits, but they don't look anywhere near as stylish. Being made up of many bricks, block paving can be used to create unique patterns and designs. Even a standard interlocked arrangement, with no specific design, has visual appeal because it's not a singular piece of material. It is a tessellated mosaic of a kind, made up of many pieces without gaps or overlaps.
It's also suitable for areas of exceptional load which is why you see so many block paving driveways. Whether entertaining guests on a patio or parking the family car, the surface is always reliable. No mud, no lumps and bumps and no risk of damage from visitors, vehicles or pets. Block paving is tough and capable of withstanding anything you can throw at it (or leave on top of it).
The typical cost of installing block paving depends on various factors such as the type of paving block used, the size of the area being paved and whether or not you want a specific type of design or arrangement. Cost is also affected by location so it's worth doing some research on average rates in your town or county. Generally speaking, block paving costs anywhere between £4,000 and £8,000.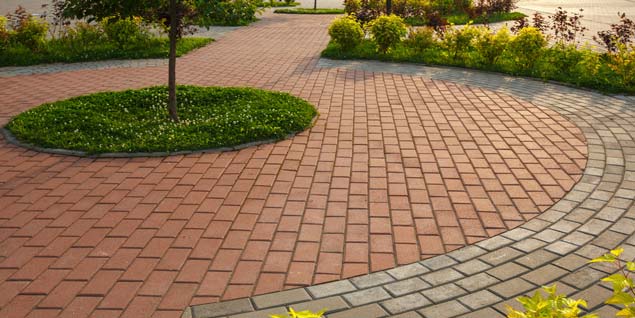 The Different Materials Used for Block Paving
Concrete Blocks
Concrete can be used to create block paving and it is among the cheapest options for homeowners. It is a popular choice for driveways because, essentially, it's a way to benefit from the strength and load-bearing capabilities of the material without opting for a single unembellished stretch of concrete as might be seen on a road.
The advantages of using concrete are the same, however. It is easy to make, costs little to produce and can be used to pave large areas. Concrete blocks can even by dyed metallic oxides. Although, this effect isn't permanent. Dyed blocks fade in colour over time with the more expensive versions keeping their colour for longest. Using standard-sized concrete blocks (100mm x 200mm x 50-100mm), it takes around fifty blocks to pave an area of one square metre. Block paving comes in a wide variety of shapes and sizes. However, for the most part, domestic or household paving comes in blocks of 50mm to 60mm.
Clay Blocks
While clay is not an uncommon material, it is significantly more expensive than concrete paving. Unlike concrete (which is mixed in large batches), clay blocks must be individually fired at very high temperatures. So, it takes longer to produce clay paving and, thus, the average cost of clay block paving can be as much as 100% greater per square metre.
For this extra cost, homeowners get a stronger, more hard-wearing material. As clay blocks do not disintegrate, there is no need to add a sealer to protect them. They are extremely hard wearing and have natural 'grippy' properties. This makes clay a great choice for patios, driveways or any area where people frequently walk.
Natural Stone
Natural stone pavers are the most expensive option as they are cut and shaped from larger pieces of stone as opposed to being manufactured. While the cost is high, the degree of customisation is also greater. Sandstone, limestone, granite and marble are all popular choices each with their own unique aesthetic.
The cost of installing a block paved driveway depends on the type of stone used. Marble, for instance, is going to cost substantially more than granite or limestone. If built correctly, natural stone should offer a similar degree of durability, but it may weather in a way that's more obvious and visually appealing. Many homeowners choose to use reclaimed stones precisely because they have a history and doesn't look brand new.
The Average Cost of Block Paving Per Square Metre
Again, it depends on your location – prices in London, the south and the midlands are slightly higher than in the north – but here are some estimates for the cost of block paving.
As the most affordable material, concrete paving costs anywhere between £20 to £60 per square metre. Clay costs between £75 to £100 per square metre. The most expensive option, natural stone, costs between £50 to £110 per square metre. This doesn't include the cost of installation and labour work which is, on average, around £35 to £45 per square metre.
Using these figures, we can see the typical cost of a clay driveway is between £3,000 and £5,000 for an area of 55m2. Homeowners in London and southern areas of the country can expect to pay closer to the top end of this bracket. If you live in a northern county, you could end up paying £3,500 or less. It's worth remembering, as far as installation work goes, the larger the area being paved, the lower the total cost.
Wherever you live, expect to pay between £2,000 and £2,500 for materials (blocks, sharp sand, skip hire) alone for a 50m2 drive (as an example).
The Typical Duration of a Block Paving Project
For a driveway of between 50 and 50m2, it should take the average contractor 4 to 5 days to complete the job. It is normal for a large group of labourers to begin a block paving project. However, just one or two tradesmen may work on it during the final phases.
While you can lay a block paving surface by yourself without professional help, we strongly recommend you consult an expert. Even if the arrangement and sealing of the blocks is relatively straightforward, it takes expert knowledge to complete the inceptive groundwork, level and compress surfaces and ensure fully functional drainage.
You need the services of a professional contractor to guarantee a proper fitting with a slope of 1:80. This is required to safeguard the damp proofing course and prevent lifting issues which may threaten the health of part or all of the paved space.
If you are planning to install block paving on your property, it's important to get an accurate price estimate first. Complete the form on our website to request quotes from a selection of contractors and tradesmen. All of these professionals have been thoroughly vetted and approved by our team.
Once you settle on a contractor whom you're happy with, we can guide you through the process of planning and scheduling the project in accordance with this provider.
Compare Block Paving Costs Now