Tree Stump Removal Costs & Free Quotes
Last Updated on By Jon
If you've got a troublesome tree stump in your garden that is difficult to remove... our free guide will help you understand the various techniques available and how to save on hiring the professionals.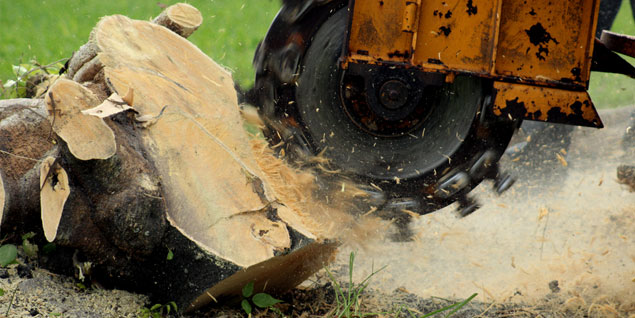 Average stump removal costs
Here are some average prices for complete stump removal:
Stump Diameter
Front Garden
Rear Garden
10" / 25.4cm
£48.15
£53.50
15" / 38.1cm
£72.23
£80.25
20" / 50.8cm
£107.00
£107.00
25" / 63.5cm
£120.38
£133.75
30" / 76.2cm
£144.45
£160.50

(Prices taken from multiple sources and averaged)

Prices Checked 02/10/2023
Tree Stump Removal Cost Calculator
The Average Cost of Removing a Tree Stump
Regardless of a tree stump's dimensions, removal can be accomplished by either digging it out or grinding it out. Cost will vary depending on the chosen method, how large the stump is, and how accessible the location is.
Stump removal cost often varies depending on the stump's dimensions. The starting price is £30. Pricing generally works like so:
Front garden tree stump removal: £4.82 for each inch
Back garden tree stump removal: £5.35 for each inch
Get Free Tree Stump Removal Quotes Online
What Things Influence Tree Stump Removal Prices?
Amount of Tree Stumps
A general rule of thumb is that if several stumps need removing, contractors will provide a lower price per stump.
Impairment of Access
The equipment will require to be transported to the stump. Due to the extra costs associated with moving a tree stump grinder, back gardens' tree stump removal will be more expensive. As previously stated, if it's in the back garden, it will cost roughly £0.50 for each additional inch.
To guarantee that they can take their grinder to your back garden, the majority of contractors need anywhere between 70 – 80cm worth of width clearance. If no easy access is available, you will end up paying considerably more.
Size
To obtain an accurate estimate, ensure that the tree stump is measured correctly. This is so that you are not issued with an estimate based on what is anticipated to be a tiny tree that turns out to be considerably larger. Inaccurately measuring the tree stump may lead to unanticipated cost increases since they may impact labour time and the approach taken to finishing the work.
The stump's diameter should be measured from the base, rather than from the top. Measuraments should include exposed roots, as they will indeed require to be removed and taken into consideration when it comes to cost.
Softwood vs. Hardwood
Depending on the wood type, the cost can go up or down. Softwood trees will be priced similarly to those listed above, while bigger hardwood trees may cost several hundred pounds.
The following are some of the ordinary hardwood trees found in the United Kingdom:
Birch
Sycamore
Walnut
Elm
English Oak
Ash
Beech
Why Should Tree Stumps Be Removed?
There are a variety of reasons why you might want to get rid of a stump on your property, including:
They make it more difficult to keep the garden in good shape.
Nearby trees or plant roots could affect the structure of the building.
By failing to cut down an infected tree, the disease may spread.
In a garden, tree stumps are often seen as undesirable characteristics.
It could be an obstacle during building.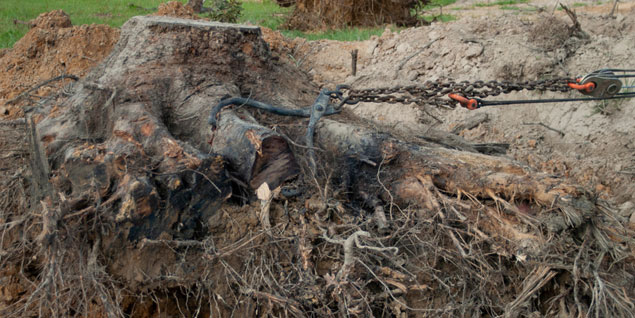 The best ways to remove a tree stump from your garden
There are several methods available for the removal of an unwanted stump, here are the most popular:
Removal
It consists of the use of labour and machinery to remove the stump from the ground by excavating it. It can be difficult to know the root structure's complexity and length prior to removal. The tree type and a thorough site inspection need to first be taken into consideration.
Stump Grinding
What Does it Take to Grind a Tree Stump?
Stump grinding is similar to wood chipping, but is used specifically to get rid of tree stumps. Once the machine is in place, it will start shredding the wood and work its way down into the roots.
The depth to which you grind is usually determined by the area's intended use after the project is completed; if you want to use the space to put down grass or flowers, you will have to grind much deeper than if you were to pave over it. After grinding is finished, you can begin filling the hole.
Chemical Stump Removal
If you want to remove tree stumps from your property, you can use chemicals. The key is to be aware of the possible hazards. The chemicals are dangerous to children and animals coming into close contact with them.
Burning
Burning tree stumps is considered to be a safe and cheap option for removal, but bear in mind the advantages and drawbacks of the process, as well as any safety precautions you'll need to take. Depending on size, it may take much longer to grind it down than to physically remove it.
DIY Stump Removal
It is possible to remove tree stumps from your property yourself, and in almost all cases, you will save money on labour if you are able to perform the physical task. It won't cost much to remove the stump if you already have a large arsenal of gardening tools, but if you don't, the tools mentioned are reasonably priced and may be useful for other jobs.
If you choose stump grinding, you can rent the equipment from £50 to £100 per day. If you decide to finish the job yourself, use caution; otherwise, call a professional.
One thing to bear in mind when you opt for burning a stump on your own is that kerosene should not be used because it makes wood harder, making it much more difficult to remove. You will pay approximately £8.50 for a kilogramme of potassium nitrate, which is a good oxidizer, so it will allow your fire to keep its heat. The chemical clearance of tree stumps works well with this method because, although the results may not be obvious for some time, the physical labour needed in this way is kept to a minimum.
Frequently Asked Questions
Which is preferable: grinding or removal?
Instead of looking for a clear-cut response, it is advisable to focus on the overall condition of the stump and the number and size of the stumps. It may be ideal to remove a single, small stump; but, when it comes to a bigger stump, or a number of stumps, it might be best to get a grinder to save time and effort. Many pros will suggest grinding tree stumps as it is time-saving.
Are roots in the ground capable of sprouting new growth following stump removal?
Instead of looking for a cMany people are concerned about this, especially if the stump is next to a building or if the roots have already harmed hard areas. Severing the roots surrounding the stump's base by using a pruning saw or even a pair of lopping shears is a part of the stump grinding process. It is then recommended to place a soil mound over the stump and apply a fertiliser containing nitrogen to help rootwood and stump decompose.
Compare Garden Specialists Now