Dry Stone Walling Costs & Free Quotes
Last Updated on By Jon
If you're looking for a boundary wall that is rustic, sturdy and has been proven effective for centuries then there are few better options than dry stone walling.
Our 2023 guide to average dry stone walling costs will explain everything you need to know to achieve the perfect boundary.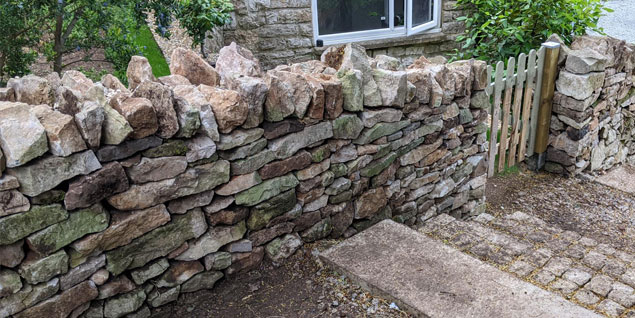 Average dry stone walling costs
Let's begin with some average costs before we go into further detail. Though prices throughout the UK vary, we've come up with some averages for you.
Job
Average Price
Walling stone
Sandstone per tonne
£192.60
Mixed Stone per tonne
£192.60
Labour
1 m² of wall
£133.75
1 day work
£321.00
Combined materials and labour
1 m² of wall completed
£267.50
1 day work inc. materials
£749.00

(Prices taken from multiple sources and averaged)

Prices Checked 01/10/2023
Dry Stone Walling Cost Calculator
Material Costs
perhaps the key cost of the project is the stone itself. If you are lucky enough to have suitable stone on site (for instance if you are rebuilding a wall) then you could save a huge amount of money.
Not all stone is the same, but you can expect to pay £160 - £200 per tonne for dry stone walling stone. Note that it takes around 1 tonne of stone to lay 1 square metre of wall.
Labour
It's likely any quotes you receive from professional wallers will be complete, including stone where necessary and the labour needed to complete it.
If you already have a supply of stone then you may just be interested in the labour cost to erect a new wall.
On average dry stone wallers charge £100 - £150 per square metre to construct a wall (labour only).
There may also be additional charges for stone sorting and footing preparation which need to be considered.
Cost of dry stone walling per metre
Prices tend to vary considerably across the country. The average cost of dry stone walling in 2023 is £200 - £300.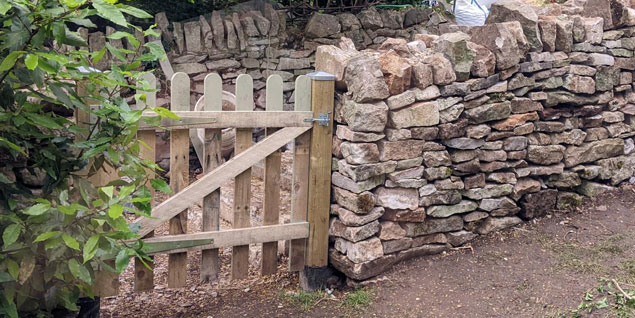 Factors affecting the cost of dry stone walling
There are several cost factors that come into play when looking to build a new stone wall. Here are some of the more prominent ones:
Size of wall: It goes without saying that all dimensions of your wall will affect the overall cost. Length, height and depth will all increase stone usage and labour costs.
Amount of stone: If you're having a wall rebuilt, or you have sufficient stone on site then you will save a lot of money. Walling stone is generally sold by the tonne and can be expensive.
Type of stone: You may want to use stone that is specific to your region, or to match other walls or even your house. Unfortunately, not all stone is the same when it comes to price.
Design complexity: It's simple to calculate the cost of a drystone wall based on metreage, but if you need to factor in bends, returns or any other features such as steps, benches and gate ends then it can become more costly.
Access: Particularly important if needing stone delivered to the walling site, the access to your home or workplace can cause delays in production if stone needs to be moved a great distance.
Preparation work: When rebuilding a stone wall there is an entire process for removing the current stone and grading it for repurposing. This can take a great deal of time before the building even begins. If starting a wall from scratch, then footings will need to be dug.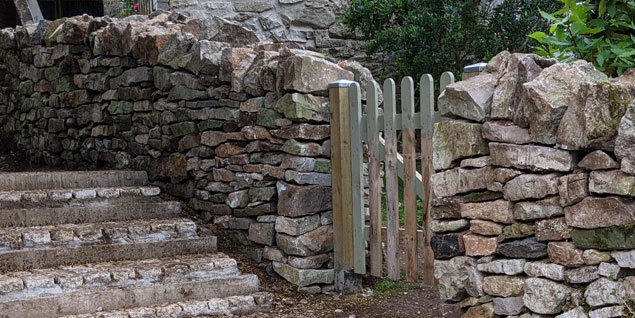 What is Dry Stone Walling?
As the name suggests, dry stone walling is the construction of a wall using nothing but dry laid stones (without any mortar). It is one of the earliest forms of construction and can be seen across the UK from the Cotswolds to Cumbria with an estimated 125,000 miles of dry stone walls.
It is typically seen in rural locations throughout the UK and is also known as drystack or drystane depending on where you are from. You'll often see dry stone walls forming boundaries in fields for livestock and garden boundaries for old stone cottages, some of which could be well over 100 years old.
Regarded as much of an artform as a construction technique there is a considered process that needs to be followed to build a strong, structurally stable boundary. Dry stone wallers are craftsmen who take great pride in their work knowing that each wall they create could last generations.
Far from just being stones stacked on top of one another, there are elements such as foundations, through stones, fill stones (or heartings) and capping stones that all play a vital part in tying together the structure.
What can you build with dry stone?
It's not just boundaries that lend themselves to a dry stone construction, there are several other uses for this style of build.
Feature walls
If you want a feature that will really stand out then a professionally built stone wall acive this. You could even hang a gate inbetween two brand new walls ot segment your garden, create a seating or barbeque area or even a walled vegetable garden. The choice is endless.
Retaining walls
You might not think it, but dry stone construction lends itself particularly well to retaining walls.
When constructed properly they are particularly adept at holding back earth. They are strong, can be built high and incorporate natural drainage through the stones making them an excellent choice.
Seating areas
You can make a beautiful seating area from scratch, or incorporate a seat or bench into existing walls very easily. This creates a garden feature that will really stand out, and be functional at the same time. Seats are normally built with paving slabs, flat stone or even wood such as sleepers.
Steps
Structurally sound, dry stone walls can even be used to make garden steps. They are often integrated with walls to create terraced gardens with a flight of steps between each terrace. There's no real limit to the design of the steps, though they are normally topped with slabs or some other flat high-friction material.
Garden features
Your limit really is your imagination. Across the UK dry stone has been used to create several garden features not limited to pizza ovens, water features, benches, fire pits and even pillars.
Get Free Dry Stone Wall Quotes Online
What is the dry stone walling process?
Though it may seem straightforward, building a dry stone wall that will stand the test of time is a complicated process that requires and expert eye and several steps. Here's a basic overview of what is involved:
1. Preparation
Demarcation of the wall using string or a chalk line (sometimes even a wooden frame and string to simulate the overall shape of the wall). Stones will also need to be moved to location and sorted into size, use (through stones, capping stones, fill stones etc.).
2. Foundations
If building a new wall from scratch a trench of about 30cm is then dug and the ground assessed to ensure it is stable enough. Assuming it is suitable, larger flat stones are used to form a solid foundation with a large footprint to prevent any sinking.
3. Layering begins
Stones can now be carefully placed onto the foundations, ensuring there is a mix of shapes, sizes and following some basic rules such as overlapping joints, through stones that span across both sides to provide support and wedged small stones to create a flat outside appearance.
- A note on quoin and cheek ends
If your wall terminates (for instance at a gate post) then you will likely hear the term quoins and cheek ends. These are large stones used on corners of walls that have been cut to provide a neat right angle, giving you the edge you need and the support the end of your wall requires to remain stable.
- A note on walling hammers
During the installation process you will likely see your stone waller chipping away at your stones to get a tight fit or a flush face. A walling or masons hammer is used and features a square striking face and a sharp chisel. The chisel end is used to create guidelines then the stone is broken along the guides using the blunt striking end.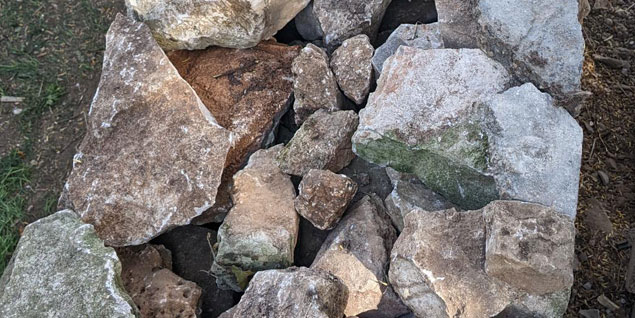 4. Infill
As the layering process is carried out, smaller fill stones or heartings are placed in any gaps within the confines of the wall to further stabilise the entire structure. This coupled with the through-stones helps to create a solid, interlocked wall.
5. Topping/Capping/Coping
The final layer that ties the wall together and hides the infill creating more attractive finish. The topping layer could be a number of different designs to suit your property.
Coping stones and topping
Topping your new wall is an essential part of the process. Not just for aesthetics, but for structural stability. There are several different options available, but here are the most popular: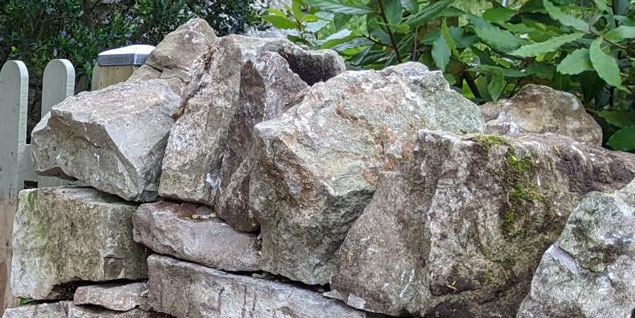 Cock and hen
Perhaps the most traditional looking dry stone wall capping. Cock and hen topping is commonplace in places such as Yorkshire or the Cotswolds. It is characterised by alternating large (cock) and small (hen) stones set at right angles to the main walling stone.
Spill stones
Used as a complete wall-top protection a spill stone is a large stone that covers the entire width of the wall to the point where it overhangs slightly. They are used as both wall and weather protection allowing rain to pour over the sides.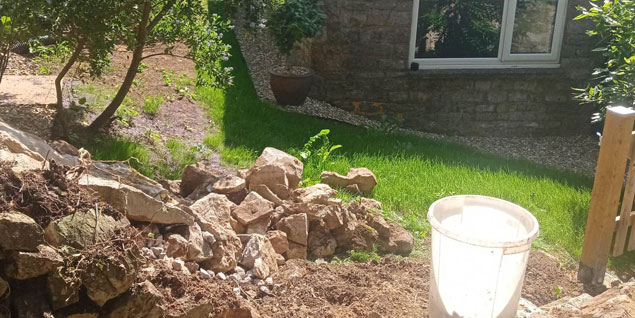 Frequently Asked Questions
How do I choose a reputable stone waller?
You may be fortunate in finding someone with a master's certificate from the Dry Stone Walling Association, but normally you should be looking for someone experienced who has several example projects to their name. A good stone wall id a calling card for wallers, so they should have plenty of examples to show you.
How much dry stone walling can be built in a day?
Working with stone is a difficult, tiring task. 1 metre of wall contains roughly 1 tonne of stone, so on a very good day you can expect a professional to build up to three metres of wall by themselves.
Does a dry stone wall need foundations?
No. So long as the ground upon which it is laid is stable then a layer of foundation stones is all that is needed. Some walling companies like to build on a bed of sub-base or even concrete when working with soft ground.
Will my drystone wall need planning permission?
No, you won't need planning permission for a standard dry stone wall unless it is forming part of a new structure that in turn needs permissions in place.
How long do dry stone walls last?
When constructed properly they are incredibly stable and long-lasting. You can expect your wall to last over 100 years and sometimes much more. This is why you still see old walls standing across the UK countryside.
How tall can a dry stone wall be?
Since they were originally designed to contain livestock it's not uncommon to see dry stone walling anywhere up to 6ft in height. It's more common to build them in the 3-5 ft range.
Can you add mortar to a dry stone wall?
Though it rather defeats the purpose, you can absolutely add some mortar to a drystone wall if you would like extra stability. Often lime mortar is used in the centre of the wall to provide added stability but hidden away enough for it not to be noticeable from outside.
What causes dry stone walls to collapse?
If neglected for a long period, soli can get into walls closely followed by vegetation. Root structures and intrusive plant life are the leading cause of wall collapse.
What flowers can I put in my dry stone wall?
You can liven up a dry stone walll by adding some plants to the top which don't feature invasive roots that will weaken the structure. Popular colourful examples include saxifraga urbium, saxifraga paniculata aizoon, aubrieta cascade and aubrieta hybrida royal blue.
Compare Walling Specialists Now