Tree Removal Costs, Calculator & Free Quotes
Last Updated on By Jon
Need a tree removed safely and efficiently? Our guide will show you average costs, hat causes the prices to change and how to get free quotes from local, approved tree surgeons.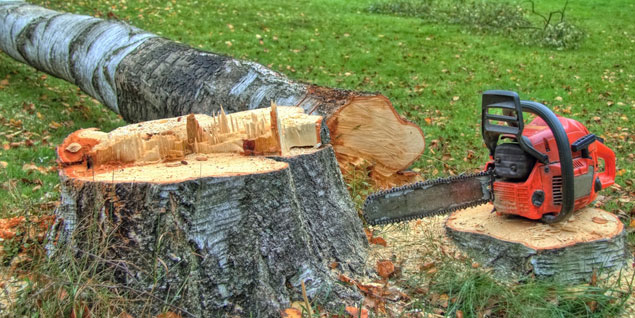 Average tree removal costs
Let's take a look at some average costs to fell a tree:
| Size of Tree | Average Cost |
| --- | --- |
| 20 ft | £231.75 |
| 30 ft | £463.50 |
| 40 ft | £798.25 |
| 50 ft | £1,941.55 |
| 60 ft+ | £3,090.00 |
Other Jobs
Average Cost
Tree Survey
£309.00
Debris Disposal
£77.25
Day Rate (2 Person)
£334.75
Day Rate (Large Team)
£901.25

(Prices taken from multiple sources and averaged)

Prices Checked 29/11/2023
Tree Removal Cost Calculator
Tree removal can be an unpleasant task that is often postponed. However, delays in removing the trees in some cases can lead to larger problems. For example, trees can cause a lot of damage to your property and your neighbour's property. Thus, it would be better if you paid for professional tree felling services sooner rather than later.
It's advisable to take action as early as possible once you notice any signs of decay or worry about the subsidence from the roots. Furthermore, you can take action if you receive complaints about any obstruction. You can even trim or prune the tree; however, seek the consultation of an experienced tree surgeon to get the best advice on what should be done to protect your properties.
The cost of felling a tree
The diameter, height and type of tree will directly affect the tree removal cost. For example, cutting down a large tree will tend to be more expensive. In addition, the tree's position in the garden will also determine the average cost of removing the tree. Also, the accessibility of the tree will impact its removal cost. For example, it'll cost more to cut a tree that is difficult to access, as it may take longer to reach the tree or require specialist equipment.
To remove a tree, a tree surgeon needs to work with one or two general labourers. The labourers charge an average of £150 - £200 daily for their work. If you get the services of around three tradespeople, you are likely to pay £350 per day for the labour cost.
Tree removal prices based on sizes
There are various costs when it comes to hiring a tree surgeon to fell a tree. These prices are inclusive of the waste removal and cutting down the tree to its stump. You can pay an extra £100 - £500 if you want the stump to be removed as well.
Factors affecting the cost of tree removal
Access to tree
Accessibility issues tend to increase the cost because it tends to be very difficult to get heavy machines the tree surgeon needs to use. For example, the labour cost of felling a tree in the back garden increases if there is limited or no side access, as it'll present a challenge taking the machinery to the tree.
Furthermore, there are other factors like steep slopes, rivers/streams/ponds, fences and walls that make it hard for equipment to reach the tree.
If the tree is in a small garden or located beside roads and pavement, the tree needs to be felled in a confined space. Felling the tree in a confined place is essential to protect the people and the property around the tree. The cost of cutting this tree will be high as the tree surgeons need to cut the tree into smaller sections and even use ropes to lower the other debris safely.
You could pay around £5 less per hour if the tree to be felled is on a safe space without climbing.
Objects close to the tree
You need extra care when cutting a tree with objects close to it to prevent any damage. Also, you can cut the tree into smaller sections to prevent any problems.
Cutting the tree into smaller parts instead of straight felling will subsequently take more time. However, you need to take care of the objects closer, thus increasing the labor cost.
You should take care of and protect other objects when felling trees near them include; fences, cars, utility cables, sheds, and glasshouses.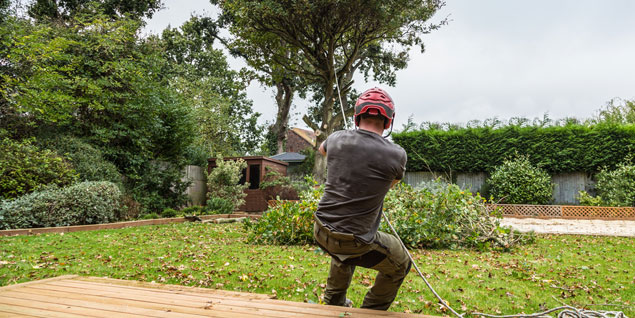 Condition of the tree
You need to take more care on trees that appear to have diseases or damage because they are likely to break and fall anytime. In addition, the laborers will spend more time on the site, thus adding an extra labor cost.
Some trees may have various issues; a qualified tree surgeon can quickly determine these issues. However, some of these common signs include:
Tree bark with cracks and holes
Dry or easily breaking branches.
Even when in season, the tree has discolored leaves.
The tree has a different shape from other species.
The base of the tree has fungi or mushrooms
Height
The cost of cutting taller trees is relatively high because the tree surgeon will require a lot of equipment and time. Also, due to the unpredicted furthest point, the tree will fall, there are chances of causing more damages to properties and injuries to human beings. Because of these factors, more care and a lot of time are needed when cutting these trees, thus increasing the cost. Furthermore, it presents a challenge to cut trees overhanging structures like sheds and greenhouses, as it requires specific actions, thus increasing the cost. The accessibility of the tree will also present another factor for increasing the cost of felling the tree because it will take more time for the workforce and equipment to reach the tree.
Public overhangs
You require permission to close a public road or pavement if you want to cut a tree overhanging in this place. The overall cost of felling this tree will increase because it's expensive to obtain permission from the local authorities. If the tree overhanging these places is cut down, it takes a lot of time to load it into vehicles. The loading may take a lot of time because of the weight of the trees. If you are cutting a larger tree that will involve many trips, you can opt to hire a skip. The skip will help you save a lot of money. There can be an increase in the overall cost if you want to prevent the tree roots from forming a new tree on the stump by using a stump grinder to remove them.
Other tree surgery cost to consider
You need to consider the cost of hiring a chipper. You will need a chipper if the tree you cut has a lot of timber that needs to be disposed of or need to move timber. The cost of hiring the chipper depends on the model you chose; it could cost an average of £50.
Another additional cost will come if you need to check the tree's health and identify any potential problems the tree part may cause, for example, the effect of roots on house foundations. For these services, you need to hire a tree survey specialist to do the survey and submit a report at around £309.00.
Get Free Tree Removal Quotes Online
What about the stumps?
To prevent a new tree plant (sucker) from growing on the old stump, after cutting the tree the stump, you should remove the stump. You require specialized equipment to remove the stumps because some of them are usually large and heavy. You may remove these stumps after some time. However, it'll be good if the tree surgeon removes the stump immediately after cutting the tree. For the chemical stump killers to be effective, they must be applied to freshly cut wood. If the stump stays for long, it'll grow old and to apply the chemical stump killer; you'll need to cut it again. It's also recommended to use a winch to pull out the stump, thus removing it entirely. To remove the majority of the root system, you can opt to use a mechanical mini-excavator. Also, you can grind out the stump into fine sawdust using the stump grinder.
Can I DIY?
You can use a DIY project when you are felling a smaller tree of a diameter of 18''or less. After you check and ensure that the tree doesn't have complications like overhanging a building road or path, you can go ahead and fell it. An amateur can fell trees on their properties as there are no regulations on this, as long as the Tree Preservation Order is not in place. However, it's not recommended to DIY because felling trees can sometimes be dangerous; thus, you need the help of professionals.
Do I need to get permission?
You only get permission from the councils if the tree is covered with a Tree Preservation Order or in a designated Conservation Area.
Tree preservation orders
The local planning authority came up with this order to protect specific trees and woodlands. With this order in place, you'll need written consent from the local authority to fell any trees. Without the consent form, the owner should not fall or allow anyone to fall the trees in these regions. With the order in place, only trees that tend to be dangerous will be given consent to cut them. However, as long as the tree is preserved, you can be given permission. In this case, competent contractors and consultants will provide arboricultural advice to inform the tree owners of their options and responsibilities.
Compare Tree Surgeons Now