Chimney Cowl Installation Costs & Quotes
Last Updated on By Jon
Getting your chimney capped, or installing a cowl is a simple and cost-effective way to prevent numerous issues caused by both moisture and animals. This updated 2023 guide explains how this simple process can be both cheap and quick to implement.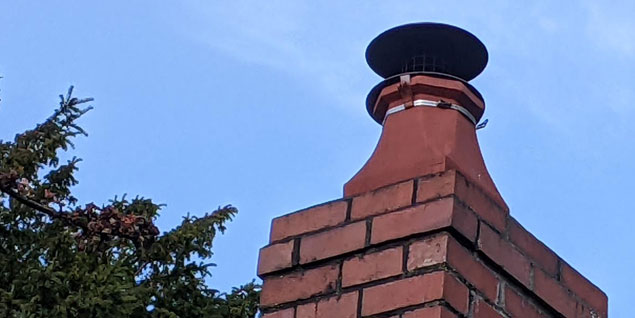 Average Chimney Cowl Costs
If you're looking to cap your chimney, this cost table should give you an idea of how much it is likely to cost:
Cowl Type
Cost (Supply)
Cost Fitted (No Scaffold)
Cost Fitted (Inc Scaffold)
All Purpose
£42.80 - £62.80
£142.80 - £162.80
£242.80 - £262.80
Anti-downdraught
£53.50 - £83.50
£153.50 - £183.50
£253.50 - £283.50
Fuel Specific
£42.80 - £72.80
£142.80 - £172.80
£242.80 - £272.80
Spinning
£160.50 - £190.50
£260.50 - £290.50
£360.50 - £390.50

(Prices taken from multiple sources and averaged)

Prices Checked 03/12/2023
Roof Cowl Cost Calculator
What affects the cost of installing a chimney cowl?
Size of your chimney
If a larger chimney is involved, the installation of its cap may require more time and labour and, as a result, the estimated cost of the job will be higher. Generally, the price of chimney capping is between £150-£200, but if you require an especially large cap, the total cost could reach £500.
Chimney Access
The cost of chimney capping is affected by ease of access, as roofers and chimney sweeps need to reach your roof to complete the job. If the chimney is in an area that is hard to get to, scaffolding might be necessary, which could add to the overall cost. Some roofers bring their own scaffolding, and the price of this will be included in the total cost; however, an additional fee may be charged if extra scaffolding is needed to be hired.
What's the difference between chimney caps and chimney cowls?
Chimney caps are typically made of metal and cover the top of a chimney to prevent water, birds, and other animals from entering the flue. Chimney cowls are also made of metal but they are designed to increase the draft in a chimney by improving its efficiency. They also help to reduce downdraughts, improve combustion performance, and can act as an anti-bird guard.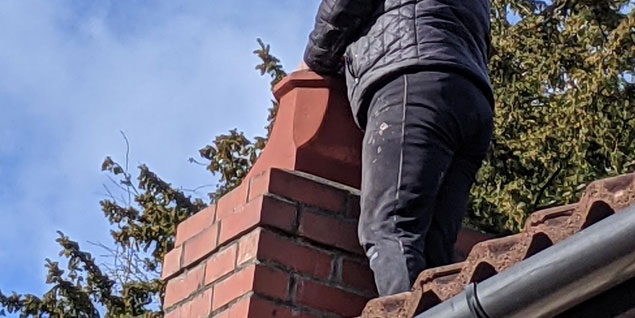 Why should I install a chimney cap or cowl?
Four reasons why it is beneficial to install a Chimney Cowl or Cap are:
Preventing downdraught
Downdraughts can be hazardous to your health, as it can cause unpleasant odours and release large amounts of Carbon Monoxide. To protect yourself and your family from this danger, it is essential that you install an anti-downdraught chimney cowl right away.
Preventing moisture ingress from inclement weather
If it rains or snows, your chimney flue could be in danger. A single rainfall likely won't cause too much damage, however a continuing accumulation of moisture due to fireplace inactivity can significantly harm the chimney and incur expensive repairs. To protect your fireplace during winter months, use it repeatedly so that any present moisture is evaporated; additionally, having a birdguard fitted will guard against such occurrences entirely.
To increase the draw
If your flue system has a weak draw, you may want to consider using a Rotating Chimney Cowl or Super H Chimney Cowl. This type of cowl is designed to allow for more efficient extraction of hot air and fumes from the flue pipe. However, it's important not to use these cowls when there isn't an issue with the draw - as doing so could lead to a fire or stove overfiring.
Keep animals at bay
Bird guard cowls are a great way to keep birds and other animals, such as squirrels, from nesting in your chimney. This is important because these creatures can fall down the inside of the flue and cause a potentially dangerous obstacle in your fireplace or even get into your home. In addition to this, it keeps both you and the wildlife around you safe from potential harm. By blocking off access to your chimney with one of these bird guards, you effectively eliminate any risk posed by wild animals.
Get Free Chimney Cowl Quotes Online
How do you determine which chimney flue needs a cap?
The best way to determine which chimney flue needs a cap is to inspect the flues from the roof. Look for any signs of damage or deterioration, such as crumbling mortar, missing bricks, or cracked tiles. If any of these signs are present, the chimney flue may need to be capped to protect it from further damage. Additionally, if the flue is no longer in use, capping it can help prevent debris and animals from entering the chimney.
To determine which individual chimney needs to be capped, a coloured smoke test can be conducted. A fire specialist will ignite one or two smoke pellets in the hearth of the fire, depending on visibility and weather conditions. It is important to note that even with a successful smoke test there may still be underlying issues within the flue itself that need further examination and repairs if necessary.
3 main types of cowl available
There are three main types of cowls that can be used to address various issues. These are:
Birdguard
Birdguards are a popular and practical choice of chimney cowl, designed to stop animals from entering the chimney while still allowing for air flow. There is a wide selection of birdguard cowls for different types of chimneys, such as gas, solid fuel, cone top or balloon birdguards. Whichever design you go for, you can be sure that you are getting a reliable and efficient product.
Capper
Consisting of one piece of material, cappers are placed over the top of the chimney to block water from entering and causing potential long-term damage. Two types of cappers exist - traditional rain caps, which have legs that lift the cap away from the entrance, and more modern cappers, which do not have legs, providing a more discreet look.
Rotory
The Rotory cowl is a stainless-steel cowl that has a modern, efficient design. Its unique feature is that it acts like a turbine, with the wind causing the cowl to rotate which in turn increases the draw of air up the flue, improving the fire's efficiency. It also acts as a barrier to unwelcome birds and animals, and reduces the volume of water ingress.
What does Installing a Chimney Cowl Entail?
Installation usually involves placing the cowl at the top of the chimney. This is usually done by either fitting the cowl directly onto the chimney or using a fixing bracket. Depending on the type of cowl, additional components such as straps, nuts and bolts, or other fixings may be required to secure the cowl in place. Additionally, some models may require an installation kit, which contains all the necessary components for the installation.
The steps can be outlined as:
Removing any existing chimney pot or cowl.
Cleaning the chimney flue and any debris.
Securing the cowl with a stainless steel band.
Fitting the cowl onto the chimney.
Checking for any blockages or leaks.
Sealing the joints with fire cement (not always necessary).
Finishing with a stainless steel mesh to keep out nesting birds or pests (often integrated).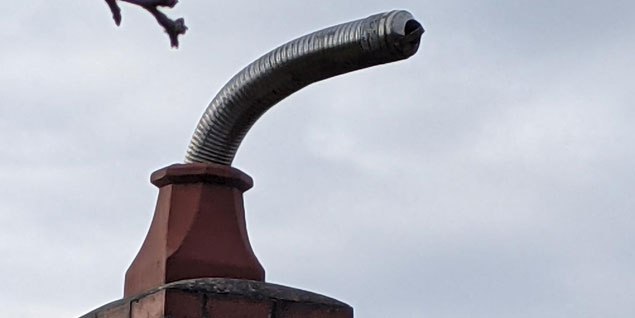 Frequently Asked Questions
How do I know I need a new chimney cap? You can tell you need a new chimney cap if you notice excessive smoke or drafts coming from your chimney, the cap is broken or missing, or if there is water leakage or damage around the base of the chimney.
Can you install a cowl yourself? Yes, it is possible to install one yourself, however it is usually recommended that you hire a professional to do the job. Installing a chimney cowl requires specific tools and knowledge in order to ensure a safe and secure installation.
What are the benefits of a multi-purpose chimney cowl? The benefits of a multi-purpose model include:

Reducing the risk of birds, animals, and debris entering the chimney
Improving the efficiency of the chimney by providing a draught-proof seal
Reducing the risk of downdraught in the chimney
Preventing rain and damp entering the chimney
Reducing the risk of smoke leakage from the chimney
Reducing wind noise in the chimney

How long is the installation process? Once the scaffold is up and the roof/chimney has been inspected, the installation of the new chimney cowl should be a breeze for a qualified professional. The entire process shouldn't take more than a few hours.
I don't use my chimney, do I still need a cowl? It is a worthwhile investment even if your chimney isn't used often, as it can help prevent rainwater from entering your home and increase ventilation.
Compare Capping & Cowling Costs Now