Average Roof Cleaning Costs & Quotes
Last Updated on By Jon
Our 2023 guide to roof cleaning costs is all you need to save on getting your roof cleaned for less. Detailed information and weekly updated prices can be found below: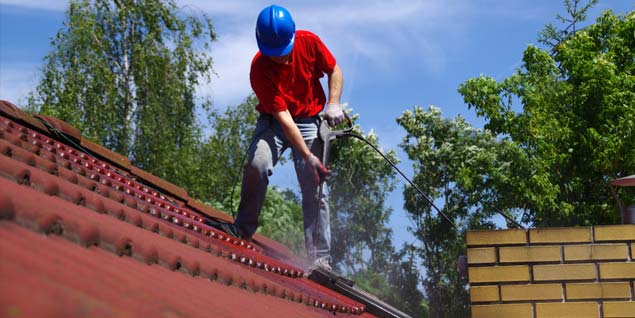 Roof Cleaning Costs
Let's take a look at some average roof cleaning prices based on different roof sizes:
Treatment
Roof Size
Price
Hand-removal & treatment
Small
£448.05
Hand-removal & treatment
Medium
£515.00
Hand-removal & treatment
Large
£587.10
Pressure washing
Small
£793.10
Pressure washing
Medium
£916.70
Pressure washing
Large
£1,030.00
Hand-removal & treatment
1m2
£8.24
Pressure washing
1m2
£11.33

(Prices taken from multiple sources and averaged)

Prices Checked 30/09/2023
Roof Cleaning Cost Calculator
Factors affecting the cost of cleaning a roof
The final price for having your roof professionally cleaned will depend on several factors, with one of the most important ones being the location of your home. Higher prices will normally be quoted for properties in and around central London than in outlying areas or suburbs.
A single tradesperson can quote between £350 and £550 for this service in central London, and as low as £280 to £320 in outlying areas like the Midlands and the South
Further North, you can expect quotes from a one-person business to be as low as £250 and £320
Slightly larger businesses tend to quote prices that are a little higher. For instance:
Quotes received from medium-sized companies can range between the £450 and £650 mark in central London
In the Midlands and Southern areas, pricing can drop to between £380 and about £550
Further North, quotes to have a roof cleaned can drop to as low as £320 to £350
Larger roof cleaning companies will often charge higher rates to cover their overhead expenses. As a result, pricing quoted by them can average as follows:
Anywhere between £750 and £900 for homes situated in central London
In the Midlands and Southern areas, pricing can drop to between £500 and £700
Further North, you can expect to pay between £400 and £580
Other aspects that can affect the cost of your quote include:
How easy it is to access all sections of your roof
The size of your home's roof
The amount of dirt and moss that has accumulated over time
The general condition of your roof
Type of roofing material being cleaned
Whether scraping or power washing will be used to get your roof clean
The amount of time required to get your roof clean depends on factors such as:
The area size of your roof
How much dirt, lichen and moss has accumulated on it
How difficult it will be to access all sections of your roof
It's essential for the companies to inspect your property before they will be able to provide you with an accurate quote. Companies that provide pricing over the phone may initially under quote and provide you with an invoice for a much higher amount on completion of the job.
One of the quickest ways to improve the appearance of your home is to have its roof professionally cleaned. This will not only help remove any dirt, lichen, moss and mould that have accumulated on its surface over time; it will enable your roof to look as good as new once again.
Below is some handy information regarding the cost of having your home's roof cleaned, how long it will take and how to ensure that the job gets done properly.
Get Free Roof Cleaning Quotes Online
Additional Services
Whilst you're having your roof cleaned, it can make sense to get some additional work carried out, particularly if they also need scaffolding erected. Here are some of the services that can compliment a good clean:
Gutter cleaning and unblocking: Not just unblocking your guttering (which is always a good idea to have carried out regularly), but cleaning the outside to improve aesthetics. You don't want your nice new clean roof to be let down by dirty guttering.
Gutter repairs: If you've got someone up on your roof, it also makes sense to have the carry out any repair work to your guttering. There's no sense in paying twice, especially if there's scaffolding involved.
Roof trim work: Whether it's some repair or replacement work, or simply giving your fascias and soffits a good clean to match your new-look roof.
Roof repairs: Slipped or broken tile? If you need any roofing repair work carried out it makes perfect sense to get the job done in conjunction with the cleaning, sharing the cost of scaffolding if required.
Painting & touching up: Planning on painting hte exterior of your house? Or need some touch-up painting work done in otherwise inaccessible places? Now might be the perfect opportunity.
Why does so much moss grow on my tiles?
You may experience more moss growth than you would like for a variety of reasons. Firstly, tiles are the perfect material for the moss to cling onto due to their rough surface texture. Secondly, there is a constant source of water in the form of rain run-off. Lastly, you may have overhanging branches, or portions of your roof that are shaded by other buildings causing an ideal habitat for moss to grow. We have more information on cleaning moss from your roof in another guide.
How long will it take the moss to grow back?
If your roof is South facing the moss will take longer to grow back, so you could be looking at anywhere up to 6-7 years. If however your roof is North facing then depending on the type of treatment and cleaning that was carried out, it could be anywhere from 2-5 years.
What the Process Involves
Contractors can use different methods to ensure that your roof gets a thorough cleaning, including:
Manually working with scrapers and brushes to remove dirt and other debris that has accumulated on your roof
Using a high-pressure power washer. Although this is usually the quicker option, it can cause a lot of mess when the water sprays around. In some cases, it can cause damage to roof tiles as well – so it may not always be an suitable option
Regardless of the option used, preparation work will be required ahead of time. This includes organising free access to all parts of your roof and ensuring that any items that could be damaged during cleaning are covered or packed away safely.
After your roof has been cleaned, the contractor may provide you with the option of having a chemical sprayed on to it that prevents moss from growing back. In some cases, other forms of sealants and/or coatings may be offered if your contractor deems them to be a more suitable option for your roof.
Coating Your Roof After Cleaning
You will more than likely want to coat your roof after having it cleaned, a service that most professionals offer. The cost of coating your roof after cleaning can be anywhere from £1250 to £2000 depending on your roof size. It is essentially a paint for your tiles which will greatly enhance the look of your roof, but ultimately require you to repaint it after a number of years.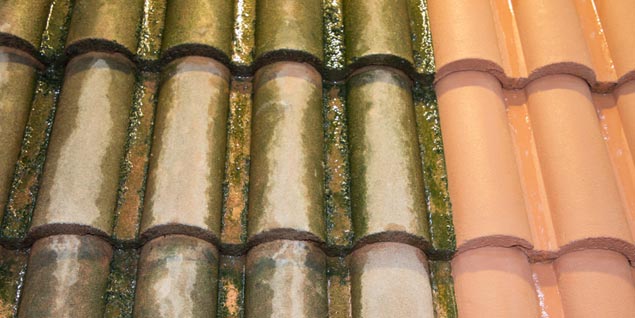 Why Clean your Roof?
In cases where there is a severe accumulation of dirt, moss and mould that has accumulated on your roof, it can cause damage over time. Some types of roof tiles could deteriorate if they are not cleaned every few years as well. However, the main benefit of having your roof cleaned is that it will give your home a fabulous facelift at an extremely affordable price.
Can Roof Cleaning be a DIY Project?
Most homeowners don't feel comfortable working at a height, meaning that they may not be able to get the job done as well as a professional could. As a result, it is not usually recommended that property owners attempt roof cleaning on their own.
It's also quite risky working on a roof, as the slightest error in judgement can result in serious injuries occurring. Companies who specialise in roof cleaning have hired professionals who are comfortable with working at a height and as such; they know which precautions need to be taken to remain safe.
Obtaining Quotes for Roof Cleaning
If you're keen to have your roof professionally cleaned, it's essential to obtain more than one quote beforehand. It's easier than you think to obtain quotes from several contractors when completing our website contact form.
The more quotes you're provided with, the more likely it will be that you receive one that you can afford. In most cases, it's recommended to obtain a minimum of three quotes before having your roof cleaned.
Avoiding Dodgy Tradespeople
When searching for roof cleaning quotes, it's essential to ensure that you only obtain these from accredited tradespeople or companies. As many as 25% of homeowners have stated that they have been scammed by tradespeople over the years, so it's important to do your research before accepting a quote. This will prevent you from hiring a tradesperson or company that over quotes, does a poor job or takes upfront payment and doesn't do the work.
Below are some pointers to keep in mind when searching for roof cleaning quotes:
Always be wary of quotes that are coming in at prices that are substantially lower than others that you've received. This could indicate that a lack of experience in performing roof cleaning or even that a shoddy job will be done
Ask friends, family and even co-workers who have had this work performed recently for referrals. In most cases, they will be only too pleased to give you the details of the contractor who did the work
Search for online reviews before accepting any quote. In most cases, this will provide you with an idea of the type of service a specific company provides. If no reviews can be found for a specific service provider, you'll most likely be better off using an alternative
Make use of a reliable quotes website. We ensure that only accredited service providers will get in touch with you after you've filled in our contact form. This will give you peace of mind in knowing that you will get a good job done by a suitably qualified and accredited tradesperson or company at a fair price
Keeping the above mentioned points in mind will help ensure that a professional arrives at your door to give your roof a thorough cleaning. The best part is that you will be contacted within a day or two at the most after completing our contact form, so you won't have to wait any longer than necessary to get your roof looking as good as new again.
Compare Roof Cleaning Costs Now