Rubber Roofing Installation Costs, Calculator & Quotes
Last Updated on By Jon
An affordable, durable and cost-effective option for all flat roofs, rubber roofing is used widely throughout the UK. In this 2023 guide you'll find everything you need to know about installing a flat roof and the associated costs. We'll also show you the best way to save on all elements of your new roof.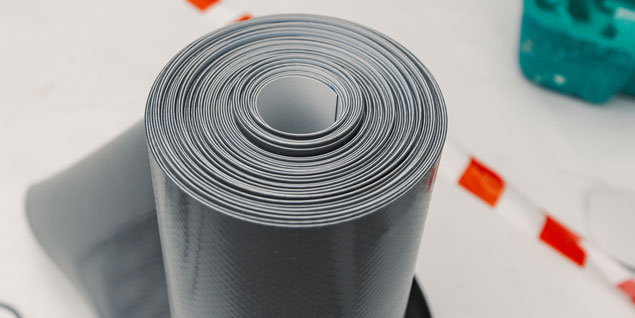 Average Rubber Roofing Costs
If you're considering EPDM rubber roofing for your flat roof this cost table will give you an idea of how much it is likely to cost:
Job
Size
Labour
Total Cost
Porch
5sqm
1 day
£535.00
Single Garage
18sqm
1 day
£963.00
Double Garage
36sqm
1-2 days
£1,284.00
Extension
45sqm
2-3 days
£1,712.00
EPDM Price
1sqm
n/a
£16.05
Labour (day)
n/a
1 day
£267.50
Adhesive/Trim/Fixings
n/a
n/a
£321.00

(Prices taken from multiple sources and averaged)

Prices Checked 05/12/2023
EPDM Rubber Roofing Cost Calculator
Factors affecting the cost of rubber roofing?
It's never as straightforward as a one-price suits all. There are a number of factors which will influence your overall cost:
Rubber roofing accessories
The process isn't quite as simple as buying some EPDM roll and laying it down. You will also need adhesive, flashing, edge trim, guttering and possible insulation upgrades. These accessories will increase the overall cost and keep rising as the scale of the roof increases.
Access
If it's a ground-floor flat roof then access will be considered easy as it can be safely accessed from the ground. Roofing on the first floor and above may require the use of a scaffold tower or a full scaffold erection for the duration of the project along with the associated safety equipment such as rails and harnesses. Hiring the scaffold will add to your overall project cost.
Size of your roof
Understandably the larger the roof the higher the overall cost. Materials such as the EPDM itself and the adhesive used to fix it in place will increase along with the labour hours needed to install it. All of which will affect your budget.
Shape of roof
Most prices quoted online assume that your flat roof is of square or rectangular nature whereas the reality is often very different. You may have an adjoining pitched roof that needs to be sealed underneath or a dormer window extending into the space. All of which will increase the labour time needed to complete the installation.
Location in the UK
If you live in London or the South-East you will be well aware that trades tend to come at a premium, and that you will be likely paying more for the work than someone based in the North. The premium can be anything up to 20% in line with the cost of living.
Thickness
EPDM is typically available in 2 thicknesses which are tailored to differnt applications. If your roofing situation requires the thicker ply then it will be more expensive overall.
Upgrading/Installing Insulation
You may not have thought about it, but if your roof is being removed then this is the perfect time to upgrade or install new flat roof insulation. You may not have easy access to the void again without having to go through your plasterboard ceiling. Often an overlooked part of the budget, this can have a significant impact on your overall cost but is worthwhile in the davings it can create when it comes to heating your home.
Unexpected Supporting Timber Repairs
Sometimes the only real way to check the solidity of your underlying roof is when you are replacing the covering. It is worthwhile factoring some additional budget for possible repairs to either the joists or the plywood covering needed to create a solid base for your new EPDM roof.
Removal of waste
No doubt you don't want to be left with your old roof on the side of your driveway or property. In that case you will need to factor in the cost of a skip, which depending on the size of your roof could be anything from £150 to £300. There are also licensed waste disposal services which can often work out slightly cheaper. In most cases this will be organised by your installer so there will be no additional organising needed by yourself.
Slope suitability
In order for your new rubber roof to drain effectively you're roofing structure needs to have a slight slope of between 1:40 - 1:80. If you're roof it totally flat (and it really shouldn't be even though it may look it) this will need to be addressed to avoid water pooling. If you have noticed water ponding on your roof then your roof structure may need to be altered to introduce a suitable gradient.
Additional drainage
Along with insulation, now is the perfect time to upgrade or install new guttering and drainage to ensure any surface runoff is dealt with appropriately. Your new roof will be shedding water better than ever before, so it's wise to direct it away from the house in the proper drainage channels.
What is rubber roofing?
Rubber roofing is normally comprised of either rubber, plastic polymers or a mixture of the two. You may know it as EPDM or Ethylene Propylene Diene Monomer which is a synthetic rubber roof and considered one of the most versatile forms of roofing available today. It comes is large single-ply flat rolls and in specifically designed to cover flat or gently sloping roofs. Available in multiple thicknesses such as 045 grade (1.14mm) and 060 grade (1.52mm) it can be used in a variety of applications both residential and commercial.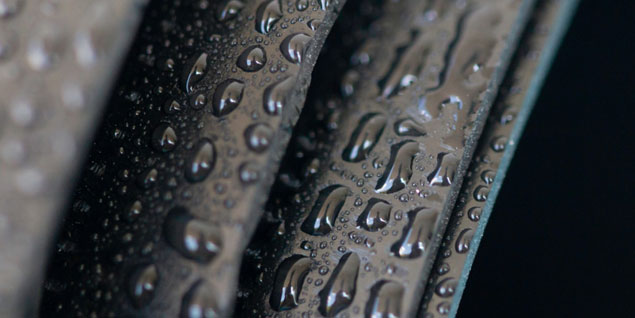 Why choose a rubber roof?
No matter what type of flat roof you have, whether it's residential or commercial then rubber could be the perfect solution.
Flexible: Due to the flexibility of rubber it is possible to install EPDM in locations where other roofing materials such as asphalt will struggle.
Lightweight: Being lightweight, rubber roofing is easy to handle and install and presents very little stress to your roofing structure.
Fire resistant: Complying with Approved Document B of the Building Regulations, EPDM is fire resistant for added peace of mind.
Durable: They are very low maintenance highly resistant to damage, cracking and leaking. They can also handle much more extreme weather conditions than other types of flat roofing.
Easy to repair: Though incredibly durable and resistant to damage, should any mechanical damage occur it can easily be repaired with a DIY patch kit giving you a complete seal again with very little effort required.
Long-lasting: When installed correctly they can last up to half a decade if looked after! In most cases they can be the only roof you need for your property.
Made to measure sheets: For complete peace of mind when it comes waterproofing your roof you can order your rubber covering in one continous sheet (unless a particularly large roof). This eliminates the need to join and seal seams ensuring you have a continous, completely waterproof covering over your roof.
Environmentally friendly: Your roof itself can be made from recycled materials, and when it has come to the ned of it's lifespan it too can be recycled!
Aesthetically pleasing: Rubber roofing is both moss and algae resistant so it remains visully appealing for longer.
Potential disadvantages
It's only fair that we mention any disadvantages to this type of roofing, though i'm sure you'll agree they generally are not a deal-breaker:
Aesthetics: Some people may prefer the look of fibreglass or bitumen roofing over rubber so the final appearance is a consideration for some.
Cleaning: Your roof will need cleaning to keep it looking it's very best and to prevent any water or debris buildup.
Installation: Though it's technically trickier to install a rubber roof around features such a chimneys and vents etc (as it's a single sheet) a competent installer who does this every day won't be concerned.
Get Free EPDM Rubber Roofing Quotes Online
How long does a rubber/EPDM roof last?
As one of the most durable types of flat roofing, a rubber or EPDM roof will last anything from 30-50 years. This is based on the assumption that it has been installed correctly, on a suitable structure and that it is not subjected to damage or extreme/unusual usage. For this reason it is often the preferred choice over options such as bitumen.
Should I repair or replace my rubber roof?
Though highly durable, rubber roofs can get damaged from tree debris or foot traffic. If you've noticed either a leak or a defect on your roof then it's important to get it fixed as soon as possible to prevent damage to your roof structure and home interior.
Small holes or tears can be easily patched. In fact it's quite possible for this to be a DIY job using a patch repair kit. Of course you will end up with a patchwork effect on your roof, but this is far more preferable to a leak.
If you've noticed tears or cracks on a older roof it might be that the roof is coming to the end of it's life and in fact it would work out cheaper to replace it entirely so you don't have to worry about future repairs.
Will my rubber roof crack?
No. You may have seen other flat roofing cracking with age, but this is not a concern with modern rubber/EPDM roofing. If you notice any cracks or splits then this will be as a result of mechanical damage such as falling branches, or excessive foot traffic. Fortunately, if there is any damage it is very easy to successfully patch the roof using either a DIY kit, or by calling in a professional. By applying a patch with a suitable adhesive your roof can be watertight again very quickly (and cheaply).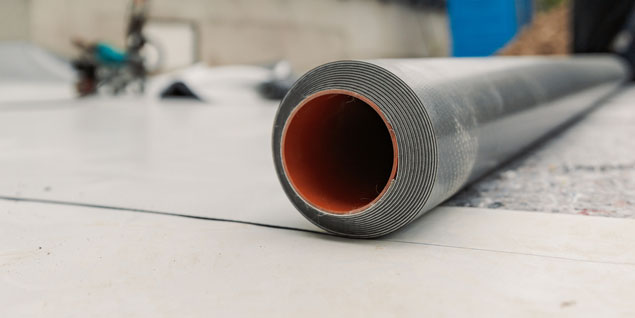 How long does rubber roof installation take?
Assuming it's a straightforward job with minimal obstructions, easy access and no additional complications such as repairs to the roofing structure then it shouldn't take longer than 1-2 days to install your new roof. Should you need to weatherproof joints between the rubber roof and dormer windows, pipes, vents and chimneys etc. then the additional lead flashing work may increase this time somewhat. Depending on the size of the roofing team, most roofs can be successfully installed on a couple of days.
What's the process?
Should you opt to replace your flat roof with EPDM here's the process you can expect once initial surveys and measurements have been made:
Access: If needed, suitable safe working access will be erected so your roof can be accessed without difficulty.
Removal: Your old roof covering will now be removed and lowered to ground out of the way.
Assessment: Your substructure will now be assessed for suitability and it necessary repairs will be made.
Flat base: If needed, either OSB or Ply will be installed to form a smooth deck on which to install the rubber coating.
Installation: It's now time to install your single continous rubber sheet by applying adhesive to the deck and flattening the sheet on top.
Edging/Trim: All edges of the roof and additional trim peices needed around obstructions such as vents, pipes and chimneys are installed.
Clearance: The roof is completerly cleared of any debris, scaffolding removed and waste material removed from site. This completes the job.
Compare Rubber Roofing Costs Now
Rubber roof maintenance
Fortunately if your roof has been installed by competent approved professionals then it will require very little maintenance over its lifespan.
Being flat in nature, you may want to occasionally give the roof an inspection and a sweep to clear any dirt/debris buildup. In order to do this it's imperative that you take adequate precautions when at height. Your roof may be slippery, contain trip hazards and of course will likely be high up! Having been assessed for suitability prior to installation it should be safe to walk on, however you should also check that nothing has changed or degraded since installation that could be compromised with additional weight.
DIY repairs
It's more than plausable to carry out any repair work yourself given the quality of the DIY patches available today. They come in a variety of sizes and cost as little as £20 each. Application can be as simple as cleaning the area thoroughly and applying a self-adhesive patch over the affected area.
Please note that if you are in any way hesitant about carrying out ay work then hire a professional who can carry out the maintenance safely.
Can I DIY rubber roof installation?
If you are a competent DIY'er then it's absolutely possible to install a rubber roof yourself. The process will be made a lot easier for you if you are covering a smaller area (such as a single garage) with no obstructions, at no great height and with a suitable deck underneath.
Widely available online, you can purchase everything you need such as EPDM cut to length, adhesive and all edging trim to finish the work. Mistakes however can be costly and it's worth having others to help with the process as rubber sheets can be bulky and heavy.
If you are not entirely confident in tackling your new roof then its recommended to get some free quotes from professional roofers who know everything needed to know about rubber roofing.
Frequently Asked Questions
Will I need planning permission?
You won't need planning permission to rtepair or replace up to 25% of your flat roof. However if you are replacing your entire roof then you will need to ensure it complies with the lastest insulation building regulations (which is a very worthwhite job as upgrading insulation after the work is impossible without significant work from underneath.
Can I walk on my rubber roof?
Yes. If the deck underneath was declared sound, and the roof professionally installed then it should be perfectly safe to walk on. Your EPDM coating will easily cope with foot traffic, though it pays to be careful you don't damage it in any way. This can be helpful if any minor repairs are needed. As always, be sure to prioritise safety if you need to access your roof.
What regular maintenance should I perform?
You only need to visually inspect your roof occasionally to check for any defects or problems developing. Such is the durability of rubber roofing, there really isn't much needed to keep it both looking and performing to the best of it's capabilitues.
Will rain pond on my flat roof?
No, not if installed correctly. A flat roof though it may look it, isn not actually flat. Incorportaing a monor gradient means any surface water will run off into guttering and away from the property via the proper drainage channels. If you notice any ponding then either your roof is not pitched enough, or has sagged in places. This won't happen with a professional installation and inspection of your roof structure prior to covering.