How much will Conservatory Roof Repairs or Installation Cost?
Last Updated on November 01, 2020 By Jon
If your conservatory roof has worn or degraded roof caps or rotting timber beams, or it leaks every time it rains, chances are that it requires some maintenance work. However, many homeowners tend to put off this type of repair work because they think it's going to be expensive. This need not be the case when working with any of the accredited tradespeople or companies in our network though because they will be able to provide you with quotes that will suit your budget.
Get Free Conservatory Roof Repair Quotes Online
What Causes Conservatory Roofing to Leak?
Various aspects can cause a conservatory roof to start leaking, including:
Falling debris landing on the roof during inclement weather
Perished or damaged roof seals – regardless of whether polycarbonate or glass roof sheets have been damaged or not, the seals surrounding them will perish over time. This enables water to leak into your conservatory. However, it's quite easy to have the affected panels re-sealed. It's also recommended that all other seals be inspected at the same time, as this could prevent additional call-outs for re-sealing in the near future.
Lead flashing that has started leaking – in cases where a conservatory has been linked to brickwork by means of lead flashing, this can cause leaks to appear over time. This often occurs on lean-to conservatories when rain blows back up the roof and under the lead work. It can easily be rectified by re-sealing gaps underneath the lead flashing
Owing to the fact that working on a conservatory roof is a specialised process; it is not recommended that any type of roof repair work be performed in a DIY capacity. Not only can serious injury occur if you fall while working; you could cause further damage to the roofing by not performing the repair work correctly.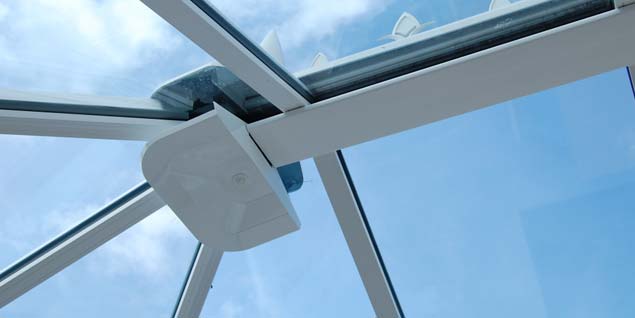 Repairing a Glass Roof
One of the most popular options for conservatory roofing is glass, and it's available in many different tints and opacities. Solar safe glass can be installed, along with a convenient self-cleaning option.
Performing repairs on a glass conservatory roof is normally easier than working with polycarbonate panels. Both of these options can have a special coating applied that prevents the growth of moss and algae, and an added advantage of it is that it will help ensure that your roof lasts as long as possible.
Performing Double Glazed Conservatory Roof Repairs
Several conservatories have been fitted with double glazed windows to provide additional insulation, and the most commonly used frame material in these cases is uPVC. Although this material is quite long lasting, it can become damaged during severe weather. However, an advantage of performing repairs on a uPVC conservatory roof is that they tend to be quite straightforward and affordable.
Dealing with Polycarbonate Roof Repairs
Polycarbonate has become a popular roofing choice because it's not only versatile; it's incredibly durable, lightweight and can be purchased in an extensive range of colours. If a conservatory faces the south, it's strongly recommended that it be fitted out with a heat guard and solar protective finishes. This will go a long way in helping to prevent sun damage from occurring over time.
The UV layer of this roof covering can sometimes be prone to damage if severe weather occurs. However, many reputable companies now provide on-going packages for maintenance and discounted repair services after installing polycarbonate conservatory roofing.
Repairing a Hardwood Roof
The most traditional and aesthetically appealing option for a conservatory roof is usually hardwood. Not only are hardwood conservatory units naturally resistant to most types of weather; they are also not usually prone to leaking in most cases – provided that regular maintenance is performed on the wood.
Various treatment products are available to protect wood against rot, insect infestation and mould growth, and many of these help can help reduce the amount of time spent maintaining a conservatory. In rare cases where wood becomes waterlogged, it is possible to replace individual beams and panels.
Dealing with a Conservatory Roof that is Rotting
Although wooden conservatory roofing can withstand a lot of severe weather, they can start rotting over time – especially if the correct maintenance has not been performed at regular intervals.
If you've discovered that the wood on your conservatory roof has started rotting, it's strongly recommended that you contact an experienced tradesperson or company immediately. They will be able to examine the roof, replace any rotting sections and apply weather proof treatment to provide protection from the elements. It's also a good idea to discuss the option of a regular maintenance schedule with the professional who repairs your roof.
Dealing with a Conservatory Roof that is Rotting
While many conservatory roof repairs tend to be relatively straightforward, the time eventually arrives when it will make better financial sense to replace the roof instead of continuing to repair it. The aspects below can help you decide whether to perform that repair or have a new conservatory roof fitted:
The overall condition of your roof - A roof that is not in good condition can end up costing you more money over time in repairs than it would be to replace it completely. This applies especially to older properties
The age of the roof - If your conservatory roof is more than 10 to 15 years old, it may be a good idea to discuss with your contractor whether it will be more cost-effective to replace it or not
Extent of repairs needed - If your roof is badly damaged or rotting, it is usually better to have your chosen contractor replace it. In many cases, labour costs for repairs can be higher than for a straightforward replacement
Your home insurance policy - Some types of homeowner's insurance policies may make allowance to cover the cost of replacing a conservatory roof every so often. In some cases, the cost of extensive repair work may even be covered in full. As such, you should carefully go through your insurance documentation – you never know what your policy will pay for
Experienced Roofers are Crucial
Owing to the fact that conservatory roofing usually consists of several glass panels, it means that they can be rather fragile. As a result, it's imperative that you only hire an accredited and experienced tradesperson or company to carry out any type of repairs or maintenance work.
An experienced and accredited tradesperson or company will ensure that work is carried out according to current building and safety industry regulations. After your conservatory roof has been repaired or replaced, you'll be able to enjoy using this part of your home again.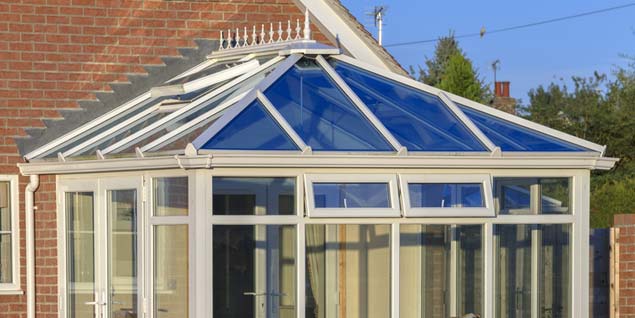 Approximate Glass and Polycarbonate Conservatory Roof Replacement Costs
Tiled or glass conservatory roofing will normally be costlier than those where polycarbonate sheeting has been used, and costs for replacing a roof can vary anywhere between £2,200 and £5,600. Several factors will have an effect on the final cost though. Below are a few examples of average costs for various types of conservatory roofing:
A 4 m x 4 m Victorian conservatory with a polycarbonate roof can range from £4,200 to £4,950, while the same size unit made from glass could range between £4,600 and £5,250
A 3 m x 3.5 m lean-to conservatory that has a polycarbonate roof can average between £2,200 to about £2,650, and if a glass roof is chosen instead, pricing could go up to about £3,000
A polycarbonate Edwardian conservatory that is 4 m x 4 m can cost between £4,300 and £4,950, whereas if a glass roof is chosen, pricing can rise to approximately £5,250
Pricing for Tiled Conservatory Roofing
Average pricing for a conservatory with a tiled roof that is 4 m by 4 m or smaller can cost approximately £3,900, while larger structures can cost as much as £5,900.
Some factors that will affect the final cost include the type of tiles that are chosen and the part of the country the property is located in. Pricing also tends to be higher in central London than in other parts of the country.
Obtaining a Good Price
Below are some handy tips that can help you obtain the most competitive price possible when having your conservatory roof replaced:
Obtain a minimum of three quotes before getting the work done. This will ensure that you get the best pricing possible
Request quotes from smaller and larger companies. Smaller companies may be able to provide better pricing because they usually don't have as many overhead expenses to cover as larger companies
Ensure that you obtain physical quotes. It's also important to check that all quotes are covering the same scope of work and list of materials
Don't base your choice of quote acceptance on price alone. Always ensure that all quotes include everything required to complete the job – including waste removal
Ensure that it's as convenient as possible for contractors to access all parts of your conservatory. Quotes will be higher if any parts of your conservatory are difficult to access for any reason
Choosing the Right Installer
Before allowing a company or tradesperson to perform any work on your conservatory, it's essential to verify that they are a member of The Conservatory Association. This is a section of the Glass and Glazing Federation (GGF), which provides protection to property owners when they purchase any form of glass and glazing services.
It's also important to verify that the tradesperson or company you choose is registered with FENSA. This organisation helps ensure that your conservatory will be energy efficient upon completion, and in some cases, FENSA certificates are needed to comply with building regulations.
In cases where problems are encountered while your conservatory roof is being repaired or replaced, the Conservatory Ombudsman can be contacted to help resolve them.
If you have been having difficulty locating reliable, accredited and experienced tradespeople or companies to replace or repair your conservatory roof, look no further. Simply complete our handy contact form and you will be put in contact with up to four pre-approved and accredited companies within a day or two.
All you need to do when filling in our contact form is provide us with your name, contact number and a short description of the work you need to have done on your home's conservatory. Once our approved contractors have received your information, they will contact you to schedule a convenient time to inspect your conservatory and provide you with a quote.
Compare Conservatory Repair Costs Now