New Replacement Roof Costs, Calculator & Free Quotes?
Last Updated on By Jon
Our 2023 guide to roof replacement costs will provide you with all the information (and prices) you need to make an informed decision about your new roof.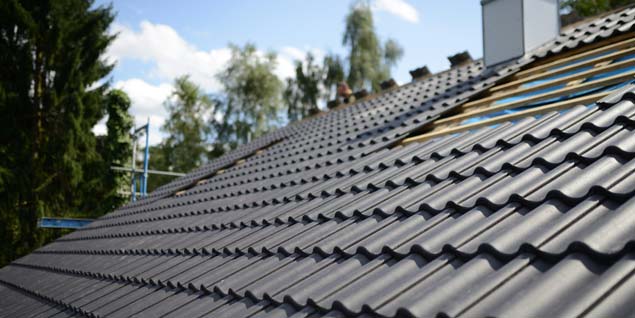 Roof Replacement Costs
It's almost impossible to provide accurate costs for new replacement roofing due to the sheer number of factors that can affect the price. Here are some average prices based on re-roofing a tiled roof in the UK.
House Size
Roof Type
Price
Semi-detached
Hip roof
£4,815.00
Semi-detached
Hip roof - 1 Valley
£5,617.50
Semi-detached
Hip roof - 2 Valleys
£6,420.00
Semi-detached
Gable roof
£3,745.00
Semi-detached
Gable roof - 1 Valley
£4,547.50
Semi-detached
Gable roof - 2 Valleys
£5,350.00
Detached
Hip roof
£5,885.00
Detached
Hip roof - 1 Valley
£6,687.50
Detached
Hip roof - 2 Valleys
£7,490.00
Detached
Gable roof
£4,815.00
Detached
Gable roof - 1 Valley
£5,617.50
Detached
Gable roof - 2 Valleys
£6,420.00

(Prices taken from multiple sources and averaged)

Prices Checked 05/12/2023
Roof Replacement Cost Calculator
What Affects Costs?
The quote you receive for replacing your roof will depend on how old it is and what type of condition it's in. However, on average, you can expect to pay between £5,000 and £6,000 to have a brand new roof fitted on your home.
Factors that affect the cost of having a roof replaced can include:
Its size
Type of materials being used to replace the roof
Style and shape of the roof
Whether any structural alternations are needed or not
The roofing contractor or company that is doing the job
The part of the country you home is in – costs are higher in Central London than in outlying areas
Some basic examples of maintenance and/or installation costs for certain materials:
Replacing a complete roof on a medium shed – around £550 to £700
Replacing all slate tiles on an average-sized home - between £900 and £1,200
Approximate Costs for Replacement Roofing
If an entire roof need to be replaced, you can expect to pay anywhere between £3,000 and £7,500. Again, this cost will vary according to the size of your roof. Below are a few basic examples of what you can expect to pay for roof replacement on different-sized homes:
Gable Roof
Expect to pay between £3,000 and £4,000 for a standard replacement and allow up to four days for the job to be completed
A 2-valley gable roof can cost between £4,500 and £5,500 and take between four and six days to complete
Hip Roof
Prepare to pay between £4,000 and £5,500 on a semi-detached property and allow up to five days for the work to be done
The average cost on a detached property can be between £5,000 and £6,000, with the work taking up to a week to complete
A roof with two valleys on a semi-detached house will cost between £5,500 and £6,800 and the project can take up to seven working days to complete
A two-valley roof on a detached home can set you back between £6,500 and £7,700 and take just over a week to finish
Tiled Roofing
The most commonly used roofing material is tile, and there are several different ones available. Pricing will vary depending on their size and overall quality, with slate being the costliest and most durable. Other popular tile options include cement and clay, which may not be as durable.
Average Repair Costs for Tiled Roofing
Again, the cost that you'll need to pay for having repairs done on a tiled roof will depend on how much labour and materials are going to be needed. If only a few tiles need replacement to stop leaks in their tracks, your cost can average between £90 and £220 to get your roof as good as new again.
In many cases, this estimate will also refer to damaged flashing, which stops wind and water damage from occurring to chimneys and skylights.
Flat Roofing
Many sheds, property extensions, garages and other types of outside buildings are built with flat roofing because they are often cheaper than pitched roofing. However, they can be prone to more damage than a pitched roof in many cases.
Approximate Costs for Flat Roof Replacement
The amount you can expect to pay for having a flat roof replaced will also vary according to the type of roofing material being used and the amount of time that's needed to finish the work. While felt normally runs at about £40 to £60 per square metre, while costlier options such as fibreglass can be just over £120 per square metre.
Labour costs for repairing a flat roof will depend largely on whether you're based in central London or an outlying area. Costs can start from about £120 to £280 per labourer per day. Taking these figures into account, having a flat garage roof replaced can cost between £900 and £2,300.
Costs of Repairing Flat Roofing
The cost of fixing a flat roof will depend on how much damage needs to be addressed. Minor repairs like patching small holes can normally be done for around £280 to £320. In cases where you're calling a contractor several times a year to perform repairs, you may actually save money over the long term by replacing the roof in question.
Estimated Costs for Smaller Roofing Jobs
Replacing five ridge tiles can cost between £120 and £300
Having gutters cleaned will cost between £30 and £100
Replacing a few missing or broken tiles can average between £40 and £120
Reducing Roof Replacement Costs
No homeowner wants to spend any more than they have to in order to maintain their property. However, there are times when replacing a roof is absolutely necessary.
It's crucial to hire an accredited contractor because they will be able to correctly assess them amount of work that needs to be done – and quote accordingly for completing the job. They will also be able to give you the best recommendations regarding materials to use – in some cases; second-hand tiles may still be able to be used.
Having an accredited contractor will also ensure that the job gets completed in a decent amount of time and according to industry standards.
Get Free Roof Replacement Quotes Online
What Hidden Roof Replacement Costs must I Look for?
A few other costs to keep in mind with regards to roof replacement can include:
1. Waste Removal
While some roofing companies may include the cost of removing waste after completing the job, others may not. If you have to hire a skip for this, you can expect to pay a fee of around £220.
2. Ease of Access
There may be cases where a roofing contractor will need to hire scaffolding to access all section of your property. The cost of hiring this can run to just over £1,200 for enough scaffolding to navigate around a larger home.
3. Gutters
When roof replacement is being performed, soffits, guttering, fascia boards and battens may also have to be replaced. Each of these will be billed additionally, depending on what is needed.
A home's roof is one of the most crucial parts of a property and in it unfortunately also one of the main areas that will experience severe damage during inclement weather. As such, it's essential to keep your roof in the best possible condition at all times. Having regular maintenance performed will go a long way in helping to prevent costlier work from needing to be done at a later stage.
In cases where minor damage has occurred, such as a roof tile falling off, you can expect to pay anywhere between £60 and £120 for a replacement tile and the fitting thereof. Having a complete hip roof replacement performed could cost in the region of £4,000 and £7,500, and the cost will depend on whether your home's roof has one or two valleys. A new gable roof can set you back any where between £3,000 and £5,500
What Does Re-roofing Involve?
Re-roofing will be performed in cases where a property's existing roof is too badly worn or damaged to repair. In cases where previous repair work was not done properly, serious structural damage has occurred or there are simply too many water leaks to fix individually, it's time have an entire new roof fitted to your home.
The cost of a new roof will vary substantially, depending on the type of roof, the size of your home, the quality of materials being used and the size of the roofing company being hired. In cases where structural repair work is also needed, this will push the pricing up even further.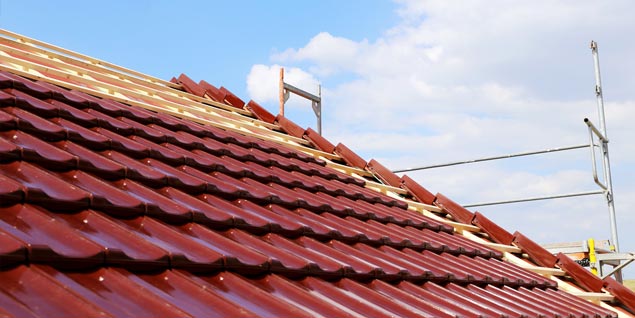 What is Roof Restoration?
In cases where a roof is not badly damaged, it may be possible to perform restoration work instead of a full replacement. This can be a more cost-effective solution, especially of no structural damage is present.
When restoration work is carried out, a roof's structure will not be completely removed. Instead, it will be thoroughly inspected to ensure that it's still structurally sound. Any damage that is found will be cleaned up and repaired to ensure that the roof will still be able to last a while longer.
Owing to the fact that less labour and fewer materials will be needed to perform roof restoration work, homeowners can expect the cost of this to be a fair amount less than having complete replacement performed.
Indications that your Home's Roof may need Replacement
There are cases when no amount of repairs or restoration work will be able to save an existing roof, and when this happens, complete replacement will be needed. Below are some aspects indicating that it's time to provide your home with a complete new roof:
1. Ageing
If no repair or maintenance work has been performed on your roof for more than 20 years, there is a strong possibility that a full roof inspection will be needed. This will help determine what the best course of action will be to take – whether restoration can be done or a full replacement roof is needed.
2. Evidence of Water Damage
If any signs of water damage are present on ceilings or inside walls, there's a strong possibility that your home's roof is leaking quite badly.
3. Missing or Damaged Shingles
In cases where shingle granules are being found in your home's gutters after it has rained or if shingles are damaged or misshapen, your roof will more than likely need to be replaced completely.
4. Roof Valleys
When shingles are missing close to your home's roof valleys, you will more than likely be better off replacing the whole roof. However, if this damage is caught in time, it may be able to be repaired.
5. Daylight
If you are seeing any sections of daylight peeking though into your attic or loft, a replacement roof will most likely be your best option.
Having a roof replaced will always be costly and time-consuming and as a result, many homeowners think that they will be able to tackle a project like this in a DIY capacity to cut costs. However, these projects seldom go according to plan, resulting in the homeowner having to get a contractor in to rectify what has been done incorrectly.
Any type of work being done on your roof should be viewed as an investment because it will enable your home to serve you and your family for many more years.
Benefits of having your Roof Retiled
Having your roof retiled will not only make your home look more attractive; it will provide additional protection against harsh weather, while also preventing water from being able to get into your home.
Water damage that occurs because of a poor quality roof can result in issues such as:
Bowed and sagging woodwork that will need costly repairs to be performed
Damp patches and the formation of black mould
Why a Professional must Repair or Replace your Roof
It's absolutely crucial to choose a reputable roofing contractor that is appropriately accredited. Any accredited tradesperson or business that has obtained accreditation must adhere to industry-specific standards with regards to quality of workmanship as well as the materials being used.
An excellent way to find accredited contractors and obtain quotes from them is by filling in our website contact form. We will only share your information with accredited and experienced contractors who will be able to get the job done to perfection.
In many cases, it can be a good idea to have your roof inspected once every six to 12 months as well, because this can enable issues to be detected before they become serious enough to warrant having a full roof replacement performed.
Will it Take Long to repair my Roof?
In most cases, an average-sized three bedroomed home will require between four and six days of labour to be completely repaired. In cases where replacement roofline boards, rafters and gutters are needed as well, an additional few days will be needed to complete the job.
The size of your roof and its shape will also affect the amount of time needed to get the job done – larger roof areas will obviously require more time to maintain, repair or replace.
Reasons why Roof Repair may be needed
Although most types of roofing can last an average of 20 to 30 years before needing to be replaced or repaired, some reasons why your roof may require attention include:
1. Broken Tiles
Strong winds or excessive amounts of snow accumulating on your home's roof can result in tiles becoming damaged or breaking over time.
2. Wind Damage has Occurred to Flashing
Excessively strong wind can cause damage to flashing, especially in areas around chimneystacks and skylights. This will allow water to leak into your roof.
4. Ice Dams
Any snow that melts and refreezes on your home's roof can result in blockages occurring, which prevents water from being able to run down into the gutters.
5. Bad Roof Pitch
If the angle on your roof's pitch has not been built correctly, it can render it more susceptible to wind damage. Water could also accumulate without being able to flow away properly.
6. Cracked or Broken Pipes
Sealant products used on vent pipes inside a roof will break down over time, and this will enable water to leak into a roof.
Obtaining the Best Quotes
If you're in the market for having roof repairs or replacement performed all you need to do is complete our contact form. One or more of our accredited roofing contractors will contact you to set up an appointment for viewing your property. This step is essential so that they can provide you with an accurate quote.
By requesting quotes from us, you can be sure that you'll only be contacted by accredited and experienced tradespeople or roofing companies.
Compare Replacement Roof Costs Now