Average Zinc Roofing Costs & Quotes
Last Updated on By Jon
Our 2023 guide to zinc roofing costs contains all the information you need to save on installing a new zinc roof including guidance, average costs and free quotes.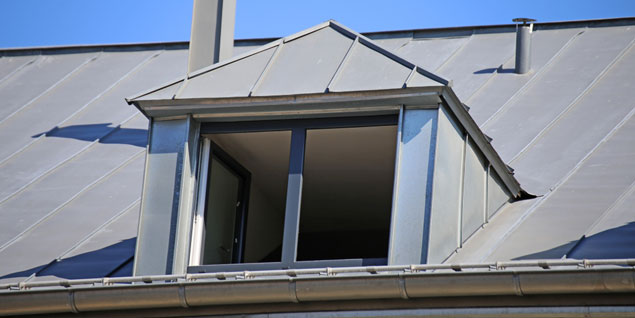 Zinc Roofing Costs
If zinc is your choice of metal roofing, this handy table will explain some costs:
Quality
Roof Size
Price Installed
Standard
1m2
£142.50
Standard
10m2
£1,425.00
Standard
50m2
£7,125.00
Medium
1m2
£166.25
Medium
10m2
£1,662.50
Medium
50m2
£8,312.50
High
1m2
£209.00
High
10m2
£2,090.00
High
50m2
£10,450.00

(Prices taken from multiple sources and averaged)

Prices Checked 08/12/2023
Zinc Roofing Cost Calculator
The cost is generally higher if the roofing structure where the zinc sheets will be installed has complex elements such as curves and gaps for roof windows. Also, the harder it is to access the roof, the higher the installation cost will be.
Other than the complexity and accessibility of the roof, other factors that affect the cost are the actual size of the zinc roof and the house's location. Even with these factors, the minimum you should expect to pay for 1m2 of a zinc roof is £100.
For a medium-sized home (with approximately 100m2 roof), the total figure would amount to around £13,000. Note that this figure does not include the cost of additional elements such as plywood insulation.
Get Free Zinc Roofing Quotes Online
Factors That Affect the Cost of Zinc Roofing
The roof structure and design
The cost estimates given above are for standard roof designs. If there are some adjustments to the architectural design, the cost can be lower or higher.
The level of price changes
Zinc sheets are prone to price fluctuations from time to time, which may affect the project's general cost. Price fluctuations are brought by changes in demand and supply of the material by leading consumers and producers. The price of utility commodities such as electricity, gas and oil can also contribute to the price fluctuations.
The type of the roof- Flat roof or pitched
Installing zinc sheets on a flat roof is far much cheaper than doing the same for a pitched roof. Installing a sloping roof can be tricky and dangerous and should never be a DIY. Larger homes with complex roofs (a combination of flat and pitched sections) will cost more than smaller homes with simpler designs.
Size of the roof
The roof's size is directly proportional to the amount of zinc required and thus the cost incurred. The cost of a smaller roof of around 10m2 is definitely less than that of a larger roof (100m2 or more). You can use our zinc roof cost calculator above to work out average prices per roof size.
Quality of zinc used
High-quality zinc will cost more (around £200 - £250 per m2) than lower-quality or standard zinc.
Zinc Roofing Information
A zinc roof offers the advantages of being highly versatile and extremely durable. This guide will explore these and other benefits of using Zinc roofing, the factors you need to keep in mind when installing zinc roofs and the cost considerations.
Zinc stands out from other roofing materials as it can be used on a wide range of roof structures. There are a good number of options to choose from for this material, including bright natural pieces, pre-weathered and pigmented zinc.
The seamless finish it brings on absolutely any roofing type makes it an ideal choice for homeowners, architects and designers. The material is easy to install, not to mention that it is flexible, corrosion-resistant and durable.
Today, many European and worldwide manufacturers are offering zinc sheets and coils with a moisture resistant, coastal protection finish. What's more, zinc sheets can be produced as shingles, flatlock and cassette panels. These options only translate to one thing- zinc roofing caters to a broad range of building styles.
Zinc is in the class of metals known for its exceptional lifespan and unbeatable resistance to environmental elements. Unlike traditional tiles, metal sheets are flexible, lightweight and generally easier to work with.
In addition, zinc is low maintenance and will hide any imperfections on the roof structure (gutters and pipes) in a seamless manner, improving the roof shape. Even with this, you should not forget that the texture of traditional roofing is more aesthetically pleasing than the flat look of metal roofs.
To enjoy the benefits of zinc while still enhancing good aesthetics, zinc sheets are today being produced in a wide variety of modern colors, patterns and designs. You can get a 1m2 of a modern zinc roofing sheet for £140. For a more streamlined look, the zinc sheets can also be used as wall cladding just next to the roof. Solar panels will also effortlessly clip on zinc roofing sheets.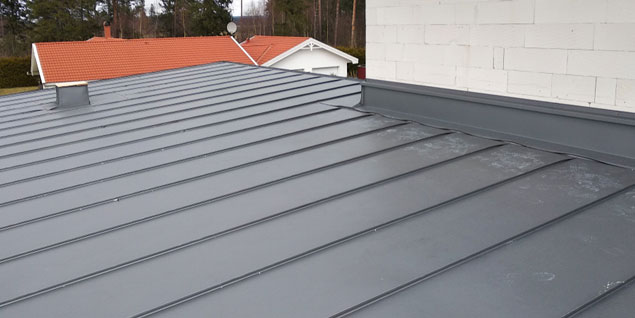 Benefits of zinc roofing
Highly durable
There is no doubt that zinc is one of the most durable roof building materials you can use. The material is corrosion and weather-resistant, meaning that it has a longer lifespan than other roofing materials. A zinc roof will survive environmental elements for a longer time compared to a steel roof.
A perfectly installed zinc roof can effortlessly clock 100+ years. Steel roofs will struggle to survive half this lifespan.
Other factors that contribute to its long lifespan are pest, warp, rot and leak resistance.
Energy-efficient and eco-friendly
The melting point of zinc is far much lower than that of other building materials such as copper and Aluminum, meaning that it will consume less energy during production.
The material is also entirely recyclable, not to mention that almost 30% of all zinc manufactured is from recycled materials.
A zinc roof can even be made from zinc got from the process of demolishing and replacing other roofs.
Low maintenance
As long as your zinc roofing is properly installed, it will last long without calling for maintenance practices. The material is corrosion-resistant and highly durable.
Zinc reacts with moisture or carbon dioxide to form a layer that protects it from damage. Even if zinc gets scratched, it will regain its normal surface appearance when given time. If you take a material such as steel, these properties are the exact opposite. Steel will be easily corroded on reacting with moisture when its outer coating is scratched.
With zinc roofing, you will never have to worry about its maintenance, even if the climate is at its harshest.
Malleability
Malleability is the extent to which a material can be cast into sheets of various shapes. Zinc is a thin material, approximately 0.7mm and can be shaped into various angles and curves without compromising its longevity.
Weather resistance
Zinc is an excellent weatherproof material capable of even resisting degradation by UV light.
Enhanced aesthetic element
Modern zinc sheets will blend well with the slate roof covering, bringing out a charming and stunning look. This material is also great for an agricultural-themed roof.
Zinc Roofing Alternatives
Coated Aluminum
Aluminum is much similar to zinc in terms of installation techniques. It is also lightweight and available in a wide variety of color options. Aluminum's only problem is that it cannot be soldered; thus, certain installations need to be altered for it to be used.
Copper
Copper is a nice alternative with a wide variety of color options to choose from, including bright raw copper. However, you should know that this material will get oxidized on exposure to environmental elements, losing its bright color with time.
Frequently Asked Questions
How are flatlock and shingle zinc tiles installed? Fixing these onto a building is done through a special clipping process where the clips are hidden behind the tiles' edge. For the spacing, manufacturers' recommendations are mostly used.
How are zinc sheets installed? Installing zinc sheets is quite easy as you will only need to clip them onto the substrate. In most cases, stainless steel clips are used for this task. Your contractor should completely understand the quantity, location and positioning needed for the installation process.
Looking For a Zinc Roof Installer?
This job needs an experienced and professional contractor, preferably one offering a work guarantee. Also, look for contractors registered by the Federation of Traditional Metal Roofing Contractors (FTMRC) and the National Federation of Roofing Contractors (NFRC).
Compare Metal Roofing Costs Now