Bi-Fold Door Costs, Calculator & Quotes
Last Updated on By Jon
If you're looking to have bi-fold doors installed in your home, our 2023 cost guide can help you make an informed decision, whilst saving you money on both uPVC and aluminium frames with free quotes from local installers.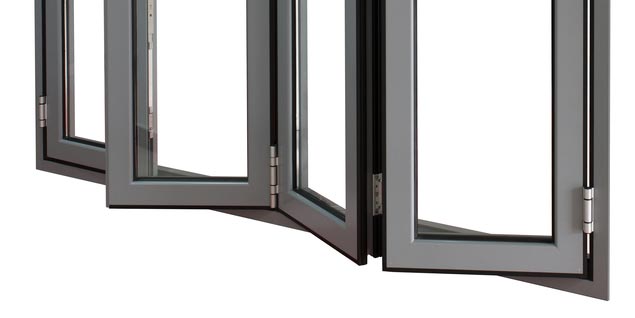 Average Bi-Fold Door Costs
Let's take a look at some average prices for both UPVC and aluminium framed bi-folding doors:
Door Material:
Size:
Price Supplied:
Price Installed:
uPVC
2.7m (3 pane)
£1,952.75
£2,835.50
uPVC
4.7m (5 pane)
£3,263.50
£4,333.50
Aluminium
2.7m (3 pane)
£2,621.50
£3,317.00
Aluminium
4.7m (5 pane)
£4,440.50
£5,510.50

(Prices taken from multiple sources and averaged)

Prices Checked 03/12/2023
Bi-Fold Door Cost Calculator
uPVC Bi-Fold Door Prices
Below are some approximate price ranges for some of the more popular bi-fold door options:
2.7 metre unit with 3 panes – between £1,500 and £1,900 without installation, and up to £2,800 with labour costs
47. Metre door with 5 panes – from £2,700 to £3,200 without labour, and up to £4,200 with labour costs included
Aluminium Bi-Fold Door Prices
2.7 metre 3-pane door – between £2,200 and £2,550 without labour and as much as £3,100 with labour costs included
4.7 metre 5-pane unit – between £3,900 and £4,200 without labour and up to £5,200 including labour costs
Although aluminium and uPVC bi-fold doors can both be manufactured in a range of colours and styles, aluminium doors tend to be slimmer in design. This means that they will be able top open a little further than the uPVC units.
What is a Bi-fold Door?
These units are manufactured from aluminium or uPVC panels that have been hinged together. When the door is opened, all of the panels slide along a rail towards a wall and fold up next to each other.
Bi-fold doors normally consist of between two and seven panels each and they can be custom manufactured to fit the area of a home that they are going to be installed in.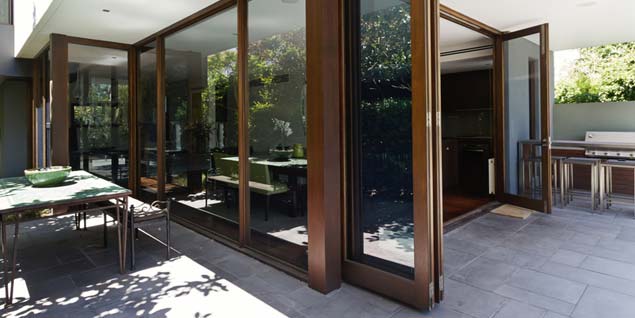 Get Free Bifold Door Quotes Online
Benefits of Bi-fold Doors
They look extremely stylish and allow you to enjoy uninterrupted views of the outdoors
They are easy to open and close
Enjoy more airflow through your home during warm summer days
The end panel can be opened on its own if required
Various colour options are available
These doors are quite energy efficient
They offer space-saving functionality
Bi-fold doors are easy to maintain and clean
They can add substantial value to a home
Installing Bi-fold Doors
These doors are extremely effective when the level of a home's floor is the same on the inside and outside. This allows for a seamless integration between these two areas.
In some cases, interior changes may need to be made to your home. For examples, light switches, power points or even radiator units may need to be relocated so that these doors can be opened fully.
DIY installation of these doors is not recommended, as it is a time-consuming and challenging project. More than one person is required when installing these doors as well, meaning that it is a project that is best left to an experienced installation team.
All bi-fold door installations will have to be checked by a building inspector upon completion to ensure that they are compliant with existing building regulations. If a completion certificate is not obtained for this project, it can prevent potential buyers from purchasing your home in the future.
A distinct advantage of hiring professional installers for this project is that the work will be done properly and efficiently. Although it may cost extra for labour, you certainly wouldn't want your bi-fold doors to be incorrectly installed while attempting a DIY project.
It's essential to find out if your chosen installer is affiliated with a professional organisation that permits self-certification of work compliance. Some examples of these organisations include:
FairTrades / TrustMark
The Fenestration Self-Assessment Scheme (FENSA)
Glass and Glazing Federation (GGF)
Certification and Self-Assessment (CERTASS)
Comparing Bi-fold Doors to Sliding Doors
Bi-fold doors can be opened up all the way, whereas sliding doors can only be opened on the one side. However, sliding doors can be beneficial in areas that may not be large enough to cater for the folding functionality of a bi-fold door. Sliding doors can even be costlier than bi-fold doors in some cases.
Is Planning Permission Needed?
n most cases, no planning permission will be needed to have bi-fold doors installed on your property. However, if you live in a listed property, in a home situated in a conservation area or in a property classified as an "Article 4 Directive," you will have to apply for the required planning permission.
Planning permission can be applied for online or at your local council offices.
Obtaining Quotes for Bi-fold Doors
When submitting our website contact form, you will be put in contact with various accredited bi-fold installation companies. All of them have been carefully pre-screened to ensure that they provide the best quality workmanship and products.
If you would like to obtain up to four free quotes from reputable installation companies, all you have to do is fill in our website contact form and submit it. You will not be under any obligation to accept a quote either. After your property has been accepted, you should receive all of your requested quotes within a day or two at the most.
Compare Bi-Folding Door Companies Now