Bow Window Installation Costs & Quotes in 2023
Last Updated on By Jon
Not to be confused with bay windows (We'll cover that later!), bow windows are a style of window that compliments every style of property whether replaced/updated or installed retrospectively. Our 2023 guide covers all you need to know including information, average costs and how to compare free quotes.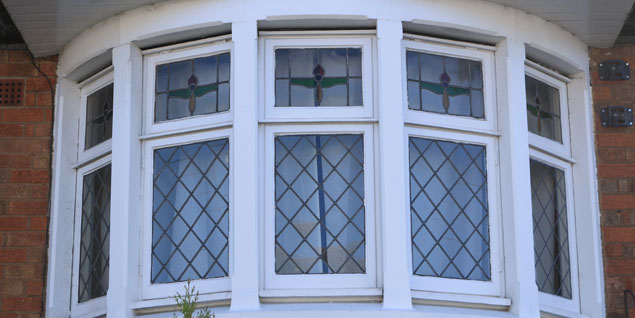 Lets see some average UK prices for bow windows:
Size (mm)
Panels
uPVC
Average Price
Fitting Cost
Total
2500 x 1200
3
White
£856.00
£300
£1,156.00
2500 x 1200
3
Woodgrain
£931.00
£300
£1,231.00
3000 x 1200
4
White
£1,284.00
£300
£1,584.00
3000 x 1200
4
Woodgrain
£1,359.00
£300
£1,659.00
3500 x 1200
5
White
£1,712.00
£300
£2,012.00
3500 x 1200
5
Woodgrain
£1,787.00
£300
£2,087.00
4000 x 1200
5
White
£1,819.00
£300
£2,119.00
4000 x 1200
5
Woodgrain
£1,894.00
£300
£2,194.00

(Prices taken from multiple sources and averaged)

Prices Checked 03/10/2023
Bow Window Cost Calculator
In summary you can see the average costs to install a bow window in the UK (as of Oct 2023) are:
£1,156.00 - 3 Section uPVC window installed
£1,584.00 - 4 section uPVC window installed
£2,012.00 - 5 section uPVC window installed
These prices are based on a replacement bow window. If you are looking to add a new bow window to your home then you will need to factor in possible building costs associated with the construction of a bay wall, roof and linking to your existing room.
You may also have noticed that these prices are higher than that of a typical flat window recess for a few reasons:
Unlike a single window opening, bow windows are made of multiple panes and multiple frames which increase manufacturing costs.
As there are more frames involved, the installation is more complicated, and more care is needed for a solid fit.
Get Free Bow Window Quotes Online
Factors that affect bay window costs
There are also several factors which can affect the total price as detailed below:
Frame Material
uPVC
uPVC (unplasticized polyvinyl chloride) is the most popular window frame material in the UK. It offers a number of benefits when used on a bow window including:
Strength - when combined with a metal core, uPVC frame strength is perfectly suitable for a bow window.
Security - with state-of-the-art locks and hinges uPVC frames are incredible tough to break into.
Warm - offering great thermal properties with multiple cavities, uPVC frames have high insulation vales.
Stylish - available in many colours to suit your property (though popular in plain white).
Maintenance - super easy to clean and require next to no maintenance throughout it's lifetime.
Woodgrain - uPVC can now be formed with woodgrain texture to fit the character of older properties.
Timber
If uPVC isn't your preferred choice, you have an older property and want to keep materials more traditional or even because conservation laws don't allow uPVC then timber frames are an elegant solution. Though huge advancements have been made in traditional styled uPVC, there's nothing quite like a timber bow window frame. What is more they offer a number of benefits:
Strength - hardwood frames such as Accoya provide great strength and security.
Insulation - Wood retains heat very well and is a great insulator, often more so than uPVC frames.
Paintable - Fancy a change? Or want to match the exact colour of your other frames? Wooden frames are easy to paint and maintain.
Glass Type
Double Glazing: This should be the minimum glazing type you opt for if you want the thermal benefits they bring. They do however come in different thickness panes such as 24mm or 28mm and typically come filled with argon gas.
Triple Glazing: Taking both sound and thermal insulation a step further, you can even opt for triple glazing which though costs more will preform better than double glazed panes. You will need deeper frames to accommodate the size of the glass.
Opening
Sash: For a more traditional look or to match existing windows on your property you can opt for sash openings on your bow window. Characterised by a vertical sliding window opening, modern sash windows are effortless to operate through the use of hidden springs (as supposed to the old method of sliding counterweights).
Standard Casement: This is the most common arrangement for window openings in the UK. Each casement window can be opened in a traditional manner using hinges on one side. Modern resistance hinges mean they don't need to be held in an open position with an arm. They can be a full window opening, a small top opening or a combination of both.
Fixed Pane: Less commonly used as a total solution (normally at least 2 windows are openable) it is still an option for your bow window to be permanently closed.
Custom / Combination: It is perfectly acceptable to have a mixture of casement types to meet your needs. Though it is pretty rare to see both sash and casement combined it is commonplace for fixed and casement combinations.
Dummy Vents: Also known as dummy sashes, these are used to create equal lines between the fixed glass panels and openings and make for a more even looking window. They do however come at a slightly increased cost.
Roof
The small roof that is needed above a bow window is another consideration for both style and cost. Nowadays they tend to made of uPVC and can mimic both tile or slate. You can however opt for a more traditional roof and have any roof type such as tiles to match your property.
What Are Bow Windows?
Quite simply, bow windows are curved, smoother 'bow' shaped version of a bay window. They way this smoother curve is achieved is by having more panels than the 3 typically used in a bay styled window. In doing this a bow window can have up to 5 panels each set at around 10 degrees forming a gentle curve.
Like a bay window, a bow window will protrude from a wall which in turn offers a number of benefits such as increased daylight and floorspace if extended the full height to the floor. This in turn will create a small roof space above which can be styled to suit your property (though often is so small that some leadwork or uPVC covering will suffice).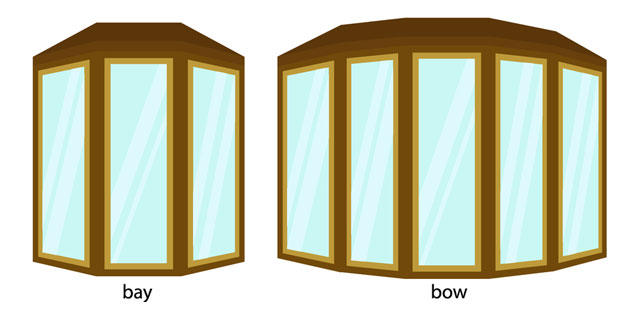 Bow Window Features
Here's a quick overview of the more notable features of installing a bow window in the UK:
| Feature | Explained |
| --- | --- |
| More than 3 panes | Distinguishing from a bay window, allows more light in. |
| Curved not boxed | Subtle curves from multiple panes at 10 degrees. |
| Style suitability | Suits most house styles from modern to traditional. |
| Customisable | All elements can be tailored to suit your property. |
| Insulation | High insulation properties from frames and glazing. |
| Durable | Incredibly hard-wearing and easy to maintain. |
| Security | Anti-tamper and incredibly difficult to compromise. |
| Panoramic views | Unrivalled views with an increased field of view. |
| Affordable | Wide price range makes spectacular windows affordable. |
| Ease of use | As simple to operate as any 'traditional/ window. |
| Multiple openings | Choose from fixed, single hung, double hung or sash. |
The benefits of bow windows
Suits most house styles
The subtle curve created when you add a bow window suits most types of property. From modern residences to more traditional Edwardian buildings you can customise the colour, size and openings to compliment your existing style. They create an interesting focal point for flat sided buildings and are known to increase both curb-appeal and house value.
Natural light
With such a wide arc of glass panels protruding from the wall you will also notice an increase in natural light entering your room. This coupled with the fact that you can use more of the sill or extended floorspace for a seating area in the sun makes for a lighter, brighter room.
Customisable
Don't think that you are just limited to flat white uPVC frames and plain glass inserts. Bow windows can be customised to suit any property... you can change the colour of the frames, have woodgrain textures, different openings such as sash and casement and even customise the glass panes including double and triple glazing as well as leaded and stained glass styles. Your new window will blend in or stand out depending on your wishes.
Curved rather than boxed
Though the difference between a bay and bow window is essentially the amount of panels used, the difference in overall look can be striking. Bay windows by their very nature are boxy looking with three sides and create a very angular protrusion from a wall wheras a bow window will curve gently across the face of your wall. Both styles look great, but if you're looking for gently curves then there really is only one option.
Views
If you've got a view worth making the most of, then the panorama offered by a bow window is unrivalled. No need to press your nose against a flat casement window to take in the view, you can quite literally let the view into your room and make it a key feature of your property.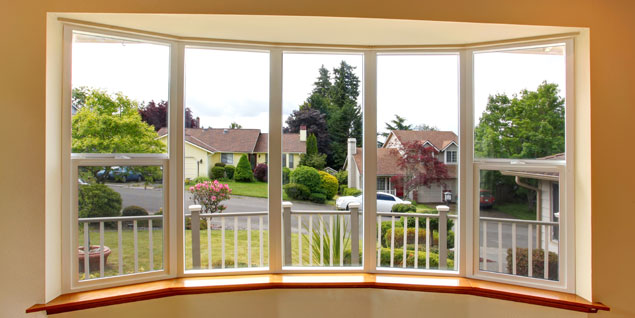 Frequently Asked Questions
Will I need planning permission?
In all likelihood probably not. If you are replacing an existing bow window then there is no need to go through the planning application process. If you are converting a standard flat window to a bow then you will technically be increasing the footprint of your property so it's worth enquiring. This should fall well within permitted development rights however individual cases will vary so it's alway best to check prior to commissioning the work.
It is also worthwhile checking any local building conservation guidelines. It's unlikely you will be able to add a uPVC bow window to a listed building so be sure to clear this prior.
Will a bow window add value to my house?
Yes it's more than likely that adding a new or replacing a bow window will increase the value of your home. The added curb-appeal, increased living space and overall light are more than enough to warrant a higher asking price. They can often be the difference when appealing to buyers looking at similar houses.
Are bow windows cheaper than bay windows?
Sadly, not normally. The increased number of panels, number of glazing units and number of openings normally make then a little more expensive than bay varieties. However, that doesn't mean that converting a bow into a bay will be cheaper. There will need to be significant alterations to make the change which will make retro-fitting a bay window more expensive.
Will a bow window make my room cold?
It's unlikely to be noticeable. Though an increased amount of glass panels could allow for lower temperatures it won't be enough to notice, particularly with modern thermal properties of the frame and glazing. If fitted correctly they won't be draughty.
Are there any disadvantages of bay windows?
Though it may not seem a disadvantage... bow windows really do let in a lot of light, so if your home is South facing you may experience an increase in temperature and light which might not always be desirable. There are of course ways to minimise this.
You will need custom blinds or a curtain rail/track to fit the curved shape of the frame. Though these are readily available, it's not as simple as just putting up a straight curtain pole.
How are bow windows supported?
If protruding from the wall with no dwarf-wall supporting them, a bow window can be supported either from below or with support cables from above linked to the framing. Both options are widely used and effective, however support cables may be more subtle when incorporated into your design. Either way the support won't be visible or spoil the overall look.
Do bow windows let in more light?
Yes. An increase in width, glass panes and the protrusion from the wall lets more light in from more angles. In most cases this is very welcome (and why many people convert from standard flat windows in dimly lit rooms). In rare cases this increase in light can be challenging, though easily managed with blinds, drapes or curtains.
Compare Local Window Fitters Now