Window Cleaning Costs & Quotes in 2023?
Last Updated on By Jon
Looking to save on getting your windows cleaned? Read our 2023 costs guide, or simply apply online to get free window cleaning quotes from local companies.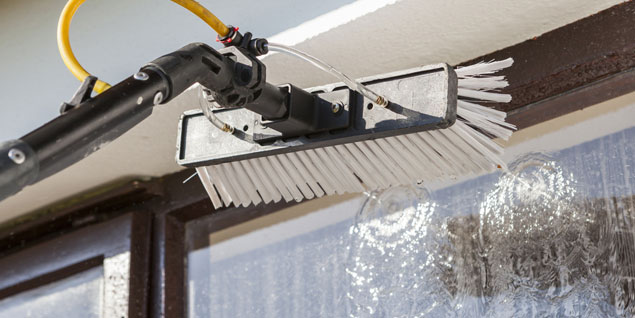 Lets see some average UK prices for window cleaners:
Property Type
Average Price
Flat
£10.70
Terrace house
£16.05
Semi-detached
£37.45
Detached
£48.15
Solar Panel Cleaning
£42.80
Gutter Cleaning
£42.80
Conservatory Cleaning (exterior)
£85.60

(Prices taken from multiple sources and averaged)

Prices Checked 03/10/2023
Window Cleaning Cost Calculator
Factors that affect window cleaning costs
Here are the main factors that will affect the priced quotes for window cleaning jobs:
Window Frames & Window sills
Windowsills and window frames also need cleaning from time to time and many cleaning companies will include cleaning these sections in the agreed job scope. You should always agree with the specialist about the scope of work that will be done and, even more importantly, the price that will be incurred before the job kicks off.
Special window cleaning
If a property has some non-standard windows, special cleaning services will be needed, and the project's cost will definitely increase. Window cleaning specialists offer cleaning services for skylights, conservatories and greenhouses at an added fee that must first be agreed upon with the property owner before the job begins.
Internal and/or external cleaning
The cost of doing either side individually is almost half what you will spend to have both your windows' external and internal sides cleaned. However, if both sides are done, some cleaning companies may give you discounts.
Property size
Even with the rooms' number consideration, cleaning large flats or multiple stories estates will cost more.
Number of the rooms in the building
There are several ways a contractor can quote the cleaning job. In most cases, the cleaning specialists will charge per hour. However, there are also options to charge by the building type or the building's number of rooms. Some will even go to the extent of determining the exact number of windows and charge per this number. When asking for a quote, it's good to verify the number of rooms on your property.
Residential window cleaning prices
Residential window cleaning cost depends on the building's size, the number of windows in the property and their accessibility level. Residential window cleaning is not an expensive project with a complete exterior and widow frame clean costs starting at £10.70. The services' exact prices will also depend on the type of service you choose and the location when your property is established.
Commercial window cleaning prices
Commercial window cleaning is more complex and time-consuming than cleaning windows in a residential property. It is a dangerous task that should be left to the professionals. For professional commercial window cleaning, expect to spend £100 - £400.
To come up with the exact cost of a commercial window cleaning task, the professionals put into consideration factors such as the size of the building and the number of windows on the property. The challenges they will be up against cleaning the windows also affect the prices. If special equipment such as scaffolding, cradles and cherry pickers will be needed for the job, their cost will be factored in the window cleaning cost.
Conservatory cleaning costs
Several factors affect the cost of cleaning a conservatory. The main ones are the conservatory's size, the build style and the location of the property within the UK.
Cleaning companies in this region have a minimum charge of £50. The additional cost depends on the number of panels on the conservatory's roof and frames. Cleaning lean-to-conservatories is generally cheaper compared to cleaning Victorian or Edwardian -themed conservatories.
Here are the prices of various cleaning works for a medium-sized conservatory in the UK:
Exterior only - £85.60
Exterior + interior - £90 to £200
Deep/Full clean- £300 to £450
The importance of cleaning your windows
Cleaning windows enhance their aesthetic properties and increase their lifespan. Since glass is porous, it collects dirt in tiny cracks and if this is left uncleaned, it may block natural light to your home and make the glass fragile.
The damage can even be severe if pollutants such as grit and salt accumulate on the windows. These cause streaks, smears and pigmentation spots on your windows.
Although professional window cleaning comes at a cost, it's worth considering that it will keep your windows in pristine condition throughout the year.
Get Free Window Cleaning Quotes Online
How frequently should windows be cleaned?
A property's location and needs will determine how frequently its windows should be cleaned. Homes that are in cities where pollution is high, will need more frequent window cleaning than those in rural areas where there is less pollution.
Most experts recommend that you do professional window cleaning at least once a year. If you go for a more regular service, your windows can even be cleaned on a weekly basis, but this will, of course, depend on the factor mentioned above- the location and needs of your property.
It would help if you understood that more frequent washing does not mean that the overall time the cleaners will take per round will be significantly reduced compared to a half year's deep clean. The periodic cleans, though, have a higher chance of securing discounts compared to the two yearly cleans. You, therefore, need to talk with the window cleaning company to determine the best cleaning options and budget that will suit you and your home.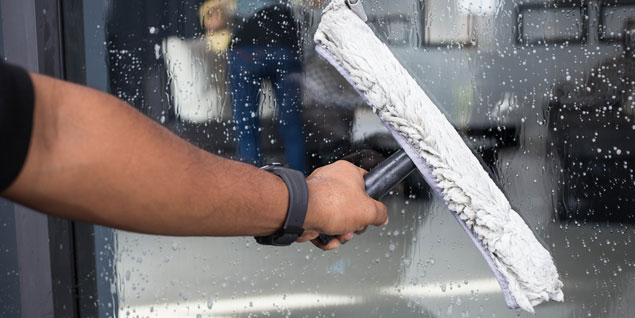 Window cleaning methods explained
There are several window cleaning methods to cater to different job requirements. The cleaning method a specialist will use mainly depends on the building's height and the accessibility of the windows. These are the primary window cleaning methods:
Traditional window cleaning
This is an extensive cleaning service where all the residential property windows are cleaned with scrapers, microfibers, and high-quality cleaning products. The main aim of traditional window cleaning is to preserve the windows' pristine conditions and the quality of the panels.
Water-fed pole window cleaning
This is the commonly used cleaning method used for windows that are 24m high. The method is especially suitable for large-scale projects like those involving commercial buildings.
A pole fitted with a brush and water jets is used to clean the window at a height. The brush does the dirt scrubbing job while the water washes the loose dirt off, leaving your windows sparkling clean.
When is a mobile elevated platform needed?
If a property has windows that cannot be cleaned from the ground and that could be so dangerous to access with a ladder, the safest option the professionals can use is a mobile-elevated platform. This is a mechanical lifting system controlled by operatives in a cradle. Most mobile-elevated platforms can allow access to windows up to 60m in height.
Need for rope access
Windows that are high up or generally hard to reach can be challenging to clean. However, there are special equipment such as scaffolding that can be erected temporarily to facilitate access. The cleaners can also use two individually anchored ropes to navigate and traverse throughout the building's exterior and safely clean all the windows.
Can window cleaning be a DIY project?
For this maintenance practice, there so many options for home and business owners who want to keep the costs low.
There are tons of window cleaning products and solutions in DIY stores and supermarkets that a DIY enthusiast can afford. For access, a premium multi-purpose ladder will cost you around £100.
Even with this, we still recommend that you get help from a skilled and experienced window cleaner and there are reasons for that.
First, cleaning windows that are too high is very risky. Window cleaning specialists are experienced in climbing and cleaning windows at absolutely any height. Note that they have to undergo safety training before they are certified to handle this task. What's more, they will come equipped with all the necessary safety equipment needed for the job.
Additionally, window cleaning specialists are insured against any accidents that may happen on the job. With this, you are at least given an assurance that you will not have to cover (with your own money) any accidental damage that may occur on your external property during the window cleaning process.
How long will it take to clean my windows?
The time it will take to clean your windows will depend on the scope of work done. Of course, this translates to the number of windows, or better still, the size of your property. The height of your property and the accessibility of the windows will also affect the period it will take to clean your windows. On average, though, the cleaning task should take around three hours.
Note that the time factor is a top consideration when determining the cost of window cleaning and hence you should discuss it with the cleaning professionals before striking a deal.
Compare Local Window Cleaners Now