How much will Patio Doors Cost?
Last Updated on December 11, 2019 By Jon
If you have been living in your current home for more than a few years, chances are that you'll be keen to give it some sort of facelift by now. One of the fastest and best upgrades that can be done is to install patio doors at the rear of your property because they not only provide good security; they allow a lot of natural light to enter your home with ease.
The term "patio doors" is normally used for all types of doors that open out on to a patio area, garden or terrace. Although it mostly used to refer to sliding doors, French doors and bi-folding doors tend to be included in this description as well these days.
Several types and sizes of patio doors are available, allowing homeowners to base their choice on personal preferences, budget constraints and the size of the opening that is available to work with. Each type of patio door comes with its own list of benefits and features, ensuring that homeowners can make the best choice possible.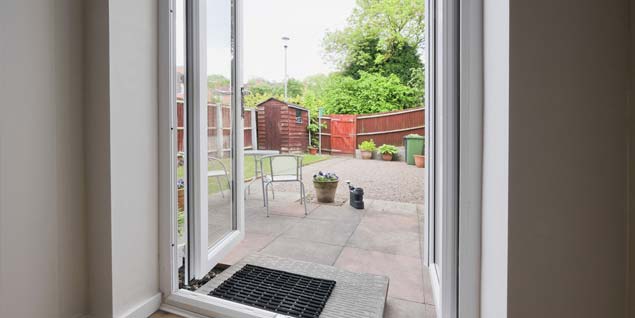 Get Free Patio Door Quotes Online
Various Types of Patio Doors
If you're having extensions built on to your home or even a new home built, you will have the most flexibility available with regards to choosing the right doors. In cases like these, the opening where your patio door is to be fitted can be built to a custom size. However, if a patio door is being fitted into an existing space, your choices can often be limited.
Sliding Patio Doors
Most types of patio doors tend to be the sliding variety, which is extremely handy if space in your back yard is limited. An added benefit of installing sliding patio doors is that they can't blow closed if the wind picks up suddenly. This reduces the risk of injuries occurring as a result of fingers being caught in a moving door or glass that has broken due to a door slamming unexpectedly.
Sliding patio doors can be custom manufactured to fit openings of virtually any size, and highly durable rollers are installed on larger doors to ensure that they will be able to slide open and closed easily.
These days, most sliding doors have three tracks that they run on, instead of a single one. This also makes them easier to open and close and designs that consist of several independently opening and closing doors provide excellent flexibility with regards to operation.
Security features used on many sliding doors include a series of built-in multipoint locking mechanisms that are placed where each panel overlaps another. This prevents the doors from being opened from the outside if they have been locked from the inside.
French Doors
These units are the most suitable option for areas with smaller openings and they usually consist of a set of double doors that open outwards.
Nowadays, the most common option tends to be uPVC French doors and they are often fitted with additional top or side lighting that fills the whole opening area. Another popular option is aluminium doors, and these can also be custom manufactured to suit the specific size of an opening on your home. If you're installing these doors as a means of letting additional light enter your home, you can opt to have more glass and less material on them.
French doors are also a very secure option because of the multi-lock systems that are installed on most of them. A number of them have even passed the intensive PAS024 security testing processes.
A distinct advantage of these doors is that a single unit can be opened to access your back patio area, which is especially handy in cases where inclement weather has set in. However, both doors can be opened during the summer to allow fresh air and light to enter your home.
Bi-folding Doors
These doors are an excellent option for homeowners who want their properties to be as open and free flowing as possible because they can be opened fully – even on the corners of a building.
Various design options are available, meaning that homeowners will be able to opt for the ultimate level of flexibility. However, these units are best suited for larger opening areas, especially those exceeding 2,7 metres and they do require unlimited outside space so that they can be used to their full potential.
It's important to keep in mind that bi-folding are usually the most expensive option out of all when it comes to patio doors. However, you will also have the most flexibility when using them.
Approximate Patio Door Costs
Factors that will affect the cost of your new patio doors include your chosen design, material used to manufacture them and the dimensions of the door you require.
Average entry level patio door pricing:
Sliding doors – from around £450 and upwards
French doors – from about £400 and up
Bi-folding doors – from approximately £950 and upwards
It's important to keep in mind that the abovementioned prices will be for absolutely standard sized or off the rack doors with no customisation whatsoever. Increasing sizes and changing material types can result in prices doubling or even tripling by the time your door has been installed.
Many homeowners think that they will be able to cut on costs by installing a new patio door themselves. However, this is not a project that should be attempted in a DIY capacity – especially if you will be working alone.
Approximate Costs for Installation
A few basic examples of approximate labour costs for having patio doors installed are listed below:
These costs will be for an average sized opening of 1.2m by 2.1m and based on the average rate of around £140 to £180 per day for a specialised tradesperson and approximately £80 to £120 per day for a labourer.
1. Replacing old French doors with a uPVC set
1 – 2 day's labour £350 to £400
Doors £400 and upwards
Additional sundries £80 to £120
Total pricing: £920 and upwards
2. Doing a window conversion to fit new uPVC French doors
2 – 3 day's labour £700 to around £800 and upwards
Doors £400 and upwards
Additional sundries £250 to £350
Total pricing: £1,550 and upwards
3. Creating an opening to fit uPVC French doors (making an existing opening larger could cost a similar amount)
4 – 5 day's labour £900 to around £1,300
Replacement doors approximately £400 and upwards
Additional sundries £450 and upwards
Total pricing: £2,150 and upwards
In cases where glazed wooden doors are going to be used, you can add approximately £350 to the cost, and an additional £600 if Georgian doors are chosen.
Other Aspects to Consider
In cases where an opening is being created or modified to fit a set of patio doors, a load-bearing lintel may need to be included in the cost of your quote. As a result, it's important to check that all of the quotes you receive contain the same line items. This will allow you to perform a fair comparison where pricing is concerned. If a structural engineer is required at any time during the process, an additional £80 to £120 can be added into the pricing.
It will also be mandatory for whoever installs your new patio doors to be part of a Competent Persons Scheme, with CERTASS and FENSA being the two most well-known options. In cases where your installer is not listed with any of these organisations, a £200 fee will have to be paid to your local building control department or municipality to obtain the relevant certification for the completed job.
Obtaining quotes to have new patio doors fitted or to replace existing units need not be difficult or time-consuming at all. In fact, you will be contacted by several accredited companies and/or tradespeople that have been fully pre-screened once you fill in our short contact form.
After you have been contacted by one or more of the accredited installers in our network, they will schedule times with you to inspect your property and provide you with quotes. After you've accepted a quote, you could have your new or replacement patio doors installed within a few days.
There's no reason why you should wait any longer to upgrade your home with a brand new set of patio doors. Simply complete our quick and easy website contact form and submit it, and you will be well on your way to obtaining an attractive set of patio doors.
Compare Local Companies Now