How Much Does Scaffolding Cost?
Last Updated on December 04, 2019 By Jon
When undertaking DIY projects or even doing work elsewhere for a friend, family member or even a client, there will be situations where using a standard ladder to reach different parts of a building won't be sufficient or even safe. At times like these, it makes more sense from a safety and practicality standpoint to make use of scaffolding.
Although many contractors have their own scaffolding, these smaller units are not always what is needed on a site. This is when it becomes necessary to obtain pricing on the various scaffolding units that are available.
What is Scaffolding?
Scaffolding consists of a setup of wooden or metal walking boards and steel poles that can be erected in order for tradespeople to work safely at various heights in or around a building. Although it's most often used outdoors, it can also come in handy for interior DIY, maintenance and repair projects as well – such as when light bulbs need to be replaced in vaulted ceilings, for instance.
Companies that provide scaffolding will usually also be able to supply a range of handrails, ladders and other related accessories. These enable work to be done in challenging areas of a property, such as over a glass conservatory, in narrow alley areas and in spaces that are otherwise awkward or difficult to reach. Although many levels can be incorporated into single scaffolding, each additional level will result in an increase in price being charged.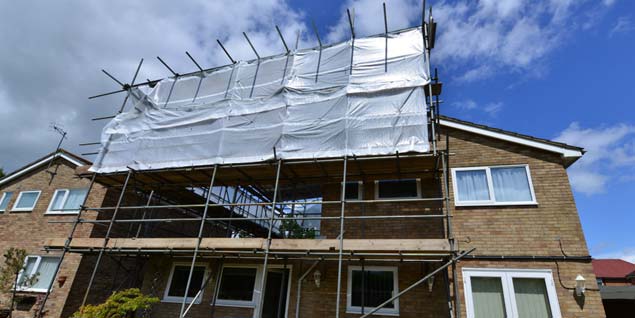 Factors Affecting Scaffolding Costs
Several aspects will have an effect on the cost of scaffolding that you intend hiring or purchasing. These can include, but may not be limited to
1. Height
The higher you need to have the scaffolding, the more expensive it's going to be. Some other factors that can affect this include having to make allowance for working in tricky to reach areas or having to obtain permission to erect a temporary structure on public property, for example.
2. Amount of Time it's Needed for
In most cases, rental periods for scaffolding average between the six and eight week mark. However, should you need to use for a longer or shorter period of time than this, your rental rate will be adjusted accordingly. Keep in mind thought that most providers will normally be willing to rent scaffolding on a weekly basis.
3. Location
This will be one of the main factors that have an effect on pricing. For example, renting scaffolding in London can often cost up to three time more than if it is required in outlying areas of Wales or Scotland.
4. Amount of Walking Levels Required
If work is only being done on a small section of a property, chances are that only one or two walking levels will be required. However, if an entire building is being pained, more walking levels will be needed, which will drive up the rental cost somewhat.
5. Ease of Workspace Access
Something else that affects the cost of scaffolding is whether the site itself will be easy to access or not. The lower priced quotes will generally be for properties where scaffolding can be erected quickly and easily. In cases where some parts of a property are more challenging to access, quotes will cost more.
6. Areas where Public Access is Restricted
If any of the scaffolding you require has to be erected on public property such as a road or footpath, a licence will have to be obtained from your local council beforehand. This can be quite a costly exercise in some cases.
7. Other Unique Requirements
The easiest way to erect scaffolding is to work directly upwards from a level footing on private land. In some cases though, this is not possible. Special requirements are sometimes needed such has having to create a workspace over a driveway or walkway or create safe working conditions above a glass conservatory. All of these factors will direct affect the cost of obtaining scaffolding.
Comparing Quotes before Committing
When searching for pricing on something as costly as scaffolding, it's strongly recommended that you obtain a minimum of three quotes before signing on the dotted line. Below are a few basic examples of what you should expect to pay to rent scaffolding for different types of properties and scenarios:
1. Performing Gutter Repairs
Most companies that provide scaffolding prefer doing so for the larger jobs. This means that you may not always get a cheap price if you only require a single, vertical tower. Within central London, you can expect pricing to range between £250 and £450, while having it supplied to outlying areas can cost between £200 and £300 per quote.
2. Repairing a Chimney
Older chimneys often need to be repaired as time goes by, and reliable scaffolding will be needed for this part of your home to be accessed safely. This will involve scaling the height of your property so that all sides of the chimneystack can be wrapped securely. Approximate pricing for this in London itself can vary between £700 and £950, while quotes for outlying areas may range between £600 and £750.
3. Specialised Bridging Work over a Conservatory Area
In cases where a home has a glass conservatory, dedicated equipment will always be needed to access areas around or above it. Owing to the additional risk involved with setting up in areas like these, you can expect to pay between £600 and £750 to hire scaffolding in London and around £350 to £600 in outlying areas for this specialised service.
4. Working on Semi Detached Properties
If any type of roof repairs, maintenance or installations needs to be done on a semi-detached property, all three sides of it will need to be accessible with scaffolding. Having this structure erected to the height of the property's gutters and providing a level of walkway around it can cost anywhere from £700 and £900 in outlying areas and a whopping 900 to £1,200 in London itself.
While the above mentioned prices for scaffolding rental may seem extremely costly to the average homeowner, this equipment is essential for ensuring that workmen will be able to access all of the required parts of your property safely and efficiently. If you would like to find out more about having scaffolding erected at your property or learn more about what to expect with regards to pricing, fill in our contact form today.