How Much Does it Cost to Install a TV Aerial?
Last Updated on December 20, 2019 By Jon
A popular service that is required by many homeowners is that of having a TV aerial installed. Below is a little information regarding the approximate costs of having one installed.
Three different parts are required when having a TV aerial installed, including:
The actual aerial
The bracket for securing the pole on to the wall
The pole that the aerial mounts on to
Some other aspects to keep in mind when calculating the cost of this project are:
The amount of connection points that are needed throughout your home
Whether any type of signal booster is needed
Longer poles for areas situated at the bottom of hilly and bad signal areas
Average Pricing for Installing an Aerial
Purchasing only the aerial can cost between £80 and £120
Buying an aerial, bracket and standard length pole can average about £145
Purchasing the aerial, bracket, pole and 20 metres of new cabling can be approximately £220
Installing a satellite dish in place of the aerial can add around £30 on to the above pricing
If a longer than average pole is needed, expect to pay about £50 extra
In cases where additional connection points are needed with up to 20 metres of cabling, these can cost an additional £60 to £70 each
If you need a stand-off bracket because of a roof with a wide overhang, it may cost you between £45 and £110 extra
Additional Costs
In some cases, additional items may be needed to ensure that your aerial is installed correctly, including:
Scaffolding or even a cherry picker may sometimes be needed to install a TV aerial if your home is higher than average
Signal boosters – some properties require these units to be placed throughout, which will add on to your original quote. Higher quality units will obviously be a little costlier as well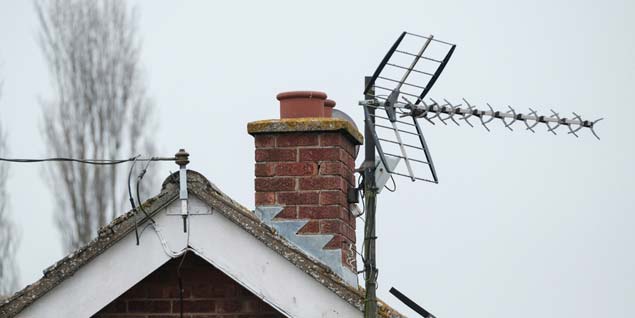 Are Loft Aerials Recommended?
The change to digital TV signal has been beneficial in a few ways, with the first being that signal strength from transmitters has improved substantially. This means that indoor loft aerials are now more likely to obtain better signal than they would have done in previous years.
If any of these scenarios apply to your property, a loft aerial may be a suitable option:
You cannot install an aerial outside due to not having permission from your landlord
You aren't keen on the appearance of an aerial on the outside of your home
The only outdoor location suitable for an aerial is not safe to access, or it would be too costly to pay for installation
One of the best ways to find an accredited and experienced installer is to complete our website contact form. You will be contacted by a few installers within a day or so at the most, and they will set up an appointment to view your property and provide you with an accurate quote for having an aerial installed.