Orangery Costs & Free Quotes
Last Updated on November 22, 2020 By Jon
Ever wondered what the average cost of an Orangery was? Still not quite sure the difference between an orangery and a conservatory? Read our detailed guide to find out more about these wonderful, characterful house extensions.
Get Free Orangery Quotes Online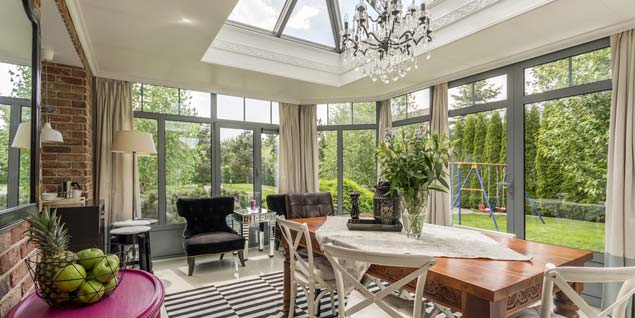 What Exactly is an Orangery?
Say the word and most immediately picture a glass building adjoining a stately home or some other grand property, filled with tropical fruit trees and an abundance of greenery. In fact, during the 1700s to 1900s that's exactly what they were. Providing year round protection to fruit trees such as oranges in the form of a lavish, modern day greenhouse. For that reason they are often referred to as 'garden rooms' and are attached to the main body of the house. Still sounding like a conservatory right? Well read on to find out more…
An orangery or orangerie was a room or a dedicated building on the grounds of fashionable residences from the 17th to the 19th centuries where orange and other fruit trees were protected during the winter, as a very large form of greenhouse or conservatory.
Designing the Perfect Orangery
As you can imagine, there are many different shapes, sizes and designs to choose from when looking to add an orangery to your home. Though many sizes and shapes can come as standard, the real beauty is getting one to match the size and contours of your existing property, which is why bespoke extensions are commonplace and easily produced by the specialist companies.
Choice of Materials
The first part of the decision process is usually to look at examples available, and there are 3 main types to look out for:
uPVC Frames
The modern, popular choice as is seen in countless new windows and conservatories. UPVC offers a number of advantages:
Easy to clean - usually a hose and a good wipe is enough to remove all dirt and make them as good as new.
Hard wearing - Strong yet relatively lightweight and resistance to UV rays.
Colour - uPVC is now available in a number of colours and even textures to mimic real wood or to match existing colour schemes without needing to be painted.
Warranty - It's commonplace to receive a 7-10 year warranty on uPVC products giving you additional peace of mind.
Wooden Frames
Typically hardwood (though softwood varieties are available), if you're looking for a traditional, classic look to your orangery then timber frames are an excellent option. It will need to be stained or painted to match your house, but because of this you can match the scheme exactly.
There is further ongoing maintenance required with wooden structures as you run the very real risk of decay over time even with hardwood. However if you're looking to match an oak framed house for example, there is no more beautiful material to choose.
Aluminium Frames
Lightweight and very strong, aluminium though more expensive than uPVC is a popular choice. Thankfully nowadays the frames can be powder-coated to many different colours and provide a flawless, strong finish that can be cleaned easily. They also don't suffer from the condensation of yesteryears structures which put many people off.
Choice of Styles
Both the roof and overall structure of an orangery can give it a characteristic look, and careful consideration should be made when deciding on a style, else you might end up with a basic looking conservatory.
Here are some features that will need your consideration:
Doors: Both interior doors and exterior. Would you like a more classic look of french doors, or the style and practicality of bi-folding doors?
Window style: a large portion of your new orangery is dominated by glass. It makes sense to match the windows you currently have on your property if for instance you have Georgian bars or patterned glass, or if you value increased visibility then you opt for plain glass windows.
Orangery size: tempting as it may be to just go for the largest size you can afford, you should carefully consider the outdoor surroundings and what your intended use for the room is. Does the room fit with the size and style of your home. Similarly, make sure that the finished room is big enough for your needs as it is a lot of money to spend if it is not quite suitable.
Roof style: orangeries typically differ from traditional conservatories in the style of the roof both on the exterior and interior. The classic roof lantern design can provide both character and sets this type of extension apart from others. Even if you prefer a more modern style, you can provide a nod towards Victorian and georgian times with some subtle design elements.
Orangery vs Conservatory?
Though often believed to be the same… there are in fact some key differences between an orangery and a conservatory.
It is easier to think of it this way:
A conservatory is a glass-walled structure with a brick base and sloping glass roof.
An orangery is a brick-walled structure with large glass windows and a flat roof with a glass lantern on top.
Typically, a conservatory is an additional structure attached to the side of a property after construction. For this reason they can be colder as they don't share the same heating system, and are closed off from the main building by use of a sliding door.
An orangery however is traditionally designed at the same time as the house as it contains structural walls and elements such as heating plumbed in. THey are far more usable spaces throughout the year. That being said, it's perfectly acceptable to have an orangery added to your home at a later date.
For these reasons you can see why people often opt for the cheaper more convenient conservatory extensions, however when you're looking for the character and style of a true orangery there are no real substitutions.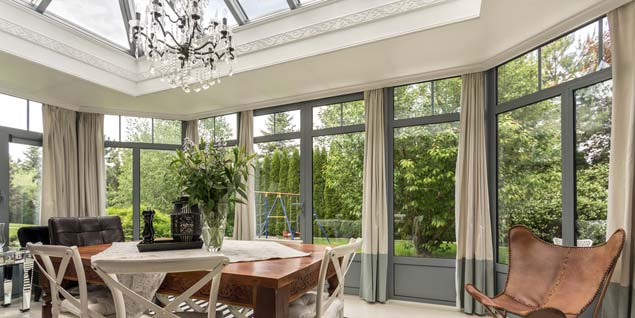 How Much Does an Orangery Cost?
When it comes to discussing the average cost of an orangery, it's important to understand the main benefits they present over a conservatory (spoiler… they're more expensive than conservatories, but less expensive than traditional extensions!).
You can think of them as far more akin to a traditional house extension, in that they create additional living space that can be used seamlessly for entertaining at any time of the year.
For that reason, the average price for an orangery is £18,000 to £25,000. The prices however can rise up to £50,000 for a high-end example.
Let's look at the pricing in a little more detail, and see some key points which will affect your budget. Here are some example prices for various sizes and materials:
| Size | Material | Price |
| --- | --- | --- |
| Small | uPVC | £15,000 |
| Medium | uPVC | £23,000 |
| Large | uPVC | £30,000 |
| Width (m) | Depth (m) | Average Cost |
| --- | --- | --- |
| 4 | 3 | £22,000 to £26,000 |
| 4.5 | 3 | £26,000 to £30,000 |
| 4.5 | 3.5 | £28,000 to £32,000 |
| 5 | 3 | £30,000 to £35,000 |
| 5 | 3.5 | £32,000 to £35,000 |
There is of course likely to be a huge variation in the overall costs as both size and styles vary according to the specification. You will also need to factor in costs such as plans being drawn which can be anything from £350 to £1000 and any building regulations expenses when seeking planning permission.
What Factors Will Affect Costs?
Now let's look at the various elements that will in turn affect the overall cost of your orangery:
Size: Perhaps an obvious one to start with, but the bigger the extension, the larger the costs will be.
Excavations and foundations: To ensure a solid base, your footings need to be dug out accordingly. Costs are typically based on the assumption that the foundations won't need to be dug too deep, and that no re-enforcement will be necessary.
Traditional or contemporary: A contemporary look will likely be cheaper as it will have less detailing and intricate. A more traditional looking orangery will display more features therefore costing more.
Flooring: As they are permanent extensions, you should factor in a suitable floor and insulation for a seamless transition between your home and new extension.
Roof style: Traditional orangeries have a roof lantern for additional light and character, though more modern styles might choose to omit this feature.
Services: Your orangery can be used throughout the year, so it makes sense to add heating and electrics where needed, which will involve a plumber and electrician doing the work.
Wall: Glass ratio: Whether you choose a traditional dwarf wall or opt for a more modern full-length glass wall (with brick pillars and a small 2-3 brick course wall).
Location: It goes without saying that busy cities will likely have increased prices overall.
So is an Orangery Good Value for Money?
Actually.. Yes! When you take the mindset of looking at an Orangery as a house extension then they are very good value for money. They add just as much resale value to a property but cost around 2/3rds of the price to build. Here's a very rough price example of how orangeries compare to extensions when it comes to cost:
| Size | Traditional Extension | Orangery |
| --- | --- | --- |
| 1sqm | £1500 - £2,500 | £1000 - £2,000 |
| 3x3 | £13,500 - £16,000 | £11,000 - £14,000 |
| 4x4 | £24,000 - £30,000 | £18,000 - £25,000 |
| 6x4 | £36,000 - £40,000 | £28,000 - £34,000 |
How Long Will it Take to Build an Orangery?
Timescales will of course vary depending on the scope of the project, however as a rough guide you can look at them in a similar regard as traditional house extensions.
The process is essentially the same:
Digging the foundations
Laying the concrete
Laying the footings
Brickwork walls and pillars
Window installation
Roof installation
Fixtures and fittings
Screed flooring
Final flooring and decoration
As an example, with a more traditional brick walled orangery you could be looking at up to five weeks build time. However the more modern glass-sided variations are more 'flat-pack' in construction which can take weeks off the overall build time. Your chosen contractor will be able to give you an accurate timescale based on your individual requirements.
You will also need to determine whether planning permission is necessary. Most small orangeries fall under permitted development rights therefore do not need any prior consent, however it's important to be sure about and consent needed.
Here are some useful links: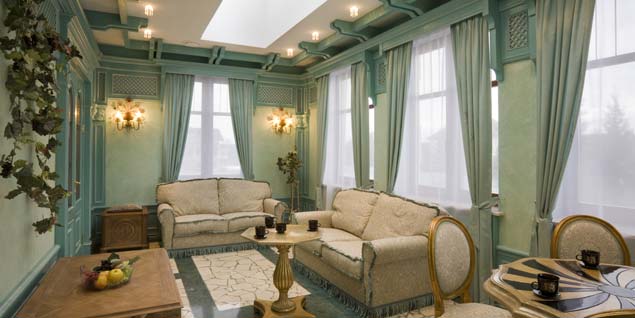 Orangery Accessories Worth Considering
Getting a new orangery built is only the start of the project… you might also want to consider some accessories during the initial design consultation:
Blinds and curtains: For added privacy, to keep the harsh sunlight out and to help keep warmth in some fitted blinds or curtains can make a big difference. Blinds can even be tailor made in 'cassettes' which clip to the window frames, fit perfectly and require no dusting or cleaning as they are in a sealed unit.
Underfloor heating: something to consider during the design process as it will need to be installed before the floor screeding process begins. Whether it's electric or plumbed into your central heating system is your choice.
Radiators: these can be wall-mounted, floor mounted or even mounted to your dwarf walls. They make your orangery livable throughout the year. It's far easier to factor in your heating plans during the initial design phase rather than adding it on later (which is still possible).
Carpet / rugs / furnishings: Are you carpeting the floor? Do you want a feature rug in the centre? Have you measured furniture to make sure it will fit in your new extension?
Finding Local Trusted Orangery Companies Near You
So now you've decided you would like one built, who do you choose to carry out the work? It's important to choose a reputable company with such an important project. Here are a few points to look out for:
Warranties: though prices may be similar, you may find some companies offer an extended warranty giving you peace of mind for longer.
Accreditations: Membership of professional bodies such as NHBC or FENSA will give you a good indication of the professionalism of the company.
Reputation: Is the company well known locally? Do you know anyone that has had work done with them before and are happy to recommend them?
Getting Free Orangery Quotes
Thankfully, when it comes to finding local, trusted orangery installers Cost Shed can help you out. We've partnered with a leading network of specialists who are ready to provide you with free quotes. By completing the quote form on our website you can be sure that the orangery installation companies are all trustworthy and pre-screened for reliability. You can save a lot of money and time, and all quotes are completely obligation-free.
Compare Orangery Costs Now