How Much will a Flat-Pack Extension Cost?
Last Updated on December 29, 2019 By Jon
As a homeowner, you'll most likely already know just how precious space inside your property can be. In fact, a lack of space has resulted in many property owners relocating to bigger homes just so that they can live more comfortable.
However, the costs associated with selling your home and purchasing another well over the £10,000 mark, and these can include legal fees, stamp duty, removal expenses etc. As such, it will normally make far more sense to extend your existing property if possible.
Extending your home will add to its value over time and it will also allow you and your family to enjoy your living space a lot more than before. If you're working with a relatively tight budget for alterations, taking advantage of flat-pack extensions can help prevent you from overspending on this necessity.
Compare Flat-Pack Extension Quotes Now
Which Aspects Affect the Cost of Extensions?
The final cost of standard and prefabricated extensions will depend on various factors, which will be discussed here:
1. Main House Alterations
When having traditional extensions built, some structural changes will be needed on your existing property. Sometimes, additional support beams will be required, especially if any external walls are being removed. Extensive labour will be needed where both parts of the building are going to be joined to ensure that the seam between them is weather proof.
2. Build Costs
These will include items such as digging, structural development, doing excavating and laying foundations. You'll also need to be prepared to cover costs for items like tiling, roofing, down pipes, glass extensions, internal prefabricated extensions, windows, doors and even central heating.
3. Administrative Costs
In cases where any types of amendments need to be made to your mortgage, you will need to budget for administrative fees to be paid. Project managers and architects will also bill for their time and expertise, and insurance costs will need to be covered as well. In some situations, control and search fees will also have to be paid.
4. Interior Decoration Costs
In most cases, the cost of building extensions will not include the fees associated with interior decorating. Aspects such as paint, furniture, flooring and other decorative items will need to be taken into consideration here – especially where bathrooms and kitchens are concerned.
5. Miscellaneous Expenses
There's a 99.9% chance that a few unforeseen expenses relating to the alteration job will arise, and these can include items like hiring a skip for rubbish removal or even calling in a landscaper to repair damage done in your yard and garden by tradespeople and labourers.
On average though, you'll need to make allowance for between £4,500 and £10,000 to cover preparation and planning expenses where extensions are concerned.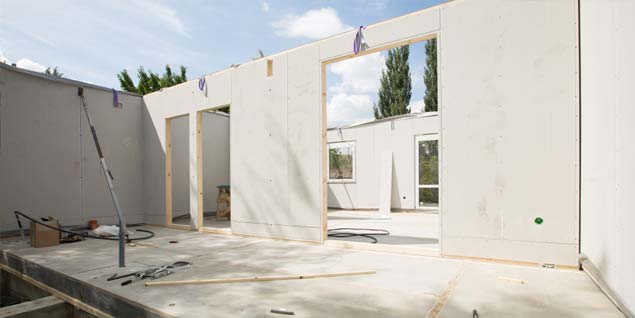 Approximate Extension Costs
In most cases, you can expect to pay from £1,200 and £1,700 per square metre to cover the cost of adding a room on to your home and seeing the project through to completion. This usually includes the plastered finish as well.
A single storey extension project that is approximately 20 square metres can set you back anywhere between £24,000 and 35,000. Keep in mind though, that this may not always be the actual end result because painting, lighting and flooring will still need to be included. In cases where assistance is required from a structural engineer, architect and/or planning officer, these costs can increase by about 15%.
Cutting Costs with a Flat-Pack
Over the past few years, flat-pack extensions have become extremely popular because they're cheaper and easier to install. On average, an offsite prefabrication extension can be up to 30% cheaper than having on-site building work completed. In short, a project that would initially have cost £26,000 can be decreased to as low as £19,000 – rendering it a lot more affordable than before.
Some other advantages of using flat-pack extensions can include:
A substantial amount of labour can be carried out off site, meaning that noise and dust levels will decrease a lot
Allowances usually don't need to be made for laying utilities and throwing foundations
Prefabricated extensions are now often provided with insulation, soundproofing and climate control
Alternative Extension Options
Some other options are available for property owners who may be on a tight budget, such as glass extensions. These are now also normally supplied with a range of modern conveniences and they can also be easily integrated into your existing property. Installing a £10 square metre glass extension to completion can cost about £16,000.
It's important to remember that no extension project will ever be cheap because several aspects are needed to ensure that the job is done properly. However, you can still obtain the property of your dreams or perform much needed extensions by choosing from one of the many flat-pack options that are now available.
If you would like to obtain more detailed pricing to have flat-pack extensions added to your home, complete our quick and convenient website contact form today. You'll be contacted by up to four different companies so that quotes can be provided. We have a number of fully accredited, experienced and suitably insured contractors on hand, all of who will be more than willing to assist you with your next alteration project.
Get the Best Flat-Pack Extension Costs