Pebbledash Removal Costs - Compare Quotes
Last Updated on By Jon
No longer as fashionable as it used to be... pebbledash removal companies are transforming the appearance of properties across the UK. Read our guide for average costs and how to save with free quotes.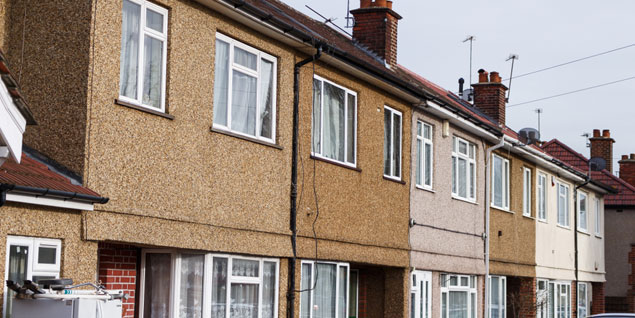 Average costs to remove pebbledash
Here are some example prices to remove the existing render and apply a new coat of flat render:
House Type/Size
Average Removal & Re-Render Price
2 bed bungalow
£3,090.00
3 bed bungalow
£3,502.00
3 bed semi-detached
£5,356.00
4 bed semi-detached
£5,768.00
3 bed detached
£7,622.00
4 bed detached
£8,034.00

(Prices taken from multiple sources and averaged)

Prices Checked 27/09/2023
Pebbledash Removal Cost Calculator
No matter how you feel about pebbledash and its viability as a decorative material, there's no doubt it was once a very popular render material for external walls. Pebbledash was used to build tons of cheap houses in post-war years, not to mention that it was intensively used in arts and crafts. But, surprisingly, it has stuck around until now- possibly because it was quite a durable material.
So, is this building relic still workable today? Is your house covered with the 60s, 70s pebbledash but are feeling that it's bringing that cheap and boring vibe? You might want to remove or revamp it, especially when it covers most of your home's original features.
Regardless of the reason pushing you to alter your existing render, you should first understand what this material really is, and what the options you have call for, cost being a significant consideration.
Get Free Pebbledash Removal Quotes Online
What is pebbledash?
Pebbledash is a form of render made by mixing stone fragments and mortar, then spread and pressed in building walls. This exterior wall finishing material is a common sight on cheaper houses of the 20th century, specifically those in areas susceptible to harsh weather.
Pebbledash is usually confused with roughcast, but you should know that the later material is made by mixing large stones/ pebbles, cement and sand. Due to the smoother finish of the resulting material, roughcast can be painted.
Reasons why you may want to remove pebbledash render
The most common reason why people want to remove pebbledash is the cheap and outdated feel it brings to a house. Most people naturally wish to avoid this, but it's not the only reason why you may want to remove this material:
The render may be damaged - The average lifespan of pebbledash is 20-40 years. In this regard and considering the time that this material was added, it might be damaged, exposing your house to damp, leading to more costly restoration works.
The reason why it was added may be obsolete now - Most houses with pebbledash had it installed during the post-war period to cover the existing damages. As a property owner, you may need to restore your house to its initial look.
What options do you have?
You can do any of these three things if you feel that pebbledash is not serving its purpose right on your property:
Remove and re-render - You can render over the top of the existing pebbledash if it's not entirely damaged. While this is an easy process, it may cause stress to the supporting walls. The best way to do this is to strip the pebbledash and re-render the surface. This eliminates the textured surface and brings a fresh look to your property.
Repair the pebbledash and paint over its top - If the pebbledash is not extensively damaged and you're still okay with its general look, repairing it is the best solution. However, repairing sections of the pebbledash may bring in irregularities, so it's advisable to paint over the top of the entire surface. Please note that painting over pebbledash is not that easy due to the rough texture. Consider spray painting instead.
Remove the pebbledash and expose the original brickwork - If you're renovating a property, you can remove it to expose the brickwork. This task is labor-intensive but still manageable with a dedicated team. If the render is removed carefully, you'll only need to do cleaning and pointing to restore the perfect look of the brickwork. If the worst happens, the brickwork may be damaged and the initially covered faults uncovered.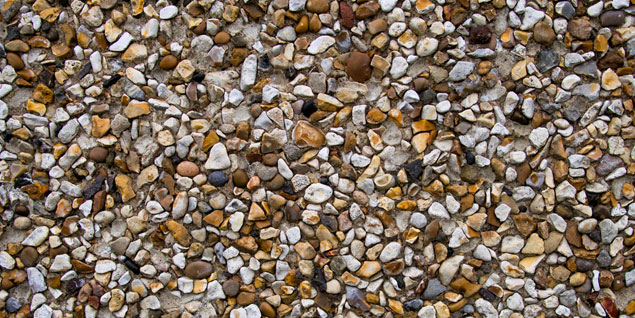 Factors affecting the cost of a pebble dashing project
The cost of pebble dashing a house can vary depending on various factors. Let's discuss some of these cost considerations below:
Additional storeys and other features on your property - If your home has extra storeys and/or features such as chimneys, then you'll have to delegate some more money for the project. In a case where you'll require scaffolding, the total price may go up by £500 to £1000.
Size of your home - The cost of pebble dashing project is directly proportional to the size of your home. A 2 bedroom terraced house will averagely cost 3,090.00 while a 4-bedroom detached house will cost £8,034.00.
Type of the house - You'll spend less if you live in a bungalow since the process will not be labor-intensive, not to mention that you'll not require special equipment such as scaffolding. Some of these exclusions may save you around £750 to £1000.
Location - Where you live in the UK dramatically affects the cost of this project. If you're established in a city such as London, you'll have to spend £30 to £100 more per metre squared than someone doing the same project on a home in Northern UK.
Lots of windows - Windows can also complicate things making the total cost of the project go up.
Need for painting - If you want to paint your pebbledash after completing the project, then you'll definitely spend more money than leaving the surface as it is. To save your money, choose pebbledash with an appealing look.
Pebbledash alternatives
As mentioned above, you can remove the pebbledash and replace it with another material. Luckily, there're numerous render options that can be used in place of it. Let's explore some of these alternatives:
Monocouche render
Cost -£45 to £65, almost similar to silicone
This is a 15mm render made with cement as a hardening agent. The material is delivered to your home as a dry mixture which is then blended with water. The base layer is around 4mm and features a polymer-infused render and a mesh. The other proportion (11mm) is where the monocouche mixture comes in.
Monocouche render can be prepared in various colors and various looks: smooth, textured, or rusticated/stone-like look.
Pros
Can be prepared in various colors
Can be modified with several finishes
Durable
Cons
---
Acrylic render
Cost - £40 to £60 per metre squared
As the name suggests, this render is made by building materials with acrylic and polymer ingredients. Acrylic render is pre-made and delivered to your home, ready to install. This render can even be pre-colored if you're looking for a vibrant finish for your home.
Pros
Long-lasting
Comes pre-made
Can be pre-colored
Cons
Poor waterproofing qualities
Prone to algae
---
Lime render
Cost - £50 to £60
This is one of the traditional render forms that's still used today due to the original look it creates on a property. It's usually an 8mm to 10mm layer made of three coats. The proportions of the mixture are calculated depending on the specific property of the components. The mixture cures for 28 days but may take up to a year to set. The material requires a specialist to apply.
Pros
The material is unique
Makes your property look alive
Cons
Pricey
Takes time to set
Needs to be applied by a specialist
---
Silicone render
Cost - £50 to £70
Silicone stands out for its excellent waterproofing properties and variation in color options. In addition, the material is always dry and clean, not to mention that its alkaline content keeps algae at bay.
Silicone is viewed as a premium material render; hence it comes with a high price tag, as seen above.
Pros
Good waterproofing properties
Self-cleaning
Numerous color options
Cons
---
Compare Free Quotes Online Now