How Much Does a Porch Cost?
Last Updated on December 24, 2019 By Jon
Although many homeowners are keen to improve the appearance of their properties, they often don't know where to start in this regard. However, one of the easiest ways to upgrade your home's appearance is to have a porch area added.
Along with adding aesthetic appeal to your home, a porch can also provide additional storage space for wet shoes, rain jackets, school and sports bags and other items that you may not want to store inside your home itself.
When correctly designed and built, a porch will add a lovely elegant finish to your home – for a price that is far more affordable than you think.
Get Free Porch Construction Quotes Online
Average Pricing to Build a Porch
If you want to get the best possible use from your new porch, it's essential that it be the correct size. While you're working on sizing, keep in mind that a porch should be between 1.2 metres and 3 metres wide – especially if you'd like to include a table and chairs.
Average pricing for a porch that is up to 3 square metres in size and that has been built with bricks, a cement floor, partial glazing, tiled roof and a good quality door can be between £3,300 and £3,700, or about £1,000 to £1,250 per square metre.
Factors that will affect your final price can include:
Quality of bricks being used
Whether cladding will be used or not
Amount of glazing that will be needed
Will the porch be completely enclosed or not?
Will the roof be pitched, tiled or flat?
There may also be additional costs if you need to obtain planning permission before having your porch built, and no porch may be higher than 3 metres or more than three square metres in size. There must also be a gap of at least two metres from your porch to the closest boundary wall or street. Any porch work that doesn't comply with these requirements will need to go through the planning permission approval process.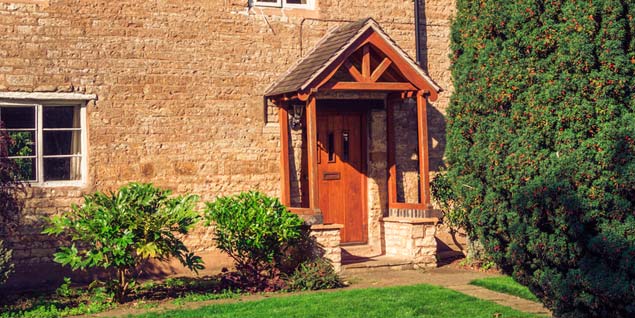 Porch Design and Style
The final cost of having your porch erected doesn't only depend on how large or small it is; your chosen design and style will also play a part in the price of your quote. When having your porch designed, it's essential to do this in such a way that it blends in seamlessly with the rest of your home's appearance. This may sometimes cause pricing to rise, especially if matching roof tiles need to be sourced.
Before setting your heart on a specific design or size of porch, you will need to determine what size your budget will be for this project. We have access to an extensive network of contractors that will be able to assist you with designing and building your porch. All contractors in our network are fully accredited and highly experienced, meaning that your porch will be built to perfection.
Any porch-building project will comprise of several different aspects, and the list below is provided as a basic guideline in this regard:
1. Roofing
Your cheapest option in this regard will be a flat roof, and this can often be built for between £25 and £40 per square metre. In cases where a more elegant style of roofing is required (such as Edwardian or Victorian), pricing can increase to as much as £60 per square metre. Guttering can come in at between £10 and £15 per square metre over and above the cost of roofing.
2. Dwarf Brickwork
This is one of the most popular options when porches are being designed and built, with the top half of the porch area being glazed. This provides your porch with a lovely airy and spacious appearance. You can expect to pay anywhere between £45 and £60 per square metre for this type of brickwork to be built.
3. Flooring
The type of flooring you choose will also have a significant effect on the cost of your porch. Standard laminate or wooden flooring can cost between £15 and £20 per square metre, with carpeting coming in as high as £22 per square metre. You can expect to pay as much as £35 per square metre for tiling to be laid.
4. Plastering
Your porch will need to be plastered on the inside to give it a properly finished appearance. Costs for this can vary between £18 and £30 per square metre, depending on where your property is situated.
5. Painting
If you aren't keen to do painting as a DIY project, you will need to budget between £12 and £20 per square metre to have this done professionally.
Although it may seem like you'd have to spend a lot of money building your porch, you will quickly begin to enjoy the benefits of having on added to your home. Along with providing you and your family with extra living and storage space, it can also help increase the overall value of your home – which will come in handy if you ever decide to sell.
In some cases, your porch could even help reduce your energy bills because it will help keep a little extra heat inside your home during the winter months. Another advantage of your new porch is that it will add a little extra security in that it creates an additional barrier between your home's front door and the outside world.
If you would like to find out more about having a porch added on to your home, fill in our quick and easy website contact form today. Up to four accredited and qualified contractors will get in touch with you to discuss your options and provide you with quotes to get the job done.
Compare Porch Extension Costs Now