Drain Relining Costs - Compare Quotes
Last Updated on By Jon
Having a drain relined is a convenient and cost-effective way to repair any damaged drains. Our guide will tell you all you need to know including average prices and how to compare free quotes online today.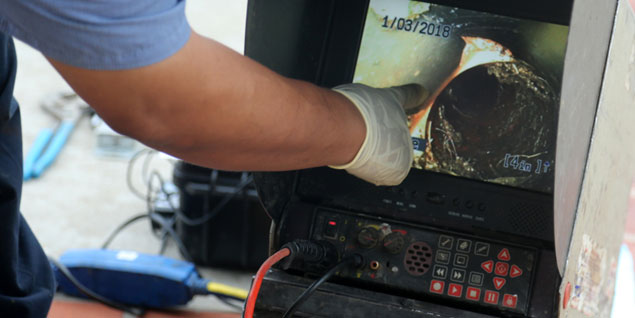 Average costs to reline a drain
Prices can vary according to pipe diameter and length... here are a few average prices to compare:
Pipe Diameter
Average m2
Average 10m2
100mm
£69.55
£695.50
150mm
£80.25
£802.50

(Prices taken from multiple sources and averaged)

Prices Checked 03/12/2023
Drain Relining Cost Calculator
Drain relining is a cost-effective and highly convenient method of repairing damaged drain pipes. But how much does it cost to reline your drains?
A drain is said to be damaged when there are cracks and other similar defects. Commonly, these cracks will cause leaks and foul smells if left unattended. But, to the worst, they may even cause structural damage and subsidence.
Drain relining is fitting a protective layer to the inside of the damaged drains, thus protecting against cracks, gaps, holes, cracks and bridges. These defects are easily found by doing a CCTV drain survey. A drain lining, also known as a professional patch, is a reinforced, leathery-like material added to drains, covering all these defects.
Fitting a drain lining requires special equipment (a pressurized rod). Since the drain lining is resistant to chemical erosion, you shouldn't be worried that it'll be damaged by soap or bleaches over time. There's a wide range of drain linings that you can choose, most falling in a 75 to 450mm diameter range.
Get Free Drain Relining Quotes Online
Cost considerations
The current pipe condition - In addition to the CCTV survey, a contractor will ask you why you need a drain relining. This helps them know the kind of repairs needed and thus the cost.
CCTV survey - A CCTV survey is needed to identify the issue affecting your drainage system and, more importantly, the exact locations where the defects are. The results of a CCTV survey give a contractor a clear perspective of what the more specific price may be like.
Number of access points - The access points and connections within the drains also affect the cost. The easier it is to access the drainage system, the less the cost is.
Need for water jetting - Water jetting is done to break up any debris in or around the drain. Removing the debris reduces blockages and improves optimum flow within the pipe.
Number of lateral cuts - More often, a relined pipe has most of its intersections blocked. Lateral cuts come in handy to allow water to flow past these intersections. The more cuts done, the higher the cost incurred.
Benefits of structural lining as a repair technique for broken/collapsed drain
Here are some of the benefits of re-lining when compared to replacement:
No need to dig up patios and driveways
Minimal disruption to property or daily routine of inhabitants
Dig-related damages on pipes are significantly reduced
There's no need to get rid of excess soil once the work is done.
Often same-day's work
Pros and cons of drain relining
Pros
Perfect for hard to access places or where excavation is not ideal
Longer guarantee than fitting new PVC pipes
Way cheaper than replacing pipelines
Little or no disruptions and downtimes
Little or no excavation is needed
Easy to maneuver bends and offset joints
Various pipe materials can be repaired
Reduced landscape damage and the restoration costs involved
Cons
Does not address bad pipe grading or offset joints in piping
Not a solution for low stops and bellies in a sewer pipe
It's not a suitable method in all situations
Poor installation or materials could cause roots to grow back between the parent pipe and the relining.
Before hiring a contractor, always ensure they meet all the relevant standards set by the regulating body. If Water Industry Specifications (WIS) standards are followed, then the liner's lifespan should be around 50 years.
Additionally, the contractor should offer a good warranty and guarantee- not less than 5 years. Finally, remember that most relining projects are supposed to be completed in a day.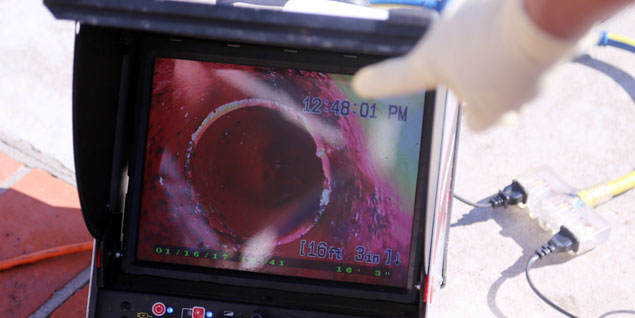 The process of drain assessment and problem identification
Since drain relining is not suitable for all drain problems, jet washing the internal surface of the drain followed by an inspection by a CCTV camera is needed to know precisely what you're dealing with. The camera is fixed on the end of a flexible access rod and the drain is closely inspected to identify the problem. The problem may, for example, be identified as weathering of external taps that may be affecting water flow. For more information on this, read our 'outside tap fitting costs' page.
What is patch lining?
Patch lining is the less intensive alternative for full drain lining. It's suitable when a contractor wants to treat only one spot, which may be confined in terms of size and location. Patch lining follows the same process as drain lining, only that the former uses a single piece of lining material, not an entire cylinder. The section of the lining material is pushed gently to the target spot hand then an air balloon is used to patch it to the damaged pipe. The patch cures with time, glueing to the pipe's surface, thus repairing or solving the problem.
Compare Free Quotes Online Now