How Much Does it Cost to Build a Garage?
Last Updated on December 21, 2019 By Jon
When having a garage built, the pricing will depend on a few different factors such as the type of roof you'd like on it, materials used to build it, the size it needs to be and the depth of the foundation that is needed.
Approximate Cost of a Brick Garage
The most popular type of garage in the UK is one made from bricks because they can be built to match existing brickwork, while also being able to last for many years.
If your garage will only be used for storing vehicles and/or tools, single skin walls will be more than sufficient. However, if you want your garage to be converted to living space at some point in the future, the walls will need to be double skinned.
Other factors that affects the end price of a garage is the amount of doors and windows it needs and the type of roof you want to have placed on it. For instance, a flat roof will normally work out a lot cheaper than any type of pitched roof.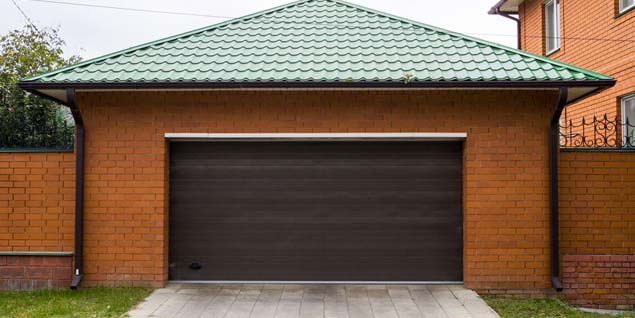 An average single garage built from bricks that has a flat roof and one door can start from about £12,500, including groundwork. If a double garage is being built, the pricing will increase by quite a bit, especially if electric doors and additional power points are needed. If a driveway needs to be altered or landscaping changed, this will add further on to your cost.
Building a single garage with a pitch instead of a flat roof can start from around £14,500
A double garage that will have a flat roof can cost anywhere from £21,500 and up
Double garages with a pitched roof can come in from about £24,500 and increase from there
Get Free Garage Construction Quotes Online
Breakdown of Costs
Here is an approximate breakdown of the costs involved with erecting an average-sized double garage:
Digging and filling foundation area with concrete - £2,650
Removal of soil taken from foundation - £450
Pouring cement slab for floor £2,450
Steel joists and brickwork £4,500
Installing roof timbers £1,200
Installing roof covering of tiles, batons and felt £2,000
Soffits, fascia boards, gutters, rainwater pipes and drainage provision £1,900
Electrical items needed for power points, switches and lights £700
Electric door opener, side access door and single window £3,600
Painting, installing shelves, security and finishing off or extending a driveway £1,200
Total: £20,650 excluding VAT.
If additional planning permission, architect services or a structural engineer is required, these will cause the price to increase as well.
Main Points Affecting the Cost of Building a Garage
Some factors that will have an effect on the cost of your new garage include:
1. Thickness of the Base Slab and Foundation Depth
The amount of cement needed to pour the foundation for your garage will depend on the type of soil that's on the property – some types will require more concrete than others.
2. Type of Roof Needed
Flat roofing will be cheaper than pitched roofing because less labour and materials are needed to build them. However, it's important to remember that flat roofing usually doesn't last as long as pitch roofing, so it may require replacement sooner than if a pitch roof had been installed. Flat roofing usually also doesn't look as attractive either.
3. Type of Wall Needed
Most garages are built with single skin walls, but if you intend spending a lot of time working in one or you'd like to convert it to living space at a later stage, a double skin wall is strongly recommended. This type of wall will be able to be insulated in its cavity.
4. Electrical Components and Drainage
Most homeowners require electricity in their garages, meaning that an extra circuit will need to be created from the consumer unit and cabling will need to be laid underground. The cost of this will depend on how much cabling is needed, what the ground comprises of and which light fixtures and power points are chosen.
In some instances it's possible to connect rainwater piping to an existing soak away, but when this is not possible, a new one will need to be built.
5. Landscaping and Finishing Touches
In most cases, garages serve no purpose unless the driveway is extended accordingly. The cost of doing this depends on the type of driveway that's present and the length of driveway that must be extended. If any landscaping is needed after construction has been completed, this will also cost extra.
Cement Pre-fab Garages
These are quite sturdy, fairly quick to erect and they have quite a long lifespan.
A single pre-fab garage can be built in a day or two at the most, including its roofing, whereas the average double garage will take about two to three days.
Here is a basic pricing guide:
A single garage with a tiled pitch roof – about £9,500 and upwards
Double garage with a pitched and tiled roof - £16,500 and upwards
Steel Garages
These are normally one of the cheapest options to erect because they are provided as a flat pack kit. In most cases, only a few basic tools will be needed to build a steel garage.
Although a steel garage is a lot cheaper than most other options, not everyone likes the appearance of them.
Timber Frame Garages
These garages are also pre-fab units and various levels of quality are available. In most cases though, you will get what you pay for when purchasing one of these – so it's essential to spend as much as you can comfortably afford when buying one.
Below are some estimates of pricing:
Single unit with a pitched roof – around £11,500
Double pitched roof unit – approximately £18,500
Dealing with Planning Permission and Garage Regulations
In some cases, you may be allowed to erect your garage by means of the "permitted development" route. In short, this means that your garage will have to be built according to predetermined regulations such as these:
No raised platforms, verandas or balconies may be built
No outbuildings are situated towards the front of your home
Garages and outbuildings can only be one storey and have a maximum eaves height of 2.5 metres in the case of dual pitched roofing or three metres high for other types of roofing
No more than half of the land around your main house is allowed to be covered with any other buildings or alterations
In cases where a garage will be less than 15 square metres in size and no accommodation is being offered, building regulations approval will usually not be required.
If you're fortunate enough to live in a listed property or it's situated on designated land, full planning permission will normally be needed.
Garages that are between 15 and 30 square metres in size will also not normally need to apply for any building regulations approval – as long as no sleeping space is provided, it's built from mainly non-combustible materials and it's at least one metre away from boundaries.
Is a Garage a Good Investment?
In cases where you're fortunate enough to have enough extra space around your property to build a garage, then it makes perfect sense investment-wise to do so. However, if your plot is already quite small, it may not be a good idea to do so. Several property owners are now converting garages into additional rooms as well.
If you would like to have a garage built on your property, but you've been struggling to find a reliable builder, fill in our contact form today. Within a day or two, you will be contacted by one or more accredited builders so that a quote can be provided for you to have a garage built. In most cases, you'll be able to enjoy using your new garage within a week or two at the most once the work has begun.
Compare Garage Costs Now