How much does Rendering Cost?
Last Updated on December 10, 2019 By Jon
Rendering involves placing a covering on to outside walls that helps protect the brickwork. Various types of rendering can be performed and qualified plasterers will be able to provide recommendations regarding which option will be best for your property.
Comparing Rendering to Plastering
The main difference between render and plaster is that render is applied to the outside surfaces of walls, whereas plaster is applied on to inside walls of a property. Ingredients required to make render include sand, cement and water – lime is often included as well. Varying amounts of sand, cement and water are used when producing rendering and plastering and some other differences include:
Rendering requires a higher percentage of cement in the mixture, along with coarse sand, as this will provide the walls with added strength and extra protection against rain and snow.
Plastering requires less cement than the mixture that is used for rendering, and finer sand is required to ensure that a smoother finish is obtained on inside walls of a property. This makes them a lot easier to decorate and paint afterwards.
When outside walls are being rendered, safety equipment such as scaffolding will often be required. This will result in an additional cost being levied on a quote to perform this service. Another factor that affects the cost of having this service performed is the type of rendering that's needed. For instance, smooth rendering will cost less than the 'pebbledash' variety because less labour will be needed to obtain the desired finish.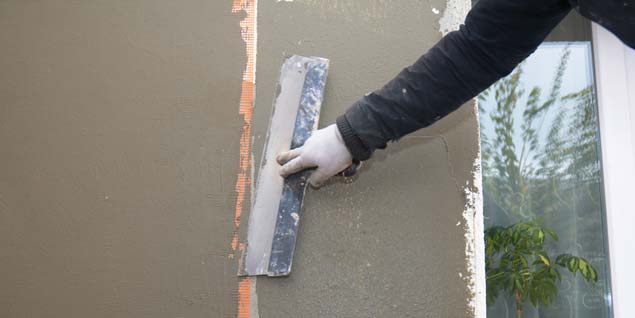 Outdoor Rendering for a Single Level Two Bedroom Bungalow
Scaffolding may not always be required for standard bungalow homes, and the costs mentioned below exclude the cost of using it. This project will involve:
Removing any existing render on walls
Applying a smooth or flat render
Performing the final sponge finish
After the rendering has dried, masonry paint will be applied to help prevent any moisture penetration from occurring because this can cause the rendering to fail prematurely.
When performing rendering in a 2-bedroom bungalow home, the cost can vary between £2,000 to approximately £3,200 and average completing time varies between four to seven days.
Rendering a Three Bedroom Semi-detached Home
When applying rendering to a double storey home, scaffolding will be needed. This will result in an additional amount being levied on your quote to cover this. All existing render will be thoroughly removed and repoint and key any brickwork that needs it. Thereafter, two layers of render will be applied to the brickwork and a sponge finish will be performed.
On average, you can expect to pay between £3,500 and £5,500 to have rendering performed in a three bedroom semi-detached house. This project can take between five and nine days to complete. Other factors that will affect pricing can include:
Your home's location - pricing will differ depending on which part of the country you're situated in
Current demand for building services in your suburb - pricing will generally be higher during the summer months
The size of the company that will be doing the work - larger companies tend to have more overhead costs, meaning that their rates may be higher
Access - How easy it will be for the contractors to access your home
It is strongly recommended to check that all quotes you receive for rendering are fully itemised. This will make it easier to compare between them and it will help you determine whether all of the contractors will be catering for the same scope of work in their quotes.
Rendering Outside Walls on a Four Bedroom Detached Property
Detached properties covering two storeys will always require scaffolding; meaning that pricing mentioned below will usually includes the cost of it. There is also more of a surface area to cover with rendering on these properties, so it will cost more to get the job done.
Having rendering performed on a 4 bedroom detached property can cost between £6,000 and £8,000 and the project can take up to two weeks to see through to completion.
With this project, all existing render will be removed. Thereafter, two flat layers of render will be applied and a sponge finish will be done.
Pebbledash Rendering and Painting Estimates
Using pebbledash rendering instead of the traditional smooth finish option will add variety to the outside of your home. Covering it with a good quality exterior paint will also help ensure that it lasts for many years afterwards.
When pebbledash rendering is applied to the outside of a three bedroom detached property, it can take a few weeks to complete. Owing to the extra labour that is involved with performing this type of rendering, the cost can be quite high. You can expect to pay anywhere between £3,900 and £7,500 to have pebbledash rendering completed on a home of this size.
Obtaining the Best Quotes
Many homeowners think that the best quote will be the one offering the lowest pricing. However, this is not always the case.
When comparing rendering quotes, it's essential to ensure that all of the quotes you've received list the same line items. This will help you compare pricing and determine whether a specific quote is accurate or not.
If a specific quote seems to be substantially cheaper than others you've obtained, it's important to ensure that the same scope of work has been quoted for – there are many horror stories regarding building-related quotes that don't cover everything that's required to complete a job, resulting in homeowners paying out hundreds or even thousands of pounds extra afterwards.
All plasterers and companies that provide quotes through our website have been carefully pre-screened to ensure that you will be provided with top quality work at a fair price. If you would like to be provided with quotes from accredited plasters, simply fill in our contact form today. Various companies will contact you within a day or two at the latest so that a thorough property inspection can be performed and the appropriate quotes provided to you as quickly as possible.