How Much Does a Tarmac Driveway Cost? Compare Quotes
Last Updated on By Jon
Our 2023 guide to new or replacement tarmac driveways will give you all the latest information and average costs you need to save on your new drive.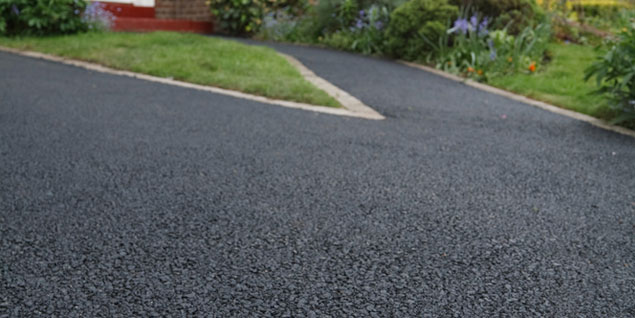 Average Tarmac driveway costs
Here's an updated average price list for a new tarmac driveway:
Driveway Size (m2)
Average Tarmac Price
1m2
£53.50
10m2
£535.00
20m2
£1,070.00
30m2
£1,605.00
50m2
£2,675.00
Foundation
£535.00 - £1,070.00

(Prices taken from multiple sources and averaged)

Prices Checked 05/12/2023
Tarmac Driveway Cost Calculator
Information
Does your driveway need resurfacing? Laying tarmac not only improves the appearance of your driveway but also increases its lifespan. Tarmac driveways are low maintenance, durable and strong, reasons why homeowners prefer them. If installed properly, the tarmac should last for at least 15 years.
So what does tarmac cost for a standard driveway installation? Let's find out.
Get Free Driveway Quotes Online
Tarmac driveway costs explained
For a standard UK 50m2 driveway, you should expect to spend £2,675.00 to lay the tarmac surface and an additional £535.00 - £1,070.00 if foundation is needed. The price of tarmac laying is higher in large cities such as London since the demand is also high. Even with this cost, tarmac laying is one of the ways you can increase the value of your property. Even better, tarmac is low maintenance than concrete driveways and if installed properly, it can last long
Costs per m2
For tarmac/asphalt, you should expect to pay around £53.50 per m2. This cost varies depending on the type of materials used, the size, and the driveway's current condition.
Tarmac vs. block paving - which is cheaper?
Tarmac is definitely cheaper than block paving. A block paving is more labour intensive to install per square metre and more expensive than tarmac. Generally, block paving is 5-10% more expensive than tarmac.
Tarmac vs. concrete driveways - which is cheaper?
Tarmac is cheaper than concrete for the initial lay. However, if you consider the cost-effectiveness in terms of durability, concrete will win. Concrete driveways can last for at least 40-50 years which is a decent period considering that tarmac only lasts for about 25 years. This means that the concrete cost can be up to 50% cheaper than tarmac in the long run.
Main types of Tarmac: Cold lay vs. Hot mix
Cold lay tarmac is the more popular option available for non-professionals in DIY stores, packed in 25kgs bags. Since cold lay tarmac offers less coverage (0.2m2), it is suitable for repairs. On the other hand, hot-mix tarmac is cheaper when bought in large units but requires special equipment for delivery and installation.
How long does the installation take?
The duration of tarmac laying mainly depends on the amount of work that needs to be done. A small driveway (20m2) should take around 1-2 days to install, while a larger driveway (80 m2) should take 4-5 days to lay the tarmac completely. If additional works such as dropped kerb and landscaping are needed to complement your new driveway, more time will be required to complete the project.
The duration taken to lay a tarmac driveway depends on the following factors:
The existing weather condition (time of the year when the installation is done)
The nature of the excavation (shape, size and depth)
The type of drainage required
The number of workers handling the job
The need for tree and shrubs removal
Generally speaking, a standard 50m2 driveway should take 2-3 days to complete. The excavation, sub-base, drainage and any other preparation work take two days. The tarmac laying should only take a day to be completed (third day).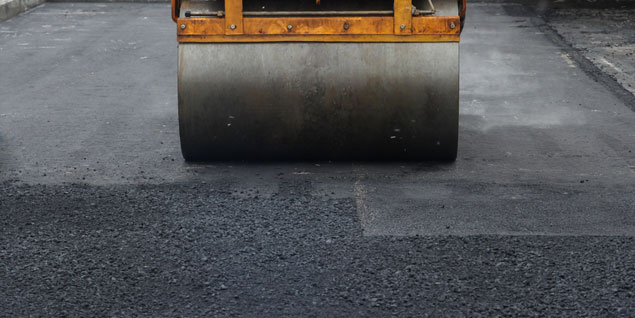 Benefits of Tarmacing your driveway
Highly durable - Unlike other driveway materials such as concrete, tarmac does not easily crack but will still need maintenance if oil spillage (causes cracking) occurs. Tarmac driveways can stand heavy traffic and are exceptionally durable and long-lasting.
Highly affordable - Tarmac is one of the cheapest materials you can use for your driveway. Yes, specialist equipment will still be required, but it is still cost-effective compared to alternative driveway materials. What's more, it only takes a couple of days to complete the laying for a standard driveway.
Less maintenance is needed - Tarmac driveways require less maintenance and experts recommend that the tarmac be inspected every 5 years to know if repairs such as resurfacing are needed. Note that resurfacing is not redoing the entire tarmac but just installing a new top layer. Even better, a sealant or tarmac paint can be used to prevent wear and tear or damage by engine fluids. For the sealant, expect to spend around £3 per litre, with 5 being enough to cover 6m2 of tarmac.
Weather-resistant - Tarmac is impermeable to water and hence will repel water that gets to it, especially during cold weather conditions. Note that drainage for the repelled water may be an issue and should never be let to public spaces unless permission is acquired.
Easy to install & dry - For a standard driveway, 1-2 days are enough to complete the tarmac laying. This material is compatible with many surfaces and is usually laid as a liquid then compacted with a roller. The material dries quickly and the driveway can be accessed after 24 hours. However, it is recommended to wait for at least a week for the material to completely set on the driveway and be ready to receive vehicle's traffic.
Tarmac driveway alternatives
As evident from the discussion above, tarmac driveways come with many benefits, the most outstanding being cost-effectiveness. Even with this, there are still alternatives for tarmac, each with its own set of benefits and so your options shouldn't be limited. Here are alternatives:
| Alternative | Description |
| --- | --- |
| Resin | Just like gravel, resin driveways are compact and less prone to moving. Its name comes from the resin film installed at the top of the structural laying. Resin films have excellent permeable qualities and hence are suitable for sloping driveways. This installation's cost depends on the quality of the materials used and averages between £40 and £70 per m2. |
| Gravel | This is the cheapest material to install on a driveway and if done professionally, it can be quite attractive. For an overlay, a gravel driveway should cost you £25 per m2. If digging is required, this price could double. In addition to cost-effectiveness, gravel can be easily installed and does not sink or crack. The material, however, requires a lot of maintenance and can become very dusty. |
| Concrete | This is a costly tarmac alternative (£85 per m2) but one of the most durable options. Well-maintained concrete should have a lifespan of at least 40 years. Concrete does not require a sealant but will crack on continued exposure to bad weather conditions. |
| Block paving | This driveway stands out for its aesthetic appeal. There are so many options/designs for this material, not to mention that the damaged blocks can be easily removed and replaced. The cost of block paving installation must factor in the cost of the material and the installer's skills. For the blocks to be effectively installed, a foundation of sand coupled with a sealant is required. For block paving, expect to pay an average of £47 per m2. |
Can Tarmac installation be a DIY project?
If you are skilled in resurfacing driveways and are okay with the time requirements that the project requires, then tarmac installation can be done as a DIY. The downside of this is that it is not cost-effective. If you handle the task yourself, you will spend £75 per m2 for the tarmac and additional costs for hiring the equipment. However, if you hire professionals, they will not only come in with all the materials and equipment required for the job but will also do the tarmac laying correctly and in a timely manner.
Compare Local Specialists Now