How Much Does it Cost to Remove Artex?
Last Updated on By Jon
Our 2023 guide to both Artex removal and plastering over contains all the information you need, including weekly updated average prices and free quotes from local professionals.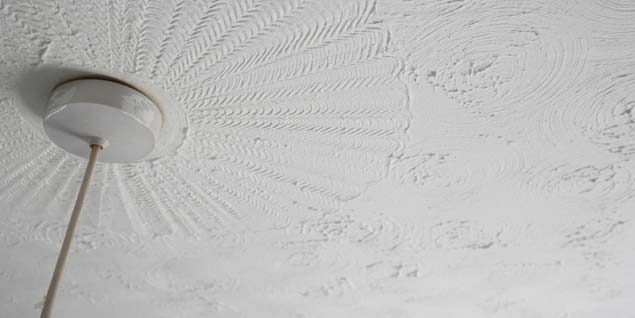 Average Artex removal costs
So how much will removing or plastering over Artex cost? Let's look at some averages:
Service
Price
Artex Removal (m2)
£16.63
Artex Plastering (m2)
£19.00
Asbestos Sample Survey
£213.75

(Prices taken from multiple sources and averaged)

Prices Checked 08/12/2023
Artex Removal Cost Calculator
Factors Affecting Cost
As with most projects, there are of course some mitigating factors which will affect the overall price, these include:
Area: Naturally the larger the area needing removal or covering up, the larger the overall price will be as can be seen in our cost calculator.
Age: The age of your Artex can affect it in a number of ways, from cracking and damage to hardening it making removal more difficult.
Depth: How generous were the builders who applied it initially? The deeper the Artex, the more effort it will take to remove.
The type of Artex: There are various type which may have been used, not to mention whether it contains asbestos or not.
Further Information
Have you recently bought a new house or moved a new apartment with Artex finish and want to remove it? Well, you are not alone. Most people prefer to remove the Artex because it is no longer fashionable to have Artex walls or ceilings. Besides, if your house has an Artex dating back to the 70s and the 80s, then there is a huge probability it contains traces of asbestos that have been linked to various health complications.
The process of removing Artex can be painful and complicated, and even risky if you don't have the right tools and knowledge of how to go about it. However, in this article, we have laid down the process you should follow and the methods you can use to ensure the safe and fast removal of Artex.
Get Free Artex Removal Quotes Online
What Is Artex?
Artex is a coating used to decorate the interior of the house - mostly walls and ceilings. This water-based surface covering is popular among decorators and interior designers, because it allows them to achieve a textured finish that is not possible to do so with other products.
The use of Artex was trendy in the 70s and 80s. However, this old Artex contained significant amounts of asbestos that are linked to cancer and various health problems. The asbestos was added to aetex to strengthen and harden it. However, by the late 80s, most manufacturers had stopped using asbestos Artex, and it was banned by major organizations such as the Consumer Product Safety Commission (CPSC) and Environmental Protection Agency (EPA).
Currently, the use of Artex has reduced as people prefer having smooth plastered walls and wallpaper over textured surfaces. Nevertheless, some people still use it to create decorative elements on their walls and ceilings.
Is Artex Safe for Your Health?
Artex is not harmful to your health. However, the older version of Artex – especially those manufactured in the 70s and 80s - contained asbestos known to cause cancer and various health problems. Asbestos is only harmful in powder form, and that is why is it crucial to be cautious when removing it from your house.
Organizations such as EPA have set out regulations that demand inspections of building to check the presence of asbestos and reduce their exposure to those living in it by either removing it or encasing it. On the other hand, the data presented between the years 1999 to 2013 indicate that approximately 12,000 to 15,000 deaths occurred each year in the US due to asbestos exposure.
How Do I Tell If My House Has Artex?
How do you test whether your house has traces of asbestos? Well, there are two ways you can do that. First, you can hire a contractor to take a test and determine whether there are traces of Artex asbestos. Second, you can buy an asbestos testing kit online, where you post the sample and get the results within a few days.
Taking a sample and testing it is the only foolproof way of determining whether your house-textured coating contains asbestos or not. We recommend calling a professional to collect the sample as opposed to drilling and cracking the cover yourself, because this may expose you to the harmful dust and fibre.
Can I Remove the Artex Myself (DIY)?
The first thing you should do before you think of removing Artex yourself is to confirm and test whether it contains any asbestos. You can either call a professional or buy a testing kit online and post the sample for analysis. Most artexs applied before 1987 may contain traces of asbestos; therefore, you need to inquire with the owner or the house agent. Nonetheless, the general rule of thumb is to do a lab analysis to avoid exposure to heath risk.
Ways of removing Artex
There are a variety of ways you can use to remove Artex. However, you need to confirm that the Artex coating is 100% safe.
Steaming
You can use a wallpaper steamer to dampen the artex and make it easier to remove with a handheld scraper. However, this method of removing the cover can be slow and tedious. Besides, the melted Artex and the scraps can cause mess all over the house. Furthermore, this is a dangerous route if the material was not tested and contains asbestos.
Non-Toxic Remover
If you want a fast and easy way to remove Artex, then you might consider using a removal. You can use a product such as X-TEX, which is water-based, non-toxic, and non-flammable. This type of Artex removal is fast and takes less than an hour once you have coated it over the existing coating.
You only need to paint the remover on the wall or the ceiling and peel it away once it is soft. Artex Removals such as X-TEX have become famous for removing Artex because they work on all surfaces and do not result in the release of harmful asbestos fiber into the air.
Alternative to Removing Artex
Plastering
If you are tired of textured surface and want to have a modern smooth finish in your wall and ceiling, but you don't want the task of removing the Artex, then plastering is your best solution. However, you need to know that plastering over a surface with Artex can be challenging compared to standard surfaces.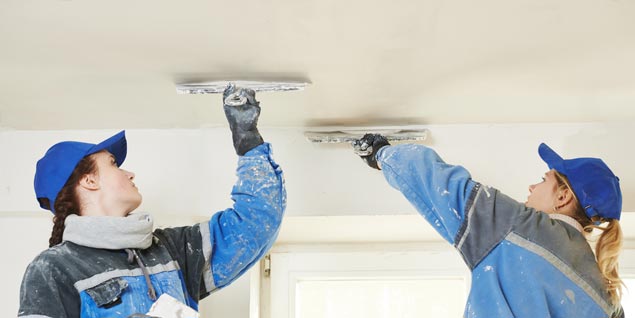 Before you start plastering, you need to ensure the Artex surface is in good condition and does not require sanding or grinding. In case it requires grinding or chipping, then it should be done diligently, and by a professional, to avoid fiber release.
If you want to leave your Artex intact and instead apply plaster over the top to achieve a smooth finish, then you should follow the following simple steps:
Ensure the Artex does not contain asbestos
Scrap off the large chunk of Artex on the surface
Apply two coats or PVA adhesive solution
Allow the coat to get firm and then smoothen it
Firm up with a trowel until you achieve a smooth finish
When plastering, we recommend starting with a small area before scaling up to the whole surface. If you are plastering the ceiling, you can start with an area of 2m by 2m, while if you are coating a wall, we recommend you start with an area of 2.4m by 2.5m. Starting small allows you to experiment and determine the best way to get the best result.
Finally, you should not rush to paint the surface once you have plastered. For the best results, experts recommend you allow the plaster to dry before you can apply your favorite colour paint.
Compare Artex Removal Costs Now