New Radiator Installation Costs for 2023
Last Updated on December 04, 2020 By Jon
Radiators are an essential household item that most homeowners don't give a second thought to, until such time as they malfunction or stop working completely. This then results in an emergency call to a professional tradesperson so that the cause of the problem can be identified.
While homeowners often think that any malfunctioning radiator will require replacement, this is not always the case – sometimes all that is needed is a good flush or bleed and service call. Below, you'll be able to find information regarding the cost of servicing and/or replacing radiator units – along with approximate labour and material costs.
Keep in mind that pricing for radiators and the labour required to install or repair them will vary according to the part of the country you live in, the amount of units required and the level of labour that will be needed to complete the job – in most cases, you'll be quoted an hourly labour rate and a separate amount for the equipment and parts needed.
Get New Radiator Quotes Online
Are Thermostatic Radiator Control Valves (TRVs) really Necessary?
Thermostatic control valves are devices that can be fitted to each of the radiator units in your home, and they help control the flow of hot water into the radiator. After setting your radiators to the required temperature in each room, the TRV will operate the valve and allow hot water to warm the room. It will also turn off once the desired temperature has been reached.
Most reputable plumbers will recommend the use of these valves because they allow for far better control of your home's heating system – each room can be set to a different temperature if required when TRVs have been fitted to each radiator. Although it will cost money to install them, they will save you money in the long term because your boiler won't have to provide the same amount of heat throughout your entire home all the time.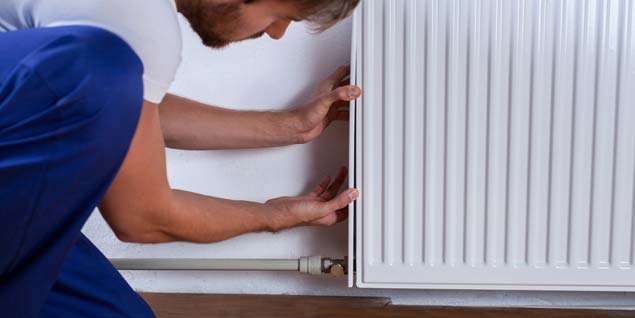 How many Extra Radiators can be Added to an Existing Boiler System?
Before any additional radiators can be added to your home's existing heating system, the current pump and boiler will have to be taken into consideration. However, a number of systems – including older setups – will usually be able to cope with having radiator sizes upgraded on one or two units.
In cases where complete new radiators are being added, either due to home extensions or something like a loft conversion being done, it's strongly recommended that you calculate the requirements of all of the current radiators to determine whether your existing boiler will be able to handle the additional load or not.
Most boiler units are 'range rated' down, meaning that they will usually be able to cope with a higher working load if necessary. In cases where a boiler cannot handle the extra load and the maximum amount of radiators has already been reached, additional pressure will be put on the unit. This can result in your central heating system operating less efficiently than it should, which will also cause premature pump failure.
Is it recommended to Power Flush your Home's Heating System?
Most central heating systems will become clogged with rust, scale from the water and general sludge and grime over time and this can cause cold spots to develop on radiators. Over time, the only way to reduce or eliminate these cold spots is to turn the thermostat temperature higher and keep the heating system running for longer – resulting in additional wear and tear, along with increased energy bills over time.
Plumbers will normally recommend that central heating systems be power flushed at least once every ten years, as well as when:
A new boiler is installed
Any major work is performed like installing replacement radiators
In many cases, a home's heating system can be revived by having it power flushed instead of having replacement radiators installed.
Determining if a Radiator needs Replacement or not
Various situations may arise that require radiator removal, with decorating being the most common reason. Other cases that may necessitate removal include:
Having to replace skirting boards and/or flooring underneath the units
Flushing the central heating system
Adding foil reflectors
Replacing faulty or non-working units
Although it's generally not difficult to replace a radiator, appropriate precautions will have to be taken to prevent injury or damage to property.
Before performing any work on a radiator, it's essential to place towels on the floor immediately around the unit and then dry the outside of it thoroughly. This will help you to easily locate any leaks that have developed. If you aren't able to see any obvious leaks, use a piece of paper towel and check each union or joint on the radiator.
Repairing a Radiator
Radiator leaks usually come from the body of the unit, its bleed point, the water pipe leading to the unit or the valve. If a radiator has recently been replaced, the joints between valves, pipes and the unit itself will be the best place to start searching for leaks.
Radiators that are hot on top and cold at the bottom tend to indicate that insufficient amounts of water are flowing through them. Blockages in the unit or a faulty pump in a home's central heating system can cause this to happen. If you're not comfortable inspecting the faulty unit yourself, it's recommended that you hire an experienced plumber.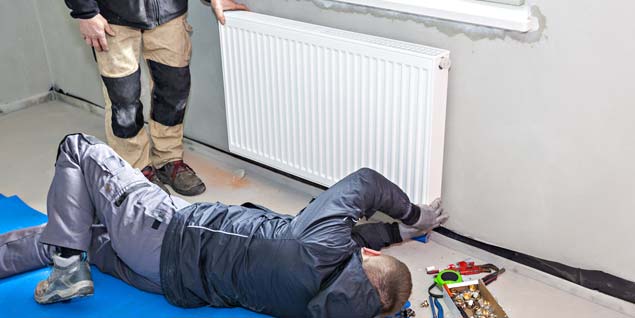 Aspects to Consider when having Radiators Installed
One of the most important aspects to keep in mind when installing new radiators is the capacity and efficiency level of your heating system's existing boiler. In cases where boilers are more than 10 years old, it may make more sense to have it replaced at the same time the new radiators are being installed.
Replacing your home's boiler will be a costly project, so it's essential that a suitably qualified and experienced plumber perform the job. This will not only ensure that your system is correctly installed; warranties will remain in place as well, as many companies will not honour warranty claims if boilers and radiators haven't been fitted by professionals.
It's also not practical to have a new heating system installed if your home is not correctly insulated. Loft spaces should be insulated with at least 150 mm of insulation material and double glazed windows can make a significant difference as well.
Before Hiring a Plumber
Before hiring a plumber or other suitable tradesperson to repair or replace the radiators in your home, it's essential to ask the following questions:
Are they Gas Safe registered?
Are they willing to provide a warranty on their work?
How much experience do they have repairing and/or replacing radiators?
Will any additional fees be charged once the job has been completed?
Determining the Cost of Radiator Replacement
If it's been determined that replacement radiators will be needed in your home, a reputable and experienced plumber will be able to provide you with a quote for doing this. In most cases, the list of items on your quote should include:
Draining existing radiators and removing them from the walls
In some cases, plumbers may keep the bleeding valves and blanking plugs from the old units – these will need to be cleaned if they are being reused
Potential modification of pipes – this will depend on the style of the replacement radiators
Mounting the new radiators on to the wall brackets and connecting the valves on to the adaptors
Opening the valves, filling and bleeding each radiator
If a radiator is simply being replaced with one of the same or a similar model to the old unit, quotes that you receive should come in at under £500 to complete the job. However, pricing for this job can range anywhere between £150 and £400 to complete this job, with one of the main factors affecting cost being that of location.
Approximate costs for installing an additional radiator unit in your home will vary according to the amount of new piping that will be required and whether the existing pies are easily accessible or not. In cases where a sole tradesperson or smaller business is being contracted to get the job done, you can expect to pay anywhere from £140 to around £220. However, if you prefer to hire a larger company, pricing can go as high as £330 for the same scope of work.
Here are a few examples of what you could expect to pay for various radiator replacement, repair and installation services. Please note that pricing can vary depending on the part of the country you live in and whether you're working with a sole tradesperson or a larger company.
Approximate measurements have been provided as well, and this will allow you to determine whether you have small, medium or large radiators in your home.
Small – 40 cm high and 60 cm wide
Medium – 60 cm high and 100 cm wide
Large – 80 cm high and 180 cm wide
It's recommended that you obtain written quotes before agreeing to have any work performed by tradespeople in your home:
Removing a small radiator should take approximately an hour and cost between £70 and £100 to do
Removing a medium sized unit can take up to two hours and cost between £80 and £120
Removing one large radiator can require about two hours of labour and cost between £100 and £140
Replacing one small radiator could take between 45 minutes and an hour to complete, and cost between £130 and £160
Replacing a medium unit should take between one and two hours and cost approximately £180 to £220
Replacing a large radiator can take between two and three hours and costs can vary between £220 and £270
Installing an additional small radiator can take up to three hours and cost between £220 and £260 to do
Installing an extra medium radiator requires three to four hours of labour and could cost between £270 to £330
Installing an additional large radiator could take up to five hours and cost between £330 and £380
Click Here For The Best Prices
Cost of Bleeding Existing Radiators
Although bleeding your home's radiators is a fairly easy project, not all property owners are comfortable with performing this task. In cases like these, it's best to enlist the help of an experienced tradesperson to ensure that the job is done properly.
Pricing to have radiator bleeding performed can vary between £70 and £175. Although you may be quoted slightly higher pricing if your home is in Central London, pricing for this work should not exceed the £200 mark unless other problems are identified while the work is being done.
Approximate Cost to Move a Radiator
Most homes have been built in such a way that radiators will be situated in the middle of a wall because this allows heat to be evenly distributed throughout each room. However, there may be cases where a homeowner may want to relocate a radiator to another spot on the same wall, or on to another wall entirely.
Having a radiator moved to another location in the same room usually takes between two and three hours and you can expect to pay anywhere from £180 to about £220 to have this service performed. However, additional costs may be levied if faults are found with the radiator or any of the piping – your tradesperson should let you know before simply going ahead in cases like these.
Keep in mind that relocating a radiator is not a simple task, especially if you aren't comfortable performing DIY projects. As such, it's normally best to have professionals perform this task for you.
Common Types of Radiators and their Approximate Costs
1. Central Heating Radiators
These are known for having the highest heat output, meaning that they are normally your most efficient option. Central heating radiators use a series of corrugated panels to ensure that heat is evenly distributed through a room.
Single panel styles can be purchased for smaller rooms and double panel units are suited for larger areas of your home because they produce more heat.
Small central heating radiators can cost between £20 and £50
Medium units sell for between £35 and £90
Large central heating radiators can cost between £80 and £150
2. Vertical Radiators
Vertical radiators can be purchased in several different colours and styles and their smaller size makes them perfect for use in areas where space is limited – especially in cases where specific pieces of furniture need to be accommodated.
Small vertical radiators average between £90 and £220
Medium units can cost between £140 and £280
Large vertical units come in between £220 and £600
3. Column Radiators
These units are ideal for property owners who want to add a little old world charm to their homes because their style is similar to the cast iron units that originated during Victorian times. Although the column radiators of today still have the traditional appearance, they have been manufactured in such a way that they're far more energy efficient than their older counterparts ever were.
Small column radiators can be purchased for between £100 and £220
Medium units average between £130 and £250
Large column radiators can cost between £300 and £400
4. Cast Iron Radiators
These units take longer to get warm and cool down than other types of radiators. However, this allows them to stay warm for longer after your heating has been turned off – making them an excellent choice for larger rooms and/or those with high ceilings.
Although cast iron radiators are most commonly installed in older homes, they can be successfully incorporated into the décor used in many newer properties as well.
Small cast iron radiators can vary between £110 and £220
Medium units average between £230 and £620
Large cast iron radiators can come in between £480 and £750
5. Flat Panel Radiators
These units are light and compact, allowing them to be installed in almost any room without taking up a lot of space.
Small flat panel units can cost between £170 and £260
Medium flat panel radiators can vary from £190 to about £240
Large units are approximately between £210 and £260
6. Stainless Steel Radiators
Not only are stainless steel radiators known for being extremely efficient with regards to heating and energy usage; these units are also extremely aesthetically attractive. They are available in various finishes that are easy to keep clean and maintain, and will last for many years because of being resistant to rust and corrosion.
Small units can sell for between £160 and £300
Medium stainless steel radiators can cost between £240 and £350
Large units average between £330 and £600 each
7. Space Saving Radiators
These units are ideal for property owners who want to make the most of the available space in their homes – especially in smaller rooms where space may be severely limited. Space saving radiators can be installed around corners, fit into spaces that are quite narrow and even match existing décor.
Small space saving radiators can cost between £180 and £260
Medium units can come in at around £520 to £700
Large space saving radiators can cost about £180 to £360
8. Towel Radiators
These not only allow you to keep your family's towels dry; towel radiators can also add a little extra warmth and style in your bathroom.
Small towel radiators can average between £25 to £160
Medium units can vary from around £45 to £280
Large towel radiators can cost between £70 and £550
9. Mirror Radiators
These units can work well in bathrooms, bedrooms and passageways because they provide the illusion of there being more space than there actually is – making them a fantastic choice for smaller rooms. They perform double duty in that they not only warm your bathroom; they look good while doing so as well!
Mirror radiator units usually cost between £180 and as much as £700 – depending on the style you choose
10. Designer Radiator Units
Several designer radiators are available these days and some of them can even double up as magnetic memo boards or mirrors. Because these units already look so attractive, little to nothing usually needs to be done to ensure that they match the existing décor and layout of a room.
Small designer radiators can cost as little as £160 to £320
Medium units can come in at between £190 and £500
Large designer radiators can cost between £330 and £550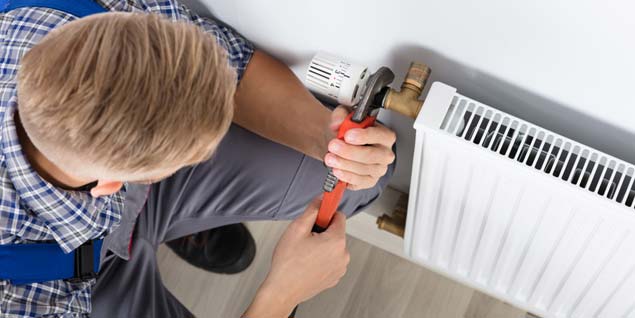 To DIY or not to DIY
While many homeowners may be comfortable performing radiator repairs and/or replacements, the truth is that this can be quite a labour intensive project – especially if you have never attempted something like this in a DIY capacity before.
In most cases though, it's recommended that you hire an experienced tradesperson to attend to radiator faults, repairs, new installations and replacements to existing units. This will ensure that the work is done properly and that a warranty will be provided for the parts used – many companies are not willing to carry a warranty on their parts if they have not been fitted by a qualified professional.
Frequently Asked Questions
How much will it cost to replace a radiator?
Radiator replacement costs will vary according to the type of unit being replaced, the part of the country you're situated in, whether you're hiring a sole tradesperson or a larger company and the amount of time that will be needed to complete the job. Always ensure that you obtain a written quote before allowing any work to commence.
What is corrosion inhibitor and is it necessary for radiators?
This is a chemical product that can be added to central heating systems that helps prevent sludge from forming in their pipes, radiators and boiler units. If you're concerned about corrosion forming, it's recommended that you speak to your plumber or tradesperson about adding it to your heating system.
Where is the best place to position radiators?
Although radiators used to be fitted in the coldest parts of rooms previously, newer units are more efficient than ever. This means that it doesn't really matter where they are installed – but it's recommended that there be one radiator per every four metres in a room.
Are thermostatic control valves necessary on radiators?
Although these valves are not strictly necessary, it's strongly recommended that they be used because it will allow you to customise temperature settings in each room of your home. This will save money on heating bills over the long term, while also ensuring that each family member is able to enjoy a heat setting that is most comfortable for them.
What causes radiators to get hot on top, but stay cold at the bottom?
When a radiator doesn't heat evenly all over, it can be an indication that it's not receiving a sufficient flow of water right through. This is often caused by sludge that is causing a blockage in the pipes or air that may have accumulated in them over time. If this occurs, it's recommended that you have a tradesperson bleed the radiator so that the accumulated air can be released.
Is it true that cast iron radiators take longer to get warm than other units?
Yes. However, cast iron radiators will also stay warm for longer than other units once your heating has been turned off. These units are again becoming popular because their heat-holding abilities can help prevent long-term dampness from occurring.
Compare New Radiator Quotes Now