How Much does it Cost to Install Stud Walls?
Last Updated on February 04, 2020 By Jon
In cases where you need an extra room in your home, but aren't keen on doing extensions, dividing an existing room by putting a stud wall up can provide you with an affordable alternative.
Erecting a partition wall is an excellent way to divide existing space for different uses. For example, a large bedroom can be divided into two smaller sections, or space under a staircase can be re-purposed by having a toilet and washbasin installed.
The reason why these units are called stud walls is because they are erected by using timber frame (studs) that have been covered with plasterboard. The timber studs are then secured on to the flooring, walls and ceiling, covered with the plasterboard and decorated in such a way that no one will even notice that the section has been added on.
If the stud wall ever needs to be removed at any time, this can be done without having to worry about having to perform any major alteration work.
Get New Stud Wall Quotes Online
Not Recommended as a DIY Project
Although erecting a stud wall may look easy, the truth is that it will be best to hire professionals to get the job done. A professional tradesperson will ensure that the work being done adheres to all required health and safety standards, especially where fire safety, ventilation and light are concerned.
In addition, professional help will be required if any type of lighting, heating and/or plumbing are going to be installed in the new section. While planning permission will not normally be required to install and internal stud wall, it's still essential to ensure that all required building regulations are followed throughout the process. Failure to do so could negatively affect your property at a later stage, especially if you intend selling at any time.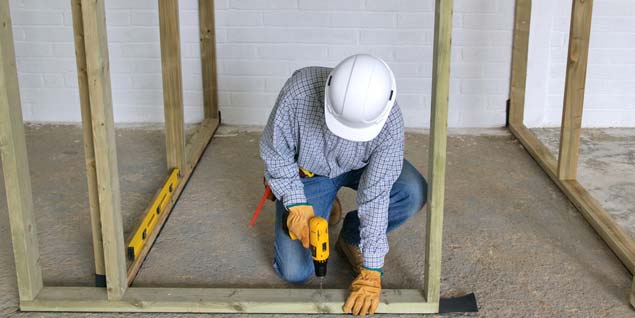 A professional tradesperson will know which regulations apply to your specific project; meaning that they will ensure it is built accordingly. If additional insulation is required for heat retention or sound blocking purposes, slab insulation can be erected between the studs once the plasterboard has been mounted to the one side.
All cabling will need to be run inside a PVC conduit, and this must be safely attached to the studs. Owing to the fact that stud walls are not load bearing, opening for doors or windows can be placed wherever you like. However, keep in mind that it's usually better to erect a door against one of the end studs in order to brace the doorframe.
In cases where a larger bedroom is being divided into smaller sections, there must be at least one opening window in each section afterwards that can be used as a fire escape route. If the new stud wall is facing on to a staircase, additional fire protection may need to be installed to prevent a fire from spreading too fast and preventing escape down the stairs.
If a bathroom or bedroom is being divided from another room, additional sound insulation may be required, and this can be done by using dedicated plasterboard that is sound resistant or by placing insulation material into gaps between each stud.
Additional structural support is not normally required for stud walls because they tend to not be load-bearing in most cases. In situations where the wall is running parallel with floor joists, additional support may need to be provided to handle the weight of the stud wall. If your chosen tradesperson is unsure whether this will be needed or not, they may enlist the services of a structural engineer.
Whenever a new room is created, it's crucial to ensure that there is sufficient ventilation by means of at least one opening window as well as by a trickle vent in the actual window frame.
Approximate Costs of Erecting Stud Walls
The average cost of having a larger bedroom divided into smaller section can cost between £650 and £850, and take approximately three days to complete. However, this cost is based on not requiring additional wiring, windows or radiators. Each of these aspects would be quoted on additionally.
Diving a bedroom and only supplying and fitting the stud wall itself can average between £650 and £850, and take two to three days to finish
Performing the same job as mentioned above, but with having an additional radiator installed can cost around £950 to £1,100 and take three to four days to complete
Including a radiator and new light fitting with the work mentioned above can cost between £1,100 to £1,250 and take up to four days to finish off
Frequently Asked Questions
How long will it take to install a stud wall and inside door?
This will depend largely on the size of stud wall that's being installed. However, in most cases, this project should only take a few days. This includes any required plastering and fitting a door.
Are stud walls good with regards to soundproofing?
A stud wall won't ever be as good as a regular wall with regards to soundproofing qualities. However, building codes do now require some degree of soundproofing between all walls. This means that acoustic insulation will have to be installed during the construction process.
Is it possible to install a stud wall so that a large bedroom can be divided into two smaller units?
Most definitely! If you intend dividing a bedroom into smaller sections, a stud wall will have to be used because solid walls may only be erected upstairs directly above any existing solid walls on the ground floor, or on top of steel beams that have been approved by a structural engineer.
Can shelving or mirrors be attached on to stud walls?
Although these items can be mounted on to a stud wall, it's crucial to ensure that they are screwed into the studs themselves and not only the plasterboard.
If you would like to obtain quotes for having a stud wall installed, all you need to do is provide us with your contact details. You will then be contacted by up to four different tradespeople or companies so that appointments can be made to view your property.
Compare Interior Wall Quotes Now