Replacement Floorboards Costs, Calculator & Free Quotes
Last Updated on By Jon
Creaking, rotten or split floorboards causing a problem? Our 2023 cost guide will tell you all you need to know to replace wooden floorbards for less, including average costs and free quotes from local professionals.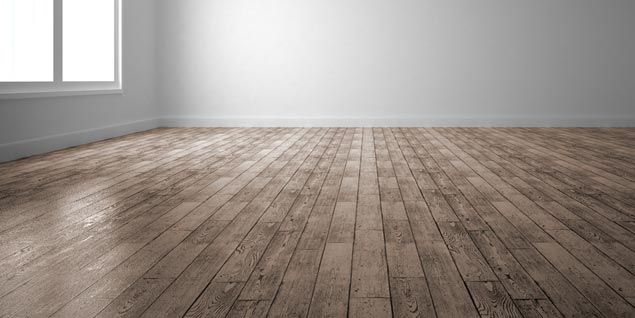 Average costs for replacing wooden floorboards
Lets start with some average price examples for you to compare:
Floor Type
Size
Average Cost
Engineered
14m2
£946.95
Cherry
14m2
£952.30
Maple
14m2
£1,219.80
Oak
14m2
£898.80
Pine
14m2
£941.60
Walnut
14m2
£1,391.00

(Prices taken from multiple sources and averaged)

Prices Checked 01/12/2023
Wooden Floorboard Cost Calculator
Introduction
Does your home smell musty, but there are no signs of mold or mildew on the walls and the carpets? Your interior wooden floor may be the problem.
If your floorboards make a creaking sound when you walk on them, your joists and floorboards are probably damaging or decaying. This is a common problem in aging properties and needs to be treated as an emergency. With this said, what is the cost of replacing joists and floorboards?
You must first understand that floorboard replacement works should be handled by a qualified team to ensure that everything is done correctly, quickly and safely.
Average costs for some typical works
Lifting the carpet, fixing the creaky floorboard and laying the carpet again (1 to 4 hours) £200
Fixing damaged floorboards then screwing loose floorboards (1 day) £250
Replacing a wooden joist then a few split floorboards (1 to 3 hours) £400
Factors affecting the cost of replacing floorboards
Are you looking for a quote for the cost of replacing floorboards? Here are some factors that contractors will consider before giving you a quote:
Floor condition - It goes without saying that minor damage such as tightening the screws on loose floorboards or mending several broken boards will cost you less than replacing the floor joists below.
Room size - Replacing several broken floorboards would cost you an average of £200 - £250. However, if you are replacing the floorboards of an entire room, a team of 2 is required and hence the cost stretches to £500 - £700.
Extra work needed - One of the most common additional works that attract more cost is moving furniture. We recommend that you move all the furniture in the area to be worked on in advance.
Labour rates - Most contractors will charge you based on day rates that can be up to £250.
UK Location - Prices will be higher in big cities than in rural areas charged by regional contractors.
Get Free Floorboard Replacement Quotes Online
What the job involves
In this region, most old homes have floorboards installed on ground floors. The wooden boards are just nailed to pre-built wooden joists. Newer homes may have the floorboards or concrete floors installed. Whether exposed or covered, the floorboards must be securely and adequately screwed or nailed to the wooden joist below. Note that carpet flooring may hide most of the floorboard's problems, but laminate flooring will expose these defects.
Removing old floorboards
Since old floorboards are straight-edged and can be easily lifted using a broad blade chisel and bolster. To remove the grooved or tongue boards, you should saw it using a circular saw before you lever it up. Note that it is easy to cut through the joists below, hence you need to be careful when removing grooved floorboards and tongue.
What causes rotten floorboards?
The two major causes of floorboards rotting are moisture/dampness and beetle infestation. Damp timber rots, infested by the beetle and eventually becomes soft. Leakages from pipes or condensation mainly cause wet conditions. Older houses have superficial holes from wood beetle activity.
Joist Condition
As you remove the floorboards, you should check the state of the wooden joists below. For the joists to last the lifetime of the building, they should be adequately ventilated and insulated. If you notice that the floor joists are rotten when removing the floorboards, consider fixing the problems with the help of professional assistance. It is worth noting that dry rot can outspread quickly, producing spores that can be harmful when inhaled. It may be difficult for even a serious DIY enthusiast to determine and assess the joists' rot and hence this work should be left to the professionals.
Fixing Loose Floorboards
This is an easy task to handle as the loose floorboards are just nailed or screwed back in place. You can pull out the existing loose nails and utilize the hole to nail the board again or screw/nail next to the holes. For a professional finish, the screw cavities should be filled with a wooden plug. If the floorboards are warped, consider replacing them as adding nails/screws will rarely solve the issue. When switching a floorboard, don't worry much about matching with the existing ones provided, the type of the wood is the same. Before you start sanding, ensure that all the nails/screws are below the floor surface. No nails should be left protruding even if you wish to carpet the area.
Why do wooden floorboards squeak?
Loose floorboards cause squeaking. The main cause of loose floorboard is the loosening of the original fixing (nail or screw). However, since other serious problems can also cause loose floorboards, it is wise to reach out for professional advice.
Why is my wooden floor bouncy?
Generally, a wooden floor should have a small amount of springiness, but there may be a problem with the floor joists if this is excessive. If, for example, your furniture moves when you walk on the wooden floor, you should reach out to a structural engineer to determine whether there is a problem with the joists. Keep in mind that structural issues can never be a DIY job.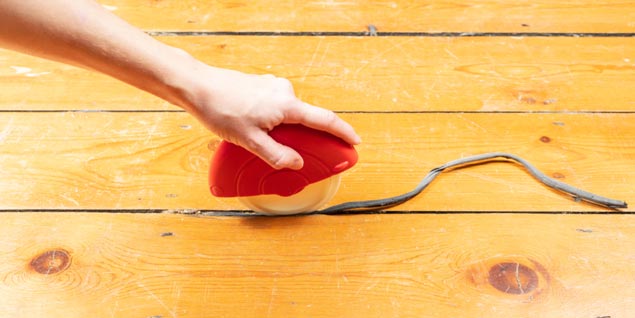 Split boards
The standard procedure to fix split floorboards is adding wood glue in the split then compressing using wedges. Note that this cannot be done if the crack is massive or jagged. Extensively cracked floorboards must be entirely replaced.
When no replacement board fits excellently to the empty space, get a little broader board and level it to the required size. If you have thinner boards, you can still use them but add some thin layers of packing material.
When to repair or replace damaged wooden floorboards?
If possible, it is better to repair than replace the wooden floorboards entirely. During the repairs, use brass screws rather than nails as they protect the ceiling below and ensure a firm fix without cracking. Before sanding, make sure you countersink the screw heads.
Frequently asked questions
Can you replace the floorboards?
Yes, as this can be done easily for a cost of around £200-£250. If you notice any signs of damps or rot, some boards should be removed to assess the joists below. If you can't find the right size of a replacement floorboard, you should buy a wider one then plane it down until it fits perfectly into the gap.
What is the cost of replacing rotten wooden floor joists?
Expect to pay around £400 to replace several wooden boards and/or joists. Keep in mind that rotten floorboards and/or joists must be repaired immediately.
When to replace wooden joists and floorboards
If repair isn't possible, you can still replace cracked or split boards. In case you have a carpet on your wooden flooring, be on the lookout for springy floors.
How do I know if my floorboards need repairs or replacements?
Check for cracks, splits, damaged boards and beetle infestation for exposed floorboards. If the wooden floor is carpeted, feel for springiness and sagginess.
Can I replace floorboards myself?
A DIY floorboards replacement is an excellent option for people who want to bring the cost of the project down. However, if you are not well-versed with the replacement works' requirements, you should call a qualified expert. Note that a skilled tradesman is also fully equipped with all that is required for reversing damp and rot. An experienced expert will also handle the job quickly and give the flooring a professional touch.
Compare Free Quotes Now