How much does it Cost to Install an RSJ (Rolled Steel Joist)?
Last Updated on November 04, 2020 By Jon
An RSJ is a rolled steel joist, steel lintel, beam or girder, and while many types of these units are available, the most common one tends to be the "I" beam. These units provide support to buildings, with their most popular use being where buildings are being expanded or renovated.
Get Free RSJ Quotes Online
Not a DIY Project
Calculations that are needed to work out the level of support required must be performed by a suitably qualified structural engineer, meaning that installing an RSJ should never be undertaken in a DIY capacity. Current building regulations stipulate that joists must be placed on loadbearing walls so that they can carry the weight of any structure that is being placed on top of them. As such, all quotes that you receive for installing an RSJ must include calculations that have been performed by a structural engineer. The cost of obtaining Building Control approval will also need to be included in the quotes.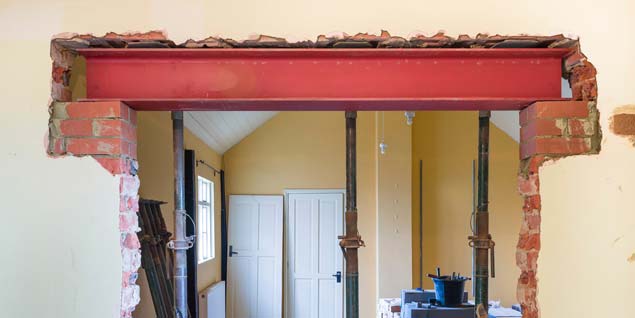 What the Project Involves
Installing an RSJ is a task that is performed when a new property is being built or if structural alternations are being carried out on an existing property – especially if a load-bearing wall is being removed. As such, this will not be a standalone project with a single cost point.
It will be mandatory to involve a structural engineer when installing an RSJ because building regulation approval will need to be obtained, and a highly qualified and experienced builder must perform the installation of this unit. Any errors will affect the building's structural integrity, which could result in severe injuries or fatalities in the event of a collapse.
Installing an RSJ will result in a lot of mess, dust and dirt that will require a lot of cleaning. In most cases, re-plastering and redecorating will also need to be done afterwards, so you may find it more convenient to stay elsewhere while this project is being completed.
Approximate Costs of RSJ Installation
The cost of having an RSJ installed will depend largely on your location, access to your property, the size of beam that's required and whether any utilities will have to be relocated or not. On average though, you can expect to pay anywhere between £1,500 and £2,450 to have one installed, and this should also cover the cost of a structural engineer, applying for building control approval, hiring a skip, plastering, materials and labour needed.
Although the RSJ itself can cost as little as £200, it's recommended that you not select the cheapest option you can find. Higher quality units can cost more, and the more units are needed, the higher the cost of the job will be. Additional parts will be needed to ensure that the joist is holding the load as it should – this will vary depending on the wall that is being removed.
Removing an internal load-bearing wall and installing a 3 metre RSJ can take approximately one week and cost up to £2,500
Knocking out an inside load-bearing wall and inserting a 5 metre RSJ can cost approximately £2,900 and take about a week to complete
Only supplying the RSJ itself can cost around £50 per metre and take up to three days for delivery thereof
Only supplying and fitting the RSJ itself could cost approximately £1,600 and take one to two days to finish
Frequently Asked Questions
Can I install an RSJ in a DIY capacity?
Under no circumstances should you attempt this type of project in a DIY capacity. At minimum, a structural engineer and/or architect will be required on site when this project is being carried out and a professional builder will be needed to carry out the work. The only ay you may be able to reduce the cost of this project is to cart your own waste away afterwards or redecorating.
Will building regulations approval be needed to install an RSJ?
In 99% of cases, you will need to obtain building regulations approval before having an RSJ installed. However, this should not be confused with planning permission – which will also need to be obtained before any work starts. A Building Control Officer will inspect all calculations and building works to ensure that they comply with the required regulations. You have the option of using a Building Control Officer from your council or you can hire one that works in the private sector.
Must I obtain any form of planning permission to have an RSJ installed?
The only time you'll usually need planning permission to alter or remove inside walls is if you live in a listed building. However, a Building Regulations application will still have to be made before any structural changes can be made.
Can I install an RSJ on a shared or party wall?
If your RSJ is going to be installed in a semi-detached or terrace house and rest on the wall between you and a neighbour, it's strongly recommended that you contact a specialist quantity surveyor beforehand. This will help ensure that all current regulations are being complied with. You may also require some form of legal agreement with your neighbour before any work starts on a shared wall.
How can I tell if a wall is load bearing or not?
Some of a home's inside walls are essential to preserve its structural integrity, while the rest are only there to divide the interior space into separate rooms and won't pose any risk if removed. Indoor walls are normally built from lightweight timber stud or metal framework, or solid masonry. As such, it's strongly recommended that you enlist the services of a professional structural engineer before making any plans to remove interior walls in your home.
If you would like to learn more about having an RSJ installed while other construction work is taking place on your property, fill in our website contact form today. Up to four qualified contractors will get in touch with you to arrange an appointment to view your property and advise you of the scope of work that will be needed.
Compare RSJ Installation Costs Now