Boiler Service Costs & Quotes
Last Updated on November 20, 2020 By Jon
At some point in life, everyone must have experienced the hell that comes with the boiler's breakdown. The issue of ice block radiators, no showers, and no running water combined might make someone feel like a student again. Here is a guide to help you find the best boiler cover if you want to eliminate these hassles and extra costs associated with boilers.
Experts often recommend that boilers should be serviced regularly as a crucial part of maintenance. This is because broilers can break down at any time, and repairing a boiler can be too expensive, mostly when left long without servicing. But have you ever asked yourself how often you need to service your boiler? The article will take you through essential aspects of a boiler and the essence of repairing or servicing it.
Get Free Boiler Servicing Quotes Online
Boiler Problems That Require Servicing Or Repair
No hot water
The pilot light back cannot be on
The boiler switches off frequently for no reason
Radiators tepid at best or cold
No response from the thermostat
Funny noise from the boiler
Just concerned with your boiler's safety
If the utility bills are higher than average hence make the boiler not to work usually or efficiently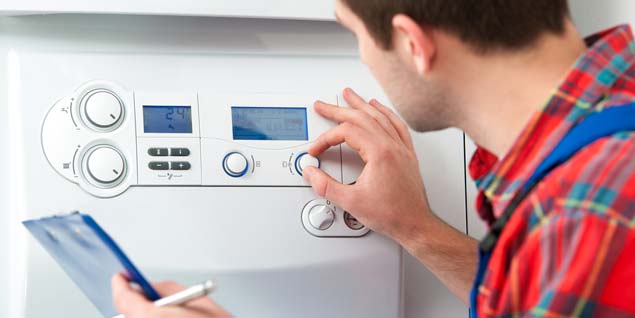 Types of Boilers
Two main types of boilers exist, namely, conventional boilers and combination or combi boilers.
Conventional boilers
These boilers use storage tanks with cast iron heat transmitters inside them. It is these transmitters that heat the water while boiling. Although conventional boilers supply more hot water faster, once the hot water runs out, the boiler needs time to heat up again. These boilers are mostly placed in an attic.
Combination or combi boilers
Combi boiler gets its water directly from the main supply, meaning that they don't need nor have a storage tank. These boilers are a bit smaller than the conventional boilers and are mostly found behind the storage cabinet's door in the kitchen.
How Often Should You Service Your Boiler?
Most engineers and boiler manufacturers often recommend a boiler servicing frequency of one year. That means that you should service your boiler once every twelve months. Even if the boiler seems to be working well with no complications, it is essential to check it annually. Boilers are complicated pieces of technology, of which if one part is affected, it will affect the entire machine and its working efficiency. So postponing the servicing will increase not only the repair charges but also the utility bill.
Why Service a Boiler?
Servicing generally helps one spot any boiler problem early before it gets complicated and promotes efficacy and efficiency. Typically, annual serving checks the following.
The boiler's gas pressure
Water and gas seals
Combustion fan s and burners
Ignition systems
Expansion components and tanks
The boiler's entire safety devices
Heat exchangers and input
Fuel terminals and paths
Visible radiators and pipework
An annual service check is essential as it determines the boiler's efficiency besides spotting possible problems while the boiler is on. This helps make necessary amendments to avoid future safety risks.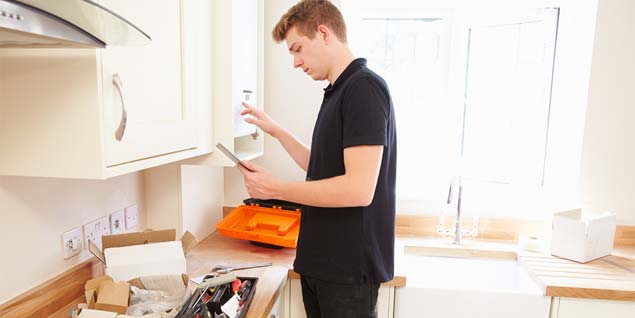 Benefits of Annual Boiler Servicing
Several benefits accrue from annual boiler servicing; the following are the significant benefits of this serving.
Family protection from defective boiler risks
A faulty boiler can be so dangerous to both you and your family. Anual serving can help prevent potential carbon monoxide poisoning, fires, explosions, and gas leaks. Gases like carbon monoxide are hazardous and can leak without anyone knowing, but potential leaks might be identified and amended accordingly if serviced annually.
Save on repair costs.
Annual servicing improves a boiler's reliability and efficiency of its boiling system. Moreover, these checks ensure that the boiler is in excellent working condition, increasing its durability. Once a boiler is in good condition, the repair costs are minimized because any issue can be spotted and fixed early before they build to big problems. This implies that you can save potential repair fees for other purposes.
Reduces energy bills
The annual serving of a boiler ensures that a boiler is working efficiently, reducing wastage of fuel. With the yearly service, you will minimize the carbon footprint and also save energy bills.
Preservation of a boiler's guarantee
Annual boiler checkup will preserve its guarantee, so if you can't check it annually, its security will be invalid. Most boiler manufacturers often recommend that a new boiler be inspected annually by a gas safe registered engineer for the guarantee to be valid.
To keep you warm
It is a good idea to check your boiler if it is in perfect condition before the onset of winter. It feels like hell when turning on a boiler in a cold season to find it not working. So to ensure that your winter will be warm, check and service your boiler yearly.
What is the Cost of Servicing a Gas Boiler?
The amount of money that a gas boiler service needs depends on the type of service scheme needed. There are two main types of boiler servicing schemes for gas boiler owners. Depending on this scheme, an annual serving contract can cost between one hundred and fifty to two hundred and fifty pounds. These contacts include a cover for your boiler in case it breaks down. On the other hand, a one-off boiler service can cost between sixty to one hundred and twenty pounds. Moreover, the amount of cash you spend on servicing will depend on the type of company you hire to do the task. National and international companies are always more expensive compared to local servicing companies.
For the two servicing schemes, payments can be made in advance with a monthly direct debt that allows homeowners to spread the costs all over the year. Since annual serving contracts are more expensive, most people opt for the one-off servicing contract. However, for an old boiler usually more than ten years old, taking out the annual service contract might make more sense. This boiler is vulnerable to more developing problems requiring frequent call-out visits within the twelve months schedule.
Boiler servicing engineers recommend that a boiler needs extra work to be done on it soon after service.
Below is a table that shows the annual service fees for boilers.
| Service | Duration | Overheads | Average Cost |
| --- | --- | --- | --- |
| Combi boiler | 1 - 1.5 hours | £0 | £55 - £65 |
| LPG boiler | 1 - 1.5 hours | £0 | £65 - £85 |
| Oil boiler | 1 - 2 hours | £0 | £65 - £85 |
| Landlord Certificate | 30mins - 1.5 hours | £0 | £60 - £90 |
Additional costs
After boiler servicing, additional tasks need to be carried out on a boiler. The following is a list of extra expenses that might arise from the servicing process.
| Job | Average Cost |
| --- | --- |
| New radiator | £150 - £200 |
| Radiator bleeding | £80 - £150 |
| New pipework | £800 - £1000 |
| New thermostat | £140 - £270 |
| Power flush | £330 - £550 |
| New heating pump | £150 - £200 |
| Replacement thermostat | £150 - £200 |
| Magnetic filter | £200 - £300 |
| Replacement fans | £200 - £250 |
Factors that Affect the Cost of Servicing a Boiler
The location of assets
The location of a property can significantly affect the cost of servicing a boiler. Boilers located within London can pay between ten to twenty pounds more than those in the north of the united kingdoms.
Type of contractor (national or local)
The types of engineers will affect the cost of the services. Local engineers tend to be cheaper than international ones, therefore saving some money in the entire costs.
Boiler type
The boiler type you have will affect the cost of service—the cheaper the boiler, the less the fees and vise versa. The most common types of boilers, like gas boilers, need less costly servicing than the rare boiler types like LPG or oil boilers.
Extra work
If the service engineer finds that your boiler needs extra work like radiator bleed or power flush, the costs will go high. Additional work usually prolongs the servicing period and increases costs.
Landlord gas and safety certificate
According to the 1996 gas safety regulations, all landlords must have their pipe works and appliances checked annually by fully registered engineers. The landlords should as well be given certificates for the annual check-up basis. Landlord gas and safety certificates are also available for homeowners who need official documentation for their good.
What is Included in a Landlord Gas Safety Checkup?
Inspecting the working and standing pressure
Checking the gas rate and burner pressure
Inspecting for adequate ventilation
Testing of the flow of flue
Checking for the bracket"s effectiveness and physical stability
Check for evidence of the unsafe operation
Inspecting appliances for gas leakages
The certificate of landlord gas safety is usually issued once the above inspections have been carried out. This kind of check usually gives owners peace of mind besides assuring them a prolonged lifespan for their boilers. In case the professionals note any defects, they will recommend replacements or repairs depending on the extent of the fault.
Can a homeowner boiler service by themselves?
A boiler service job is not a DIY job and cannot be completed by a homeowner. This job can only be done by a fully qualified and registered professional. Always remember to ask for the gas safe register card and look for the yellow triangular symbol before hiring any engineer.
Compare Boiler Service Costs Now