Suspended Ceilings Costs, Calculator and Quotes
Last Updated on By Jon
Our 2023 guide to suspended ceiling installation costs contains all the information you need, including average prices and free quotes from local trusted professionals.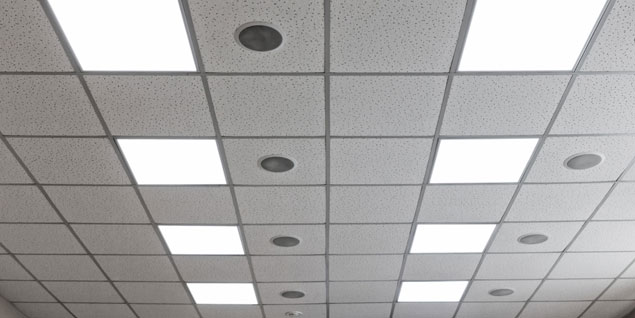 Average suspended ceiling costs
So how much will installing a new suspended ceiling cost? Let's see some average prices:
Service
Price
Suspended ceiling kit (600mm2) - 10m2
£417.30
Suspended ceiling kit (600mm2) - 20m2
£781.10
Suspended ceiling kit (600mm2) - 30m2
£1,080.70
Suspended ceiling kit (600mm2) - 40m2
£1,337.50
Insulation (m2)
£6.96
Tiles only (m2)
£7.49

(Prices taken from multiple sources and averaged)

Prices Checked 08/12/2023
Suspended Ceiling Cost Calculator
Factors that affect the cost of a suspended ceiling installation
The actual cost you will spend on a suspended ceiling will depend on the following factors:
Lighting
Similarly, there a good number of options when it comes to lights systems for suspended ceilings. Standard rectangular lighting systems are less cheaper than lighting systems that are integrated among several suspended ceilings.
Level of access to and in your building
If you live in a busy city, the contractor will have to consider factors such as parking fees when drafting the quotes, as this is a lot more expensive here than what a rural site would require. Also, the floor on which the ceiling needs to be installed should be easier to access for the prices to remain on the low. This means that installing a suspended ceiling on the ground floor is cheaper than the other floors.
Height of the original ceiling
A higher ceiling will take more time to install and hence this will add to the prices.
Location of your property
In this region, some areas are generally more expensive than others. Areas in the North are much cheaper to live in, and services' cost is lower than areas in the south. You'll, for example, have to pay 10-20% more on labor if your building is in London.
The type of ceiling tiles used
There are several ceiling tiles types meant to suit various budgets and needs of the structure, such as fire resistance. Special and premium tiles attract a higher cost than standard tiles. Note that the tiles used are also affected by the components that need to be fixed together and the room's use.
One area vs. multiple areas
If your suspended ceiling installation needs to be done on many small areas, more material cutting and trimming will be required and this can increase the prices by around £4 per m2.
Get Free Suspended Ceiling Quotes Online
What is a suspended ceiling?
A suspended ceiling (or drop ceiling) is a secondary ceiling installed below the existing one. A metal grid is first fixed above the existing tiles in a hanging (suspended) style and then the new ceiling fitted onto this metal grid. The extra ceiling helps hide the pipes, wires and ducts running on your 'inner' ceiling. It also supports the addition of extra features to your home, such as lighting and sound. Suspended ceilings can be used in retail, commercial or industrial settings and are a great feature to add to a home.
Importance of installing suspended ceilings
Although suspended ceilings were previously mainly used in industrial and commercial establishments, they are now getting popular in the residential arena. They will hide all the unsightly properties of your existing ceiling and add a whole new look to your home if correctly installed.
They can also be used to hide the pipes, wires and duct and there are even options for fire-resistant suspended ceilings. Besides versatility and aesthetics, a suspended ceiling can also improve your home's acoustics and insulation properties. Keep reading to know what you will spend on replacing your old ceiling or installing a new one.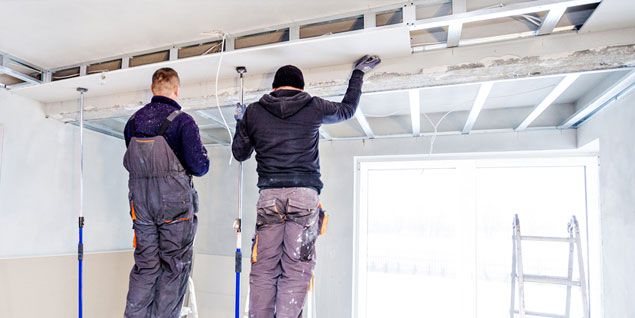 Can installing a suspended ceiling be a DIY job?
Installing a suspended ceiling is not the most straightforward project to handle and unless you are highly trained to tackle this job, it is not recommended to do the installation as a DIY. Keeping that in mind, there are DIY kits that you can purchase for the project and these are priced at around 417.30 per 600mm2 tiles covering 10m2.
Even if you acquire this kit, there will be a risk that comes with climbing a ladder to access the ceiling of your building. If your physical capabilities are in doubt, it can be so dangerous to climb up high heights as there is always a potential for injuries. What's more, if the ceiling is not installed properly, it may fall, damaging the components beneath.
Lastly, it would help if you understood that it is not easy to achieve the same quality finish as that of professionals in your installation. We have a free quotes service that you can leverage to find a reputable tradesperson in your locality that can do a highly customized ceiling installation for you.
Pros and Cons
Advantages
Damaged tiles are straightforward to repair
More cost-effective than mortar and beam-themed ceilings
Improves the aesthetics by hiding the ducts, wiring and damaged sections of the ceiling
For maintenance purposes, the ducts can be easily accessed
Easy to install
Disadvantages
Tiles may require replacement after only a few years
Gets damaged faster than traditional ceiling
Lowers the ceiling height
Compare Suspended Ceiling Costs Now