Professional Carpet Cleaning - Costs & Quotes
Last Updated on By Jon
Read our 2023 guide to carpet cleaning costs to restore and renew your carpets to pristine condition. get free quotes from local companies too!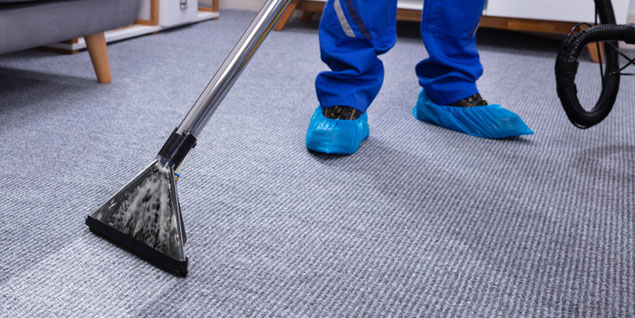 Professional carpet cleaning costs
Professional carpet cleaning is not a costly maintenance practice and the price involved mainly depends on the level of cleaning work done. Getting a few quotes, comparing them and picking the most affordable will definitely help keep your spending on the low.
Here is a breakdown of what you should expect to pay for professional carpet cleaning in various rooms:
Service
Price
Small bedroom
£21.40
Large bedroom
£28.89
Stair and landing
£32.10
Large front room
£37.45
Open-plan living room and dining room
£86.67
3 bed property average
£160.50

(Prices taken from multiple sources and averaged)

Prices Checked 05/10/2023
Carpet Cleaning Cost Calculator
Factors that affect the cost of professional carpet cleaning
These are the common factors that will affect the quotes you will get from carpet cleaning professionals:
Need to move furniture - The cleaning company can move the furniture themselves but will charge a certain amount for this work. Always get an estimate of what furniture moving will cost you in advance.
Ease of access to the rooms - The access level in the rooms where the carpets are will also affect the cost. Always keep in mind that professional cleaners will charge more for spaces such as attic and basement bedroom that are difficult to access and clean.
The type of stains to be removed - Although most cleaning companies have products and machines to deal with all stains, highly stubborn ones may attract additional charges. Before striking a deal with a carpet cleaner, inform them if your carpet has stubborn stains such as food, wine and paint stains.
Carpet type - Some carpet materials are more challenging to clean than others and hence attract a higher cost. Synthetic carpets are more stain-resistant and easier to clean and will cost less to clean than natural carpets that require special cleaning products and more care when cleaning.
Cleaning contractor's minimum charges - Most cleaning contractors charge £50-£60 as the minimum amount. So, if you plan to get the carpet in a single room cleaned, this may not be cost-effective.
The number of rooms to be cleaned - The cost of carpet cleaning is calculated based on the number of rooms that need to be cleaned. If stairs and landing carpets are not included in the original cost, you should expect to pay an extra £30.
Generally speaking, the cost of carpet cleaning is minimal and for a standard 3-bedroom house (3 bedrooms, hallway, landing and stairs), you should expect to pay around £200. Expect this figure to adjust accordingly if you have fewer or more rooms in your house.
To get the best price for the task, negotiate with the cleaning specialist for the price of cleaning the entire house other than per room.
Get Free Carpet Cleaning Quotes Online
Further Information
Carpets add comfort, warmth and style to our spaces. The only way we can pay back what this floor covering does in a house is cleaning it when it has accumulated dirt, stains and allergens. A professional carpet clean serves this purpose better. It ensures that the ugly stains and all the dirt that has accumulated is removed professionally, leaving the carpet as good as new.
Main methods of carpet cleaning
Dry carpet cleaning
Dry carpet cleaning was invented in the 1980s specifically for carpets that do not have a high level of water resistance. Even today, dry carpet cleaning is still a popular cleaning method. In this method, a rotary carpet cleaning machine is used to spread the cleaning powder into the carpet fibres. The cleaning product works as a microsponge that extracts dirt quickly and effortlessly from the carpet fibres.
Dry carpet cleaning works for a wide variety of carpets. The cleaning material is also biodegradable and is not notorious when released into the environment. This method is preferable for natural and delicate carpets that cannot stand the other cleaning methods' pressure.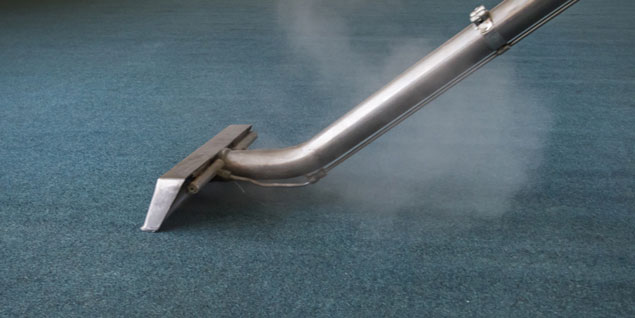 Hot water extraction/steam carpet cleaning
Hot water extraction is the use of pressurized hot water to remove stubborn dirt from carpet fibres. If there are strongly fixed stains on the carpet, pre-treatment is first done. For this, the cleaning product is applied to the stains' section then allowed to soak. A cleaning machine is afterward used to spread the cleaning product and clean other sections.
Steam carpet cleaning stands out from other carpet cleaning methods as, in addition to removing dirt, it also removes stale odours from the carpet.
It is the most hygienic carpet cleaning method suitable for children and pets carpets. If you want to reduce your household carbon footprint, this is the to-go-for carpet cleaning method.
Foam encapsulation
Foam encapsulation is a highly effective cleaning method that involves the use of a rotary brush to spread a polymer-based cleaning solution into the fibres of the carpet. The cleaning solution is left to dry, after which the vacuuming is done to remove extra dirt.
Carpet encapsulation is a preferred cleaning method because the cleaned carpet does not need to be rinsed or dried. This means that the carpet can be used almost immediately on completing the vacuuming step. Besides providing instant results, this cleaning method leaves no debris on the carpet and this significantly enhances the appearance of the cleaned carpet.
Professional carpet cleaning explained
Here is a step by step guide of how a professional carpet cleaner will deep clean your carpet:
pH checkup - This is the first process where the specialist uses a pH scale to determine the carpet material's pH in your home. This is crucial as it helps them pick the most appropriate product to clean your carpet without causing any form of damage.
Treating the carpet stains - Putting more focus on the stained sections, the professional will affix the cleaning products to the carpet. In hot water extraction, this step is ideally the stain pre-treatment and fixation process. For dry cleaning, a low moisture cleaning powder is used.
Machine cleaning - Once the cleaning products have completely soaked and worked on the stains, the professional will power up their machines to do the rest of the cleaning. Mainly, a dust/grime remover is used in conjunction with a rotating cleaner which helps spread the cleaning product and clean the carpet thoroughly.
If water extraction is the cleaning method being used, a mixture of carpet cleaning shampoo and water is first poured into the carpet. Vacuuming is then done to extract the dirt along with the shampoo-water solution.
Removing any loose dirt & verifying that the cleaning is satisfactory - Regardless of the cleaning method used, light vacuuming is always done at the end of the cleaning process to remove any dirt traces. Inspection is also done to check if the stains were removed entirely. If the cleaning is satisfactory, the carpet is set in an open place to air dry. If otherwise, the cleaning procedure is repeated until the desired results are achieved.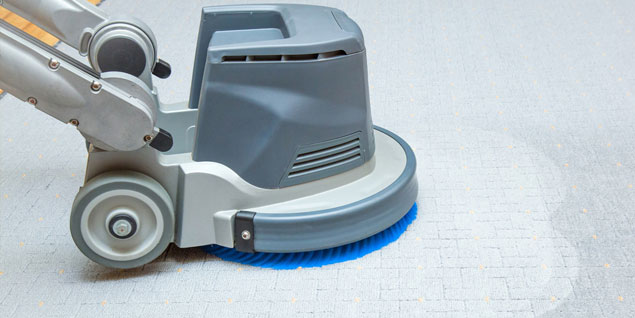 Can carpet cleaning be a DIY?
If you are working on a tight budget and trying to save some pennies, there are cheaper options where you can do the cleaning task yourself.
One such option is hiring a carpet cleaning machine from a DIY store. The average cost for a cleaning machine hire is £30 per day.
For the cleaning product, you can use carpet shampoo to cut the cost further. You can acquire a bottle of this shampoo at an average price of £15 from any local supermarket in your area.
Even if a DIY carpet cleaning is possible, we still recommend hiring an experienced professional and there are reasons for that.
The most obvious reason is that whole house carpet cleaning can be tedious and time-consuming. Also, picking up and returning the carpet cleaning machine required in a DIY can bring in a lot of inconveniences in your regular schedule.
A good professional carpet cleaning company with have all the required tools, equipment and products for the job. What's more, they will even come in with heavy-duty industrial machines that will work on the dried-on stains that may be hard to remove with DIY cleaning equipment.
It is not just about effectively and thoroughly cleaning your carpet for a professional carpet cleaner. They are also insured, meaning that there will be compensations if damage occurs during the cleaning process.
Compare Carpet Cleaning Costs Now