Laying Parquet Flooring - Costs & Free Quotes
Last Updated on By Jon
From oak and walnut to herringbone and chevron... learn everything you need to know about installing parquet flooring in your home including average UK prices and free quotes from local wood flooring specialists.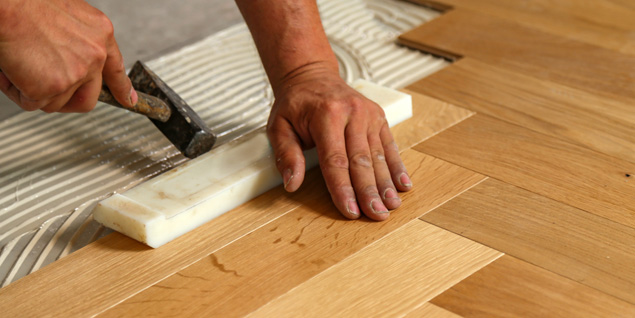 Average costs to install parquet flooring
Here are a few example prices from numerous sources:
Parquet Type
Average Cost (m2)
Oak
£59.92
Maple
£46.01
Beech
£55.64
Vinyl
£82.39
Laminate
£28.89

(Prices taken from multiple sources and averaged)

Prices Checked 04/10/2023
Parquet Flooring Cost Calculator
Introduction
If you are looking for a flooring type capable of giving any room a regal feel, then you should consider Parquet flooring. This is a popular choice for any homeowner that has properties in either city flats or country houses. Installing this type of flooring can significantly transform your living space and create a contemporary and timeless aesthetic.
First introduced in France in the late 17th century, Parquet flooring isn't a new trend. This type of flooring goes way back as mentioned, and these wood blocks feature fixed dimensions. The reason parquet woodblock flooring has fixed dimensions is so that they can easily be laid in intricate geometric patterns.
Having grown in popularity over the years thanks to delivering improved flooring quality, parquet wood flooring is considered a sign of craftsmanship and quality. So, if you are looking to introduce a flooring pattern in your house in a stylish, subtle, and enduring way, then parquet flooring is your best solution.
Cost of Parquet Flooring
On average, the cost of parquet flooring per m2 is about £46.01. And when based on the average UK living room size, which is about 17m2, it may cost you about £782.17 to add the parquet flooring in such a living room. If you are working with a tradesperson, you can expect to pay labour fees ranging between £100 - £200 per day.
However, the amount it may cost you for parquet flooring will inevitably vary from one project to another. This is mainly because the number of floorboards needed and the time it will take to complete the project will determine the final costs.
Other factors that are worth considering when it comes to the cost of parquet flooring, include:
Product
When it comes to parquet flooring, you have a chance to choose between solid wood blocks or a crafted wood alternative. While both of them can deliver a stunning surface, engineered wood alternatives are recommended for houses with varying levels of moisture and temperature.
Size
Most homeowners confuse size with the shape when they think about flooring their homes. The size of the room you want to get parquet flooring will significantly determine how much it will cost you in total.
The larger the room size, the more floorboards will be needed, which inevitably translates to more costs for the flooring resources.
Shape of the Room
The shape of the room being floored determines a lot when it comes to the final costs. It's considered that a flooring specialist finds it easier to work with square-shaped rooms compared to other rooms with different unappealing shapes.
This is because such rooms will require a more specialized installation procedure, which will most likely hike the amount you'll pay for labor and the flooring resources.
Current Floor Condition
This is another important factor to help you determine how much it will cost you to install parquet flooring. If you decide to install this type of flooring on a healthy floor, it might not be a capital-intensive experience.
However, it's an entirely different story if the existing condition of your floor isn't all that good. This is because your floors will need some improvement work such as leveling or enhancing the condition of the surface.
If this is the case, you can expect the cost of parquet flooring to be higher compared to floors in good conditions.
This means that you need to carefully choose between the wood species.
Get Free Parquet Quotes Online
Popular Wood Types Used in Parquet Floors
Oak Parquet Flooring
This is one of the best wood species used for parquet flooring. Oakwood features a versatile nature, making it perfect for different design schemes. And when used in parquet wood flooring, oak ages gracefully giving you a more honey look from its initial pale tan-biscuit hue.
Walnut Parquet Flooring
Walnut parquet flooring is another high-end look floor design that utilizes the walnut tree. With its beautiful dark alongside the brown hardwood, walnut parquet flooring can give any room in your home a luxurious appeal.
This is made possible with the rich dark-brown hues of the walnut wood combined with the subtle tonal variations of parquet flooring.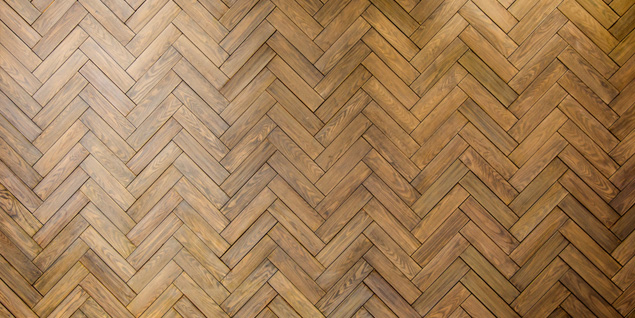 What are the Different Grades of Wood?
The types of wood are categorized in four different grades as outlined below:
Character Grade - Character grade will usually feature colour variation and more knots.
Prime Grade - This features a few knots with the boards being all similar in appearance and shade.
Select Grade - This grade will usually show more knots and include colour variations.
Rustic Grade - This is the last grade and features considerable amounts of knots, split boards, and colour variation.
What Installing Parquet Flooring Entails
One thing you need to understand is that installing parquet flooring is an intensive project that will most probably demand the removal of your old flooring. This is because the subfloor has to be analyzed to determine whether it's in a good condition for parquet flooring installation to commence effectively.
Note that parquet flooring requires to be installed over the subfloor, and this process can be best achieved by using a solid as compared to using a flexible adhesive. This is because the solid will ensure individual blocks are resistant to moving once adhered to.
With this method of installation, you are promised a more even surface once the parquet installation is fully complete. And before the parquet wood blocks are fitted, they require acclimatisation to the room that needs the flooring installed. These blocks also need to be stored in a warm and moisture-free state.
Generally, the blocks require to be fitted at least 2-weeks before the actual laying process begins. And if the parquet flooring is being used as a form of replacement, it means that a substantial amount of the old flooring will be disposed of.
Parquet Patterns
In theoretic logic, parquet flooring patterns can be laid in almost any way possible. There are also more parquet patterns including diagonal basket, herringbone pattern, and the brick bond pattern. Moreover, it's pretty much straightforward when it comes to installing the parquet patterns.
Chevron
Chevron is another classic and unique parquet flooring pattern, and it's widely popular due to its 'V' shape design. A trick you'll love about this flooring pattern is that it makes smaller spaces appear wider. Whether in dark or light tones, the Chevron parquet flooring pattern can deliver a fresher look and lovely warm texture.
Unlike other parquet wood blocks that feature square ends, chevron parquet blocks are cut specifically at an angle in both ends. Due to this, chevron parquet wood floors feature a zigzag pattern or look that runs along the floor.
Not only is it appealing, but this chevron classic zigzag look is very popular and you can find it in wallpapers, prints, furniture, and fabrics.
Herringbone

As you may know, this is the most preferred and popular parquet pattern. Herringbone is where it all began, and it's one of the main reasons why this parquet flooring style continues to stand the test of time.
It's also versatile to install, meaning this parquet flooring can ensure that you make a bold statement thanks to its captivating flooring pattern.
Can I Install Parquet Floor Myself?
For basic parquet flooring, it wouldn't be a bad idea if you do it yourself. However, ensure that you consult professional services if you want more complex parquet patterns installed.
How Long Does Parquet Flooring Last?
If you manage to carefully maintain your parquet flooring, it can last you from 10-15 years. Therefore, you need to keep the floor clean, sanding, and resealing for the best durability results.
Can You Cover Parquet Flooring?
As long as the parquet flooring blocks are securely glued to the floor, then you can use this type of flooring as a subfloor for coverings. You only have to ensure that the covering created doesn't cause the hardwood flooring blocks to sweat, which causes peeling warping.
Consider parquet flooring as an effective investment towards better and beautiful flooring. This way you'll not see the costs of installing this type of flooring as a capital-intensive activity but getting value for money.
Compare Free Parquet Flooring Quotes Now