Wood Burning Stove Costs & Quotes
Last Updated on November 02, 2020 By Jon
One of the easiest ways to add some charm and character to your home is to have a wood-burning stove installed. These units are able to distribute warmth a lot more evenly than central heating systems – and in a more cost-effective manner as well.
Get Free Wood Burning Stove Quotes Online
Who is Permitted to Install Wood-burning Stoves?
Although no laws exist with regards to having these units professionally installed, several different building codes and restrictions will have to be adhered to during the installation process. As such, it's recommended that you rather enlist the help of a professional when it comes to installing your new stove.
It's important to remember that if you live in a Smoke Controlled Area, you may not be able to obtain permission from your local council to install a wood-burning stove. An added advantage of having a professional install your stove is that they will familiar with all of the regulations pertaining to these units.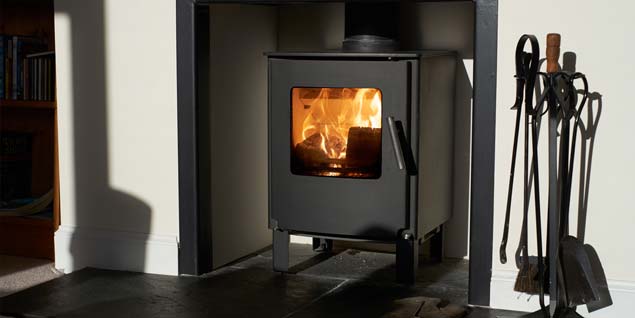 What is a Hearth?
Because wood-burning stoves emit a lot of heat, an area in front of them will have to be marked out for safety reasons. If your unit releases in excess of 100 degrees Celsius straight downward, a stone hearth of at least 12.5 cm will need to be built. If your stove doesn't run as hot as this, a smaller area of tiles or even glass can be used to build a hearth around it.
What does it mean to Line a Chimney?
Wood-burning stoves emit extensive amounts of carbon dioxide, which is lethal to people and their pets. A chimney lining is normally manufactured from metal and ceramic and is situated inside the flue, which is the large pipe above the stove. This helps keep the dangerous gases inside the chimney until such time as they are directed outside your home.
Another advantage of chimney lining is that it prevents cold air from travelling down into your stove and blowing through the burning logs. This goes a long way in helping to reduce the risk of fire from your burner from spreading to the rest of your home.
Although no legal requirement is in place with regards to lining your chimney, it's strongly recommended that this be done. It's also a good idea to obtain advice from a professional installer with regards to the best type of lining to install. If too large of a lining is installed, there is the risk of energy being wasted, while a lining that is too small will render your flue ineffective. A professional installer will also know which lining will be most appropriate for burning wood, coal or both of these fuels.
Can a Wood Burner be Installed without a Chimney?
This can be done. However, a twin wall flue that runs the complete height of your home will need to be installed.
What Size Wood Burner should I Purchase?
The size of wood burner required would depend largely on the size of the room it is being installed in. However, it's recommended that 1 kW of heat be able to be generated per every 14 cubic metres of space in the room.
For a room that is 100 cubic metres in size, this figure would have to be divided by 14, in order to obtain the recommendation of a 7 kW unit. In some cases, a wood burner fan can be added to an installation to help spread the heat around larger spaces. These units are situated on top of the stove and they obtain their power from the heat that's being generated.
Installing a Wood Burner
Once you're ready to install a wood burner, it's recommended that you contact an experienced chimney sweep. These professionals play a crucial part when it comes to installing wood burners, and their services should be utilised once a year after installation has been completed.
After the qualified professionals from our network have contacted you, they will come to your property to inspect the dimensions of your wood burner and fireplace area. Each stove has its own minimum distance requirements with regards to being installed close to combustible substances. As a result, it's crucial that this be taken into account before setting your heart on a specific stove.
The installer will then cut a hole in the room's ceiling so that the flue pipe won't get in the way of other pipes or wiring. This hole will be cut in such a way as to ensure that the flue pipe is a snug fit.
The lined flue pipe will then be fitted on to the top part of the stove. In cases where excess space is present, fireboard or chimney board can be used to ensure that everything fits firmly. This will prevent any draughts from flowing through the chimney.
Your tradesperson will install the wood burner and attach the flue by means of a pipe collar. Upon completion of the work, it's essential to obtain an official HETAS certification from your installer. This will indicate that your new stove is safe and that it complies with all appropriate regulations.
In cases where a twin wall flue is being used, a hole will need to be cut into your home's roof with a grinder. This will then need to be sealed with a weather proof product.
Owing to the fact that so many variables apply when having a wood-burning stove installed, it's strongly advised that this job be left to experienced professionals.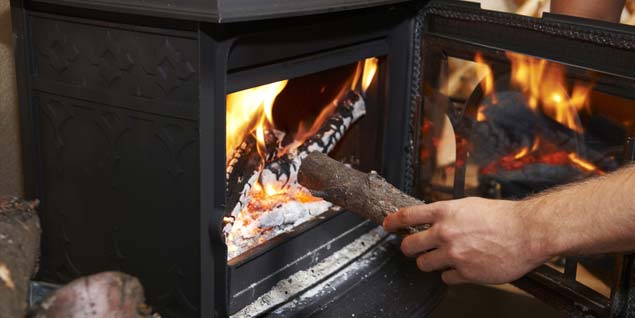 Approximate Costs of Wood-burning Stoves
Costs of wood-burning stoves vary quite substantially. For example, it may be possible to purchase a small unit that has been manufactured in China for as little as £280. However, the quality of these stoves tends to be questionable because of design flaws and the use of poor quality materials during the manufacturing process. Another disadvantage of these units is that no replacement parts are available for them. This means that if it malfunctions or stops working completely, it will require replacement.
Cheaper Chinese import units can come in at under £300, but will only last for between two and five years
Stoves manufactured partially in China and the UK come in from around £800 each, and have an approximate lifespan of 10 to 15 years
Stoves manufactured exclusively in the UK or Scandinavia will cost anywhere from £1,200 and upwards, but can have a lifespan of 20 years or more
Approximate Installation Costs
The cost of installing a wood-burning stove can start from as low as £1,800 for smaller units. This includes providing a chimney lining, commissioning and provision of the required HETAS registration certificate
Installations without a chimney breast that require a twin wall insulated chimney can start upwards of £3,300
In cases where any building alternation work is needed, the cost will increase proportionately
If you'd like to ensure that you only obtain wood stove installation quotes from accredited tradespeople or companies, simply complete the contact form on this page. Up to four companies will contact you so that appointments can be made to inspect your property as soon as possible.
Frequently Asked Questions
Can I just use an open fire instead of a wood stove?
You can do this, but energy efficiency levels will only be at around the 15% mark.
Why must I use a wood burner?
These units are aesthetically attractive and boast energy efficiency levels of up to 80%. Over time, this can amount to substantial energy bill savings.
What will a wood burner stove cost?
The final cost of your stove will depend on the unit you choose and the way in which it needs to be installed. However, you can obtain quotes from the professionals in our network before agreeing to have a unit installed.
Can I install a wood stove as a DIY project?
Although this is possible, it is not recommended. Several regulations need to be adhered to, all of which a professional installer will be familiar with. In addition, you will need to obtain a HETAS registration certificate upon completion, which can only be provided by an accredited tradesperson or business.
Do these stoves smell bad?
If a wood stove has been installed correctly, you won't smell anything inside your home.
Is a wood burner fan required?
Not always. However, these units can be handy in larger rooms because they will be able to distribute the generated heat more evenly.
Are wood stoves dangerous?
All wood stoves have to have a lockable door that will prevent it from being accessed by curious children and pets. However, the unit itself still runs quite hot, meaning that children should be kept a safe distance away while it's in use.
The biggest risk associated with these units is incorrect installation. This can cause carbon monoxide to accumulate inside your home, which is why it's crucial to use the services of an accredited tradesperson.
Does a wood burner need a lot of maintenance?
Ash from burned logs will need to be cleaned out of the unit regularly and the clear window will require wiping down from time to time. However, the only other maintenance that is required is to call a chimney sweep once a year.
Can I have a wood stove in the city centre?
In some cases, you could be restricted from installing a wood stove by the Clean Air Act. If this occurs, you will need to install a stove that has obtained a DEFRA exemption.
Compare Wood Burning Stove Costs Now