How Much Do Fitted Wardrobes Cost? - Compare Quotes
Last Updated on By Jon
Our 2023 guide to fitted and bespoke wardrobes is all you need to learn more about tailored storage space for your home, including detailed information and a weekly updated cost guide.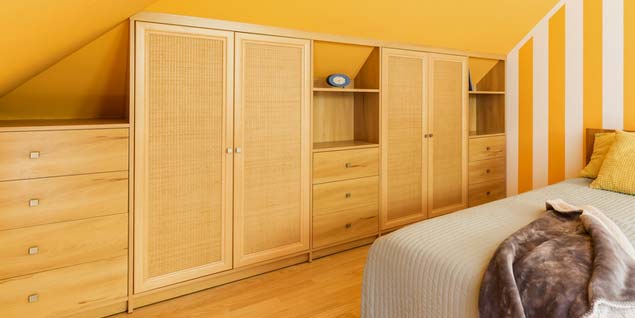 Average fitted wardrobe costs
So how much does it cost to get some fitted wardrobes installed? Let's take a look:
No. of Doors
Type
Price
3
Fitted
£749.00
4
Fitted
£909.50
5
Fitted
£1,070.00
6
Fitted
£1,230.50
3
Bespoke
£2,407.50
4
Bespoke
£2,782.00
5
Bespoke
£3,103.00
6
Bespoke
£3,424.00

(Prices taken from multiple sources and averaged)

Prices Checked 02/10/2023
Fitted Wardrobe Cost Calculator
More information
If you're keen to change the appearance of your bedroom, one of the best ways to perform this upgrade is to have fitted wardrobes installed. Although freestanding wardrobes provide you with flexibility in that they can be moved to different parts of a room, they tend to waste a lot of space.
Standalone wardrobes also have a bad habit of collecting dust on top, which wastes precious time when housecleaning needs to be done. However, with a little time, effort and cash, you can have fully fitted wardrobes installed, which will cut housecleaning time substantially.
Although many homeowners think that they'll be able to save a lot of money by performing a DIY fitted wardrobe installation, the truth is that this is the type of task that is best left to experienced professionals. In some cases though, existing fitted wardrobes can be removed in a DIY capacity to reduce costs a little.
Below is information regarding why this job is best left to the professionals, along with approximate pricing to have these units installed in your home.
Benefits of fitted wardrobes
There are numerous advantages to having some new fitted wardrobes installed, here are just a few:
Space: They are the perfect solution to maximise the space available to you, particularly if shop-bought wardrobes don't fit your room layout.
Tailor made: a completely bespoke design ensures that the new wardrobe will fit both your room and individual storage requirements.
Bespoke Storage: need a wardrobe for a shoe collection? A rack for shirts, dresses or longer rails? Your new storage will suit your needs entirely.
Added value: there's no doubt that a professionally installed fitted wardrobe adds value to your home and are seen as very desirable in the housing market.
Stylish: for that added wow factor clean, sleek looking units that hide away any clutter can't be beaten. Whether sliding, swing open or even open-plan.
Get Free Fitted Wardrobe Quotes Online
Concerns regarding DIY Installation of Fitted Wardrobes
These days, several styles, shapes, sizes, colours and layout options are available when choosing fitted wardrobe units. This enables homeowners to base their selection on personal preference as well as practicality because wardrobes of virtually any size can be built.
Owing to the fact that there are now so many companies available to provide this product and the installation thereof, choosing the right business to perform your installation can be quite challenging. However, this need not be the case when you request quotes on our website because we only deal with accredited companies and highly experienced tradespeople.
In most cases, companies providing fitted wardrobes will also offer a free design and consultation service to members of the public. This enables you to come up with a design, colour and style option that you'll be satisfied with having installed in your home.
Once you have a design that you're happy with and the dimensions of the units that will be needed, you can either choose to hire the company that has assisted you with it or attempt a DIY installation. However, the DIY approach is not usually a good idea, especially owing to the fact that specialised tools and equipment will be required to install fitted wardrobes correctly.
Homeowners often think that they will be able to cut on installation costs by installing wardrobe units themselves. However, in most cases, this approach results in them having to have an expert come in to rectify what they have done or even rip the attempted installation out and start from scratch. This will result in labour costs being higher than if they had simply enlisted the help of professionals to begin with.
Other disadvantages of attempting a DIY install of wardrobes include:
Although you may be provided with a list of accurate measurements, errors can and often do still occur during the board cutting process. This means that they will have to be cut further to get them down to the correct size – again, this will require specialised equipment to ensure a professional-looking end result.
Fitted wardrobes are by no means cheap to install, so it is in fact better to rather pay a professional to have them cut and fitted to perfection.
In some cases, the walls where wardrobes are going to be installed may not be completely straight. This results in boards having to be custom cut to prevent there being any unsightly gaps between the walls and the fitted wardrobes. A professional installer will take this into account, whereas someone performing a DIY installation will only discover this after attempting to install the cut boards.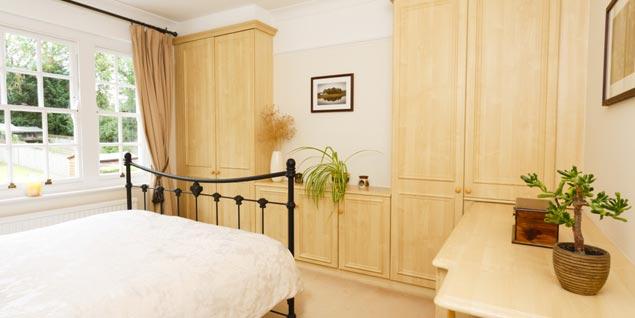 Approximate Costs of Fitted Wardrobe Units
These days, a number of options are available when it comes to designing and installing fitted wardrobes and approximate costs of some of the popular options are listed below:
1. Fitted wardrobe with three doors
A custom designed unit with three opening doors can cost anywhere between £2,200 and £3,000. Additional features can include items such as slide out drawer units, additional hanging rails for clothing, shoe racks and various moulding options. The more customisation you require, the higher the price will be.
2. Wardrobe with sliding doors
These units are often installed in rooms where space is limited, as it enables doors to slide open towards the sides instead of swinging outwards. Mirrors can be installed on these doors to create the illusion of space, especially in a smaller room. You can expect to pay anywhere between £2,500 and £4,000 to have a wardrobe with sliding doors designed and fitted. Again, final pricing will depend on finishes you choose as well.
3. Six door closet unit
This unit is an excellent option in homes with larger than average bedrooms, and it is usually supplied in a standard size of 3,8 metres. Three sections inside the unit usually include one section for hanging garments, another for drawers that can be used to store underwear and a shelving section that can be used to store shoes, handbags and other bulky items.
Pricing on these units is quite high, often starting from just under the £5,000 mark. End pricing also depends on the height of the closet that is needed, as well as materials and finishes that have been chosen.
4. Customised closet with two sections
This is one of the most commonly requested options for fitted wardrobes and it can be crafted in several colour options and finishes. Pricing for these units can start anywhere from the £3,000 mark and upwards.
Fitted wardrobes are an item that will be with you for many years after being installed. As a result, it's not recommended that you cut corners to get the cheapest possible prices. Instead, it's better to obtain referrals from reputable and reliable installers and joinery companies.
If you would like to obtain quotes from professional joiners and tradespeople to have fitted wardrobes installed in your home, simply fill in our contact form. One or more companies will contact you to perform an inspection of the area where the units need to be installed, and once this has been done, provide you with quotes to get the job done quickly and professionally.
Compare Built In Wardrobe Costs Now